A strong domain name portfolio is one that returns capital to your bank account year after year, allowing you to make a profit or reinvest your earnings to expand your portfolio. Using research and setting a game plan, rather than guesswork, are the keys to success.
6 steps to start building a strong domain name portfolio
Here are six steps you should take today to improve your holdings and build a strong domain name portfolio:
Related: How to find valuable names in the domain aftermarket
1. Understand which investment strategy matches your personal style
There are three main strategies to building a strong domain name portfolio: long-term investing, quick-flip investing, or a mix of both.
You have to decide which strategy will best match your personal style, and the investment objective and timeline will follow.
Buy-and-hold
Waiting for domain names to appreciate in value, waiting for passive inquiries to flow into your inbox, and negotiating only with the most promising opportunities. This style will drive maximum return on your investment, but will also take the longest to pay off.
Quick flip
Buying a domain name with the intention of hunting for prospective buyers, reaching out to find interested parties, negotiating, and doing a deal. This style will turn profits more quickly and will generate a return that can be taken or reinvested but will not produce as high a return as buy-and-hold.
Mixture of both strategies
Buying some domain name assets that you intend to turn quickly while holding others for multiple years.
You can also approach which strategy to pursue by focusing on your desired investment objective and timeline. In that case, you may have to be willing to flex out of your comfort zone to develop a strong domain name portfolio.
For example, to succeed at outbound selling of a domain name, you must be willing to accept 99 rejections for every one domain name you successfully sell.
Some domain names can take years to generate a passive interest inquiry and sale, so you have to be patient and have a long-term mentality when investing in domain names.
Understanding your own style and timeline can help you figure out which of the six domain name asset types will best serve you.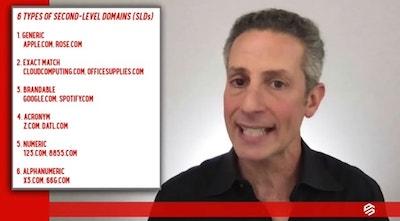 2. Stay the course — the 1,000-day rule
Many new domain name investors invest in domain names only to become disillusioned and frustrated within a few months when no inquiries or sales happen. But any successful investor will tell you that it takes time for the right buyer to think of a brand, determine if the domain name is registered, inquire about its availability for sale, and negotiate a purchase price.
When I started investing, it took me about three years to become profitable.
I often tell investors that it will take 1,000 hours — or an average of an hour a day, six days a week, for three years — of investing to figure out how the market works, the intricacies of purchasing the types of domain names that other people want, how to buy low and sell high, and what a repeatable sales process looks like.
Building a strong domain name portfolio will take time, but if time is something you have to spare then you're set up to start domain name investing.
Related: Is domain investing a reasonable side hustle?
3. Never overpay for an asset
The simplest way to make a profit on any investment asset is to buy it at a price that is below market value. This is true for building a strong domain name portfolio as well and can oftentimes be easier to find and purchase than other asset types because the domain name market is inefficient.
That means the pricing of domain names in auction or for new registration does not always accurately reflect their market value.
To never overpay for an asset, an investor must understand that every domain name has a wholesale and retail value.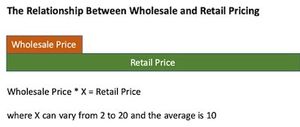 The wholesale value is what an active domain name investor would pay today for the domain name — oftentimes at a domain name auction marketplace like GoDaddy Auctions or NameJet.
On the other hand, the retail value is what a business owner might pay for the domain name in the next one to five years, based on the strength of the economy and recent comparable sales which can be found at NameBio.com.

The difference between the wholesale and retail values of domain names can often be a factor of two to 20, with an average multiple being around 10 and a return on investment (ROI) of 10,000%.
While it can be convenient to overpay for a domain name and convince yourself that a slightly lower sales multiple and ROI is acceptable, this can be a slippery slope to overpaying for an entire portfolio.
Remember, more than 100,000 domain names expire and become available for purchase every single day and a new opportunity is right around the corner for you.
Don't be afraid to walk away from any deal that's not moving you toward a strong domain name portfolio.
Related: Tried-and-true tips for selling domain names for profit
4. Keep your costs as low as possible
Every dollar you give up in worthless domain name registrations, sales commissions, overpaying for renewals, and unneeded software expenses is a dollar that you can't invest and that won't compound and continue to earn for you.
Even small amounts of money that you spend year after year can end up costing you thousands of dollars across your whole portfolio per year.
That's wealth that you can never recover, which is why programs like GoDaddy's Domain Discount Club can be a smart expense when your portfolio grows large enough.
5. Don't rely on a single domain name investment or a handful of investments
As a new domain name investor, you should not have all of your money tied up in a single domain name or even a handful of domains. One good exact-match type of domain name that you purchase for $500, for example, might lead to a tremendous reward, but it also increases your risk tremendously.
And if you select the wrong domain name, you could end up losing money.
A smarter plan for newer investors would be to distribute the $500 across 10 strong, brandable domain names for $50 each, or 20 good, brandable domain names for $25 each that you purchase from another investor.
By diversifying your domain name portfolio, you reduce the risk from exposure from any one domain name.
6. Set aside time to study and improve your knowledge and skills
Unlike traditional investment vehicles like stocks, bonds and REITs, domain names as an asset class do not yet have investment advisors and planners that can do the work for you to analyze your investment objectives, risk profile and timeline, and select the domain names that you should invest in.
It takes time to learn the difference between a worthwhile and worthless domain name.
But when done correctly the rewards can outperform traditional asset classes and the process of buying and selling domain names can be exciting.
Free blogs, discussion forums and video interviews with experts are all readily available at Domaining.com. Access to industry information is greater than ever today, and the ability to build a strong domain name portfolio is largely a function of two factors: time and perseverance.