When facing issues with your website or email, it's vital to understand how to check DNS for your domain name. DNS — which stands for "domain name system" — works much like an online phone book. The DNS of a domain name tells the internet which settings to use for your website and email.
DNS is used by every website on the internet.
It helps simplify things by letting visitors remember a word or phrase (your website domain) instead of an IP address. For example, when you type in GoDaddy.com, your ISP will check the DNS for that domain. It will find this website lives at 208.109.192.70, and then go to that IP address, retrieve GoDaddy's website, and display it on your browser.
That's neat and all, but why does it matter? If not configured correctly, DNS can cause a number of issues. In this post, you will learn how to check DNS issues using GoDaddy's DNS Manager and other online tools.
5 common DNS issues and possible fixes
Things can get tricky when you start setting up the DNS zone file for your own domain name. Let's take a moment to learn how to check DNS issues that you might face, and then review possible solutions to get things back up and running.
1. My website isn't loading, and I'm not sure where to start troubleshooting.
Solution: Check the A record to find where your site is hosted.
A DNS zone file is made up of many records, such as A, CNAME, MX and TXT. The A record contains the IP address of your web host, and it must be entered correctly for your site to load properly.
Without the A record, the internet won't know where to find your website.
If, for some reason, your site goes down, checking the A record should be your very first step. This will tell you who your web host provider is and who you should contact for further troubleshooting.
2. DNS record changes are not updating, or you see the message, "We can't display your DNS information because your nameservers aren't managed by us."
Solution: Find where your nameservers are managed, or point nameservers to GoDaddy.

Nameservers tell your domain name where DNS is controlled. When you register a domain name with GoDaddy, it will automatically be assigned to GoDaddy nameservers. This means your DNS will live at GoDaddy, and any changes will need to be made with GoDaddy's DNS Manager. However, some web design companies will ask you to change your nameservers to their own, so they're able to make changes to the DNS seamlessly — and make things easier for you.
If your nameservers are at GoDaddy, proceed with further troubleshooting on GoDaddy's website. Otherwise, contact the nameserver provider to figure out how to check DNS. If you would like to set your domain name back to GoDaddy's nameservers, refer to this help article.
Pro tip: GoDaddy's nameservers usually include domaincontrol.com. If they're set to anything else, it is likely your DNS troubleshooting will need to made elsewhere. Nameservers can be pointed back to GoDaddy if needed, but you will need to build a new zone file.
3. Email is not sending or receiving.
Solution: Verify you're using the correct MX records for your email provider.
Before you start troubleshooting email, first check the MX records in your domain's zone file. The MX records tell your domain name the proper settings to use for email. If your MX records aren't configured correctly, your email might not work as intended.
Compare MX records to your email provider's recommended settings. If they're different, make sure you update them as needed. If MX records are set up correctly, but you're still having issues, contact your email provider to troubleshoot further.
4. www does not work with my domain name.
Solution: Add a CNAME record for www.

Most people no longer use "www" when they type your domain name. But what if they click a link to your website? Links usually include www, and this might cause your visitors to get an error if your DNS is not configured to use www.
To configure your DNS to use www, you must use a CNAME record with the following settings:
Host: www
Points to: @
TTL: 1 Hour
Pro tip: DNS changes can take up to 48 hours to propagate around the world. If your changes don't immediately take effect, don't stress. Check back later. If 48 hours pass with no update, contact support.
5. Record changes are taking longer than usual to propagate.
Solution: Lower the TTL time to speed up propagation.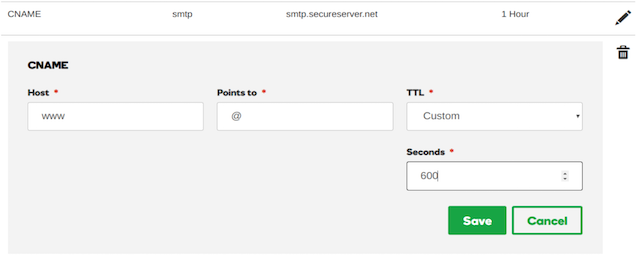 Any changes made to your DNS can take up to 48 hours to propagate throughout the world. However, lowering the TTL (Time To Live) for records can change the rate at which they propagate.
TTL times are set in seconds — therefore, one hour would equal 3,600 seconds.
One hour is a standard TTL value, but GoDaddy's DNS manager will let you set a TTL as low as 10 minutes (or 600 seconds). A TTL can be changed for existing records, and can be also be set when entering a new record into your DNS.
To change this with GoDaddy's DNS Manager, click the pencil icon to the right of the record you would like to modify. In the window that displays, go to the TTL dropdown, and then select Custom. Here you can enter your desired TTL in seconds.
How to Check DNS with GoDaddy's DNS Manager
Your domain portfolio might include one or a hundred domain names. Either way, knowing how to check DNS zone file with GoDaddy can save you a ton of time.
Here's how to check DNS from your GoDaddy Account:
Log in to your GoDaddy Account.
Click My Products.
From go to the Domains tab, and then click Manage All. A list of your domains displays.
From the Manage column, go the domain you want to manage, click the ellipses, and then select Manage DNS.
From the DNS Management page, you will see your DNS zone file and can make any necessary changes to your records.

Please note, these steps might vary for DNS management outside GoDaddy. If you're not sure how to check DNS and your domain is hosted elsewhere, check with your provider or use one of the tools below.
How to check DNS and with other tools
Now you know how to check DNS with GoDaddy, but there are other online tools you can use to diagnose DNS issues. These will help you troubleshoot DNS, no matter where your domain name is registered.
Whatsmydns.net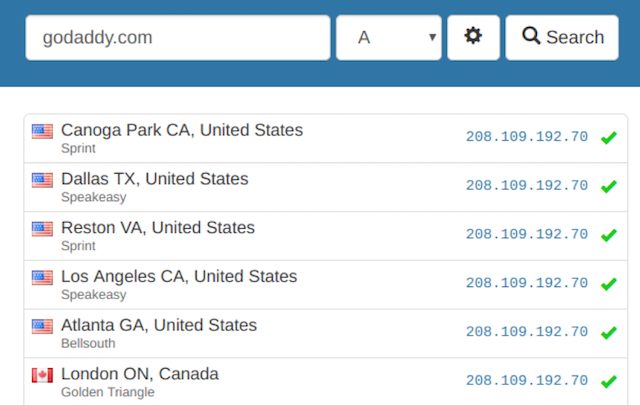 Whatsmydns.net is a great DNS propagation checker you can use to find where record changes have propagated around the world. All you have to do is enter your domain name, and then select the record you want to check.
Dig from GSuite Toolbox
Google has it's own set of tools you can use to check DNS and diagnose common issues. Just enter the domain you're diagnosing, and then select the record you want to check. Unlike Whatsmydns.net, however, Google's tool will not show how records have propagated.
Dig Web Interface
For more advanced users, Dig Web Interface offers a few more bells and whistles you can use to check DNS. It can also check for both domain names and IP addresses.
In conclusion
So now you know how to check DNS. The next time you run into issues, you'll now be able to troubleshoot a bit on your own. And of course, if you ever run into issues, you can always contact GoDaddy for help. We're here 24/7 with award-winning customer support!