The dreaded employee review. I say "dreaded" because I certainly was never a fan of having my year's work judged and picked apart. Employee reviews, while important, are rarely popular. So when I took over MyCorp, I decided to approach employee reviews as the growth opportunity they should be, rather than as a box-ticking exercise.
How to conduct employee reviews
Over the years, I've discovered that if you approach employee reviews with that right frame of mind, they can be immensely helpful to the growth and development of your business. Steps to take when conducting an employee review include:
Keep the atmosphere light
Focus on strengths and ways to improve
Ask them if they have any comments or concerns
Approaches for remote reviews
Communicate logistics
Set a thoughtful tone
Give employees the floor
Listen and ask relevant questions
Build your team up
Read on to learn how to conduct an employee review.
Keep the atmosphere light
Rigid, dry, endless meetings define the review season. Members of the staff fill out a form, meet with their managers, go over a few numbers, and get their kudos and recommendations. Reviews, put simply, feel like a chore. Worse yet, they're a chore people are nervous about. After all, once your review date is set, you are staring down a ticking clock, counting the minutes until you find out just how well you're doing.
At MyCorp, we quickly found that a lot of our staff was putting off filling out their reviews until the last minute, and then haphazardly rushing through them. So we decided to make things a bit lighter and casual. We've experimented with getting rid of standard forms and set meeting times, opting instead for an easy conversation between staff and management. That seems to work pretty well, as individual members of the team don't feel singled out, and review dates don't hang over their heads for weeks on end.
Focus on strengths and ways to improve
This is not the time to drop the bomb that someone has two weeks to meet some arbitrary goal before they are fired. Annual reviews should be used to help your staff grow, not to tell them they are on the cliff's edge. Tell the managers that oversee these reviews to look at employee strengths, and base their recommendations on them, rather than weaknesses.
If you, or your management team, are just rattling off lists of problems, then you're wasting a valuable opportunity to help your team do better.
So if someone is good with customer service, but maybe lacking in sales technique, use the service strength as a jumping off point, and give them advice on how to use that strength to shore up their sales.
Again, you really want to work on allaying any nerves, and if you, or your management team, are just rattling off lists of problems, then you're wasting a valuable opportunity to help your team do better.
Ask them if they have any comments or concerns
Low employee engagement is costly. On average, it costs nearly $5,000 to replace an employee. Unproductive, disengaged employees are bad for your business, so you need to figure out how your employees feel about those leading the company.
Use these reviews as an opportunity to assess the management.
Ask your staff how they feel the company is being run, and make sure they feel that their opinion is valued. Great leaders always respect the people they lead, and if you work to make sure your team feels respected, they'll be happier, more engaged, and more productive.
Employee reviews shouldn't be about nitpicking small, insignificant problems. Rather, they are an opportunity to look at a year's work and growth — a chance to pinpoint just how your company can do even better next year.
Keep the reviews light, focus on employee strength, and be sure to listen to your staff's concerns. When reviews are over, you should have a solid collection of comments and suggestions to help you plan out the next year.
Conducting employee reviews while working remote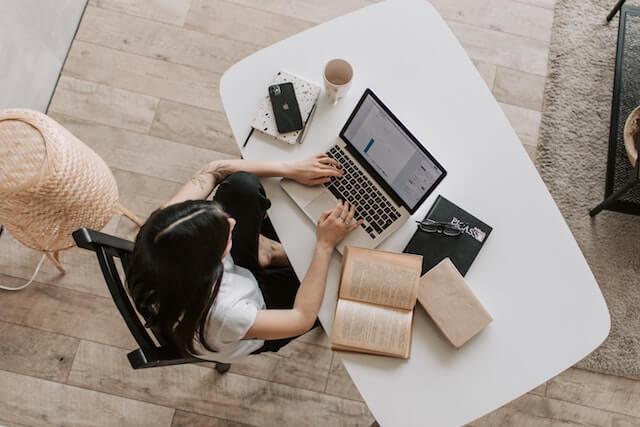 Because of the ongoing COVID-19 pandemic has had on the traditional workplace. Nearly overnight, in-office employees transitioned to work from home. Modifications have been made accordingly for typical in-person hiring practices including interviewing, onboarding, and training new employees to successfully work remotely within the organization.
Employee reviews, typically held in-person, have also been refreshed to accommodate work from home employees. These reviews may take place through video conferencing software instead of face-to-face. However, there are still plenty of growth opportunities to be found for remote workers and their employers.
Approaching employee reviews with the right frame of mind can be immensely helpful to the growth and development of your business.
Whether you're conducting a mid-year or annual review, these thoughtful approaches will help you prepare for an employee review that benefits you and your team members.
Communicate the logistics
Before you head into an employee review, work out certain logistics ahead of time.
Date. Reach out to your employee prior to the review. Let them know their employee review is coming up and ask which day and time works best for their schedule to set it up.
Dress. Encourage work casual dress during the review.
Timing. The length of the employee review may differ depending on how many reviews an employee has each year. Since you'll (likely) be on a Zoom call together and may be scheduling multiple employee reviews in the same day, aim for a review length of 20 to 30 minutes.
In person or video review? It may be some time before we're able to have in-person reviews. That being said, I recommend conducting an employee review through Zoom or another video conferencing platform. This gives you a chance to see your team member, the space they work out of, and pick up on body language cues. Seeing one another also means you'll be able to practice conscious listening. You can't multitask like you might be able to on a phone call or via email. Knowing that you have their full attention encourages each person to have a deeper, more transparent conversation together.
Additional notes. Add a short note to your meeting invitation prior to sending it. This note may detail some of the items that you wish to cover in the review together in a few quick bullet points.
Related: 11 highly effective collaboration tools to help your remote team succeed
Set a thoughtful tone
Employee reviews need to set a tone that is mindful of the present, unprecedented circumstances. Most employees have not been in the office in over a year. Each person working from home, from colleagues with small children to those caring for elderly family members, faces a set of unique challenges in maintaining a work-life balance.
Employers should emphasize that an employee review is taking place in a safe, open space.
Open with a few, fun small talk questions that allow both individuals to feel relaxed and ease into discussion. Listen carefully, take notes as you go, and encourage feedback from employees. Be empathetic, compassionate, and understanding of each individual's circumstances.
Setting the tone does more than help you establish a steady flow for the review's conversation. It also helps employees build trust with you and strengthen their morale with the business.
Give employees the floor
Rather than ask your team members how they are doing, give them the floor during an employee review. Let them share their major accomplishments with you and detail how they did it.
For example, an employee may share with their employer a self-assessment evaluation they created on a Google Doc. This evaluation may take a closer look at measurable goals they were able to set, and accomplish, in their department. Additionally, they will note the effect that reaching these goals has had on the business.
For example, let's say a social media specialist was able to grow the company Instagram following by 2,000 followers. The employee might talk about the strategy they used to reach that goal. They may share the impact that the influx of new followers has had on the business, such as increased engagement with posts and an uptick in site traffic.
Employees may also address progress as it relates to other aspects beyond their daily work responsibilities. For example, they may share how they are able to stay focused and motivated while working from home. Or they might talk about how they communicate with other team members despite obstacles such as being in different time zones.
Listen and ask relevant questions
Giving employees the floor allows employers to listen to them. They are able to ask relevant questions that pertain to aspects of the employee's performance.
Here are a few examples of questions that employers might ask so they have the proper feedback to help out.
What do you need to succeed right now? This can mean anything from an extra computer monitor to asking for a paid subscription to a software service to do the job faster and more efficiently.
Is there something you would like to change about your work schedule? Some employees work better when they start their day earlier whereas others may prefer a later start. Keep this flexibility in mind for future reference once we are able to safely return to the workplace again.
Do any of your work responsibilities make you feel anxious? This may sound like a trick question, but it's not meant to be one. Ask this question to top performers and those in need of extra assistance. The answer will allow you to map out plans where you're able to offer support and help ease these responsibilities.
What are your long-term goals in the business? Future unprecedented events withstanding, where would you like to be in another six months? How about a year from now? Employers can begin working with employees that show initiative and passion to take on duties that position them for senior roles and work their way up in the company.
Related: 5 ways leaders can inspire newly remote teams during the coronavirus
Build your team up
The unprecedented nature of the COVID-19 pandemic has been clouded with burnout, exhaustion, and major transitions to every aspect of our professional and personal lives. And yet, we're still standing.
Conclude your employee review by acknowledging the resilience of your employees.
Celebrate their wins — big and small — on a year-round basis.
Remember the cultural values of your business during this time, too. Lend a hand to those struggling in need of support and keep guiding those steady in their performance forward. Build your team up and encourage them to keep shooting for the stars.
Lead by example. Your team will follow for a time before they start to take the lead themselves.