Visibility is key in today's restaurant industry. If people don't know you exist, you'll have a hard time getting them through the door. The growth of mobile and the continued popularity of dining sites/apps like OpenTable and Yelp offer more places than ever for customers to find you. You'll need to do whatever you can to compete with the multitude of restaurants online, and that includes looking into a Google My Business listing.
For small and medium-sized businesses in the food and beverage industry, organic search is most often the first interaction someone will have with you.
So, it's safe to say it's pretty important to be front and center on the other end of that person's search. If that isn't enough to convince you, Moz found that people view less than two percent of searches below the top five results. Less than two percent!
Enter Google My Business. Google My Business takes former standalone Google services like Google+ Local and Google Places and merges them into one tool designed to help people easily find you online. In the same Moz study, they found that the site that got the most attention when searching was Google+ Local reviews tied into the Google My Business platform.
Google My Business allows you to "claim" your business and build out a listing at no cost. You will have to choose one of the verification methods before you get started, but once verified, you have the ability to edit details about your business — its hours, location, pictures, etc.
3 key benefits of Google My Business
Setting up a Google My Business account can really boost your business. Here are three benefits to consider:
1. You'll have more visibility in search results and on Google Maps
To maximize how often customers see your business in search results, Google recommends using Google My Business to update and maintain a local listing for your restaurant. These updated details (such as location, hours, etc.) all factor into Google's local search results, which present info to viewers based on relevance, distance and prominence.
2. It's a one-stop shop for searchers
Anyone searching for a restaurant who stumbles upon your listing will easily have all the information they need at their fingertips. They can see when you're open, what's on the menu, grab directions from their location, or give you a call directly from the search results. Convenience is key in today's world, and preventing someone from having to dig through multiple web pages is a plus.
3. You'll learn more about your customers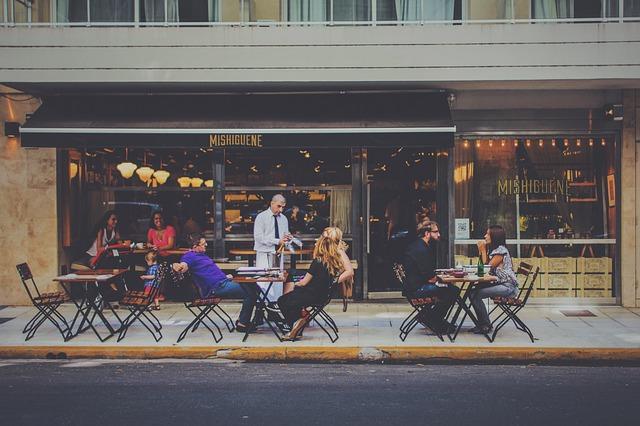 With a Google My Business listing, Google provides a handful of insights on those who are interacting with you. You'll get a breakdown of how people found you and what they did when they saw your listing. Did they call? Did they click on your menu or go straight to your website?
This information is readily available in your Google My Business dashboard. This should give you some other ideas on how to promote your business. You're also able to see how often customers find your business on Google and spot any trends over time. Did you recently nab a great review in a magazine? Check and see if there's also been an uptick in searches for your business.
How to set up a listing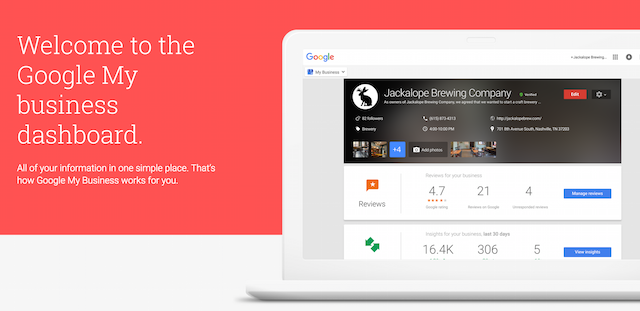 Those benefits sound pretty good, yes? Here's how to set up a Google My Business listing.
Head over to the main Google My Business site.
You'll be prompted to search for your business in the U.S.
Once you find your business and move forward, this will create a Google+ Page for your business. You will need to verify your business as well (Google gives you a few options for doing this).
You'll have access to a dashboard that allows you to fill out all the important details about your company and view insights mentioned above, including:
How many people have viewed your business
An overview of your demographics
Current reviews of your business
YouTube statistics
Google Analytics data
At no cost, Google My Business is a no-brainer for your restaurant. It's an easy way to make sure you're showing up when people are looking for you — and that you're providing all the key information right when someone needs it. Whether you're attracting new diners or making life easier on your current ones, investing time in this tool will only help to maximize your exposure in Google search.
So, what are you waiting for? And now that you're ready to go online, make sure your site is up to snuff, too!