Editor's Note: The original version of How to start a podcast with WordPress was published on November 4, 2015 by Devesh Sharma. This article was updated on May 23, 2017.
Podcasts are a primary medium for quality content distribution. Shows like 99% Invisible average over 1.5 million listeners per month. The original series of StartUp, hosted by This American Life producer Alex Blumberg, documents Blumberg's journey of raising 1.5 million dollars for his new podcasting company, Gimlet Media.
The point? There is tremendous opportunity in producing a podcast.
Listenership and engagement have steadily grown year-to-year. According to Edison Research, podcast fans listen to an average of five shows per week and subscribe to an average of 6 different shows. Also, 85 percent of fans listen to the entire show.
Podcasting can benefit your business, service, or product in many ways including:
Building authority through association and social proof
Allowing you access to new audiences
Helping you learn more about your target audience
Becoming a source of principal income
It may seem daunting to start and run a podcast. Fortunately, it's more doable than you think. You can start your own personal or professional podcast with the right plan, equipment, tools, and resources.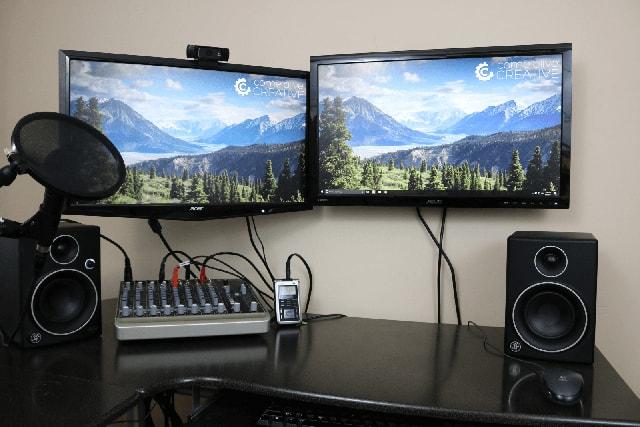 How to record, produce, and publish a podcast with WordPress
We'll cover:
Making a plan and set up your website
Choosing your recording equipment
Producing your podcast
Recording and editing your podcast
Publishing your podcast with WordPress
Syndicating your podcast
Step 1: Create a Podcast Plan
Make a plan for your creating your podcast with WordPress before you do anything in WordPress. You can save time, money, and effort with even a simple plan.
Define Your Goal
Define the goal of your podcast. Are you trying to learn about a specific industry? Do you want to share your expertise on a specific topic? Your goal should be the guiding light of all the decisions you make regarding your podcast.
Pick Your Topic
Make sure you enjoy your topic. You'll be producing hundreds of episodes if it's successful and you should like creating it.
Your topic should be interesting. This advice may look different depending on your industry and how you define success. You may only need a few hundred regular listeners to consider it successful or you may want hundreds of thousands. Interest in your topic should be able to attract the number of listeners you need.
Focus on your target audience. Make sure your topic will attract the right kind of listeners. For example, if you want to cater to business owners about web design, be careful not to produce a podcast that's so technical it attracts your competition.
Podcast Format
You have three basic podcast formats to consider in your planning:
Monologue - This format features a single person discussing a topic. It's the easiest kind to produce and can be entertaining and/or informational if you have the right personality.
Interview - Interview formats usually feature a consistent host interviewing different experts on a particular topic. Examples of this kind of podcast include Entrepreneur on Fire and One Stop Shop. This is my favorite style of podcast, to host and produce because they offer the most benefits for the amount of work put in.
Branding Your Podcast
Now is a good time to decide on some of the branding elements of your podcast as well.
Name your podcast. Choose a name that reflects the main essence and point of your show. Think about how people will search for it or how you will say it out loud on the show. When in doubt, pick something clear instead of something clever. Bonus tip: Use tools like Knowem.com, Google Trends, and Answer the Public to see what is available and to make it relevant to your audience.
Make your website. Your podcast will need a home on the web and WordPress is a perfect option. You have two choices: build the site yourself or hire someone to do it for you.

Building it yourself - Consider using a premium WordPress theme if you go this route. Podcast specific themes like Appendipity exist but most of the work will be done with the plugin handling your podcast. I recommend choosing something you trust. I typically use Genesis Themes from StudioPress for any project that needs an existing theme.
Hire someone - Hiring a freelancer or an agency might be a good solution if you want to save time, have the budget to spend, or if the site needs to be more in-depth than what an average premium theme can offer. If you go this route, choose a person or agency that understands podcasting.
Step 2: Purchase the right podcasting equipment
Equipment can make or break your podcast. You want to get the right equipment to ensure the best possible sound quality for your needs and budget. These three questions will help you determine what pieces of equipment you should buy:
What's your budget?
Where will you be recording?
How many people will be on your podcast?
Setups range from as simple as an iPhone recorder or a computer mic and Skype recording software to as detailed as a microphone, mixer, digital recording studio. One of the questions I'm asked most frequently is what equipment to buy? I created a website to answer that question.
Visit EquipmentforPodcasting.com if you'd like to learn exactly what equipment to purchase. There you can get instant access to my full list of podcast equipment recommendations and you can sign up for a free 9 email series explaining the basics and reasons for each type of equipment.
I recommend you buy at least a digital recorder and microphone for the most reliable and best sounding setup. You'll also want a mixer board with at least one AUX output for Mix-Minus if you plan on recording interviews over your computer on a service like Skype or Appear.in.
Step 3: Podcasting production
Much goes into the production of a quality podcast. This phase will be much easier if you have done the planning we previously covered..
Basic Tips for Production
The first time recording is awkward. You'll probably hate the sound of your voice in the beginning. You may stumble through your first few interviews. Get over it. You will improve with time. Don't let your imperfections stop you. Done is better than perfect.
Be consistent. Consistency fosters trust and it can look different from episode to episode. It might mean each show follows the same format. Maybe it means a show goes live every Monday morning a 8 AM EST. Find ways to make your podcast feel familiar and trustworthy to your audience.
Find the human moments. This is a concept Alex Blumberg talks about in his Creative Live course, Power Your Podcast with Storytelling. Audio is a very honest medium. It's easy to misunderstand tone and nuance in written word. Audio captures all of those details. Pursue the "human moments" when people open up and are honest to make a more relatable and better cast.
Prepping for a Solo Show
Don't script what you're going to say. Instead, decide on the topic or point of your episode and create some talking points to follow.
Practice good speaking habits. Be articulate and avoid bad habits like using useless filler language.
Use body language to your advantage. Your listeners can hear in your voice when you're smiling or are physically animated. Use natural body language while recording to better express emotion in your dialogue.
Prepping and Running an Interview
Research and find guests who are a good fit for your show. You can use services like Interview Valet to help find guests. If you're emailing potential guests, make sure to include all necessary information like a name and link to your podcast, why they would be a good fit, how long an interview takes, and some date/ times (including time zone) they could choose from to record.
Do your research before the interview. Don't go in without a plan. It's your job as host to know your interviewee, make them comfortable, and run a quality interview.
Ask quality questions. Avoid questions that can be answered with yes or no. Instead ask open-ended ones like, "Tell me about the time when…" or "Explain the moment you realized...."
Trust your gut. If you feel disinterested or confused during the interview, your audience feels the same way. The responsibility of running a good interview starts and ends with you.
Step 4: Podcast recording and editing
The recording will vary depending on your setup. If you follow the suggestions I give on EquipmentforPodcasting.com, you will record your podcast onto an SD card using a digital recorder. This is the most reliable way to record and it produces the best quality audio file when done properly.
If you choose a software-based recording method, check out tools like Audacity or Skype recorders like Ecamm and Pamela for Skype. These recording methods are more affordable if you're starting out but drawbacks include higher chances of technical errors and loss of sound quality.
Whichever method you decide on to record, you need an MP3 file to use for the podcast itself.
You have two choices once the podcast is recorded to an MP3 file: Use the file "as is" or level or edit the file. I recommend the latter to ensure better quality for your listeners.
If you want a quick way to level and balance the audio, try Levelator from the Conversations Network. *Note- the software stopped being supported as of 2012. That said, I still use it for quick leveling jobs and haven't had any issues.
Many audio editing software exist and they range in complexity. I recommend using either Audacity or Audition from Adobe. Start with Audacity if you are just starting out. It's free and I've created an in-depth tutorial on how to use it for OS Training here.
Step 5: Publishing your podcast with WordPress
General Overview
Your audio files live on a dedicated audio host.
Your WordPress website presents and features each podcast episode in a post by pulling and playing it from their audio source host.
Last, you submit your podcast feed (typically something like yourwebsite.com/feed/podcast) to iTunes, Stitcher, and similar services for distribution.
Upload Your Audio
Once you have your audio files ready to share, they need somewhere to live. Files that large can't live on your website server because that will destroy your page load speeds. You need a dedicated audio host like Libsyn or Blubrry.
Add the Podcast to Your WordPress Website
Now you need to add a podcast plugin to your site to play the different episodes. Try using either the PowerPress plugin from Blubrry or the Smart Podcast Player from SPI Labs.
PowerPress is an industry standard, dependable, and free. The Smart Podcast Player has an annual fee but offers a customizable design and nice features. Either one of these players will allow you to post individual episodes to your WordPress website.
Read these guides for installation and documentation on the PowerPress plugin or learn more about the Smart Podcast Player on its support pages.
Step 6: Submit your podcast feed
Last, now that you've published your podcast on WordPress, you'll want to submit your podcast feed to iTunes for Apple users and Stitcher for Android users.
Submitting a Feed to iTunes
It's best to visit iTunes Connect for details on submitting your feed due to changing requirements. Generally speaking, you need have an iTunes account, a validated podcast feed, and podcast album art 3000px by 3000px in size.
Try these services to validate your podcast feed:
Submitting a Feed to Stitcher
Stitcher's process isn't as clear or well-documented as iTunes so follow these steps for submitting:
Go to www.stitcher.com
Scroll down to the footer and click Partner Signup.
Enter your contact information and follow the process to start your account.
Once you submit and are approved, you can access your account at the Stitcher Partner Portal.
Be a Podcaster superstar
Congratulations! Your podcast success is now up to you. Podcasting does take some work and technical know-how but it's completely worth the effort. I've experienced many benefits for my own businesses and the businesses of our clients. If you think podcasting would be a good move, go for it.
Finally, it's very difficult to cover everything you need to know in a single post. I have several tutorials, eBooks, articles, and other resources on the topic of podcasting. Contact me here if you have any questions. Happy podcasting!
Note: GoDaddy now offers Podcast Hosting and we can better support your podcast with WordPress.