There's no denying the power of YouTube. It's the second-largest search engine in the world with over 2 billion monthly active users and 500 hours of video uploaded every single minute. And, 68 percent of YouTube users watch videos to make purchasing decisions. With usage statistics like that, you might be wondering how to start a YouTube channel yourself.
Consider this: If YouTube is responsible for one-third of all internet traffic — reaching nearly 95 percent of online users every month — then how can your business afford to not have a presence on the platform?
To get in front of your consumers when they are searching for information and forming buying decisions on your products and services, you simply need to be on YouTube.
Today we'll explore how to start a YouTube channel to attract new viewers and convert them into customers in the following sections:
What is a YouTube channel?
Frequently asked questions about YouTube channels.
How to start a YouTube channel.
Important YouTube channel elements.
Let's jump in.
What is a YouTube channel?
I still remember the first YouTube video I ever watched back in 2005. My friend booted up his laptop to show me this site where some random guy posted a video about how cool elephants are because they have long trunks.
I was mesmerized by the video and asked my friend to play it over and over again. It wasn't the charismatic elephant expert who kept me coming back for more, but the idea that he was able to take a video from his camcorder and upload it to the internet for everyone to see.
Back then, video stars like our zoo host (and famed YouTube co-creator) Jawed Karim, would record their video, log in to YouTube.com and upload their finished work to their YouTube channel, which was more like a basic Myspace profile with name, age, gender, relationship status, and last time logged in.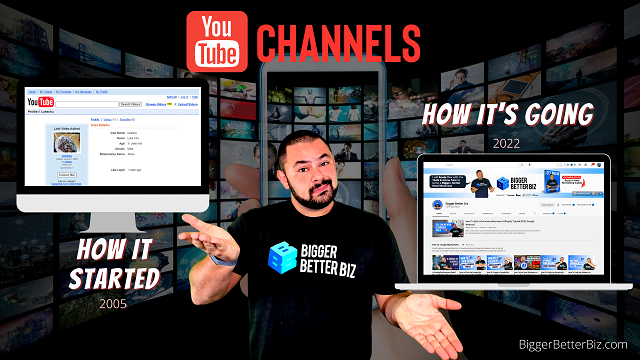 In 2006, YouTube was purchased by Google and has dramatically improved over the years, now offering a more robust YouTube channel experience for creators and viewers alike.
YouTube channel frequently asked questions
Before we can dive into how to create a YouTube channel, I'll take you through some frequently asked questions about YouTube.
What is a YouTube Creator?
YouTube Creators (sometimes referred to as YouTubers) are the heart of YouTube. They are individuals who produce content for the YouTube platform. If you upload a video to YouTube, you're officially a Youtube Creator.
What kinds of videos can I upload to YouTube?
You can upload almost any type of video to YouTube. Creators make YouTube videos about everything from personal vlogs, to how-to videos, to travel and lifestyle journals, to comedy skits and much more. Keep in mind, there are community guidelines for YouTube Creators which prohibit adding videos with deceptive content, nudity, violence, hate speech, or misinformation.
Do I need to create a YouTube channel to upload videos?
Yes! Although you can watch and like videos and subscribe to channels on YouTube with a Google account, you need a YouTube channel to upload your own videos, comment on others' videos, or make playlists.
What if I just want to make YouTube videos?
The world's your oyster when it comes to your presence on YouTube. Some business owners upload videos randomly in hopes of them going viral while others leverage their YouTube channels to strengthen their brand and drive repeat viewers.
Humans are creatures of habit, and the concept of channels reinforces the habit of consuming video content.
For example, as a kid in the 90's, my favorite show was 'The Fresh Prince of Bel-Air." I can't recall the exact day and time it aired, but every week, I knew when to plop down on the couch, so I could watch Will from Philadelphia navigate through the cosmopolitan life of Bel-Air like a fish out of water. If Fresh Prince hadn't been on NBC, how would I have known where to watch it? Instead, I would have endlessly hit the channel up button until I happened to see the last five minutes of the episode.
Why is a YouTube channel good for my brand?
There are three main benefits in starting a YouTube channel:
1. YouTube channels build a community around your brand
When viewers repeatedly see your logo, your products and services, and your team on screen, it breeds familiarity with your brand. As a result, there's a stronger sense of community, which helps to drive word-of-mouth referrals and repeat business. The larger the community, the more likely viewers will become customers.
2. YouTube channels allow you to educate customers
In marketing, it's important to know your cost of acquiring new customers (also known as COA.) By creating a YouTube channel with videos that educate consumers on your products and services, you're bolstering their trust in your brand and reducing the amount of time you will have to spend selling to them, thus reducing your COA.
3. Your YouTube channel feeds branded content directly to Google
Last, but certainly not least, we can't forget that YouTube is owned by Google and acts as the second largest search engine in the world. When you upload videos by themselves, it's like giving Google a gift straight out of the Amazon box. When you add your videos to a branded channel (following the best practices below) it's like wrapping your gift in search engine optimized wrapping paper with a sparkly, custom-branded bow.
How to start a YouTube channel
If you're still with me, then you're probably wondering how to start a YouTube channel for your business. If you're a visual learner, feel free to play, pause, and put into action this helpful video tutorial:
Otherwise, I've created a step-by-step walkthrough (and a free downloadable checklist) to help you start your YouTube channel.
Creating Your YouTube channel
You can get this done in three steps:
Sign into your Google account in order to create and/or manage your channels. If you don't have a Google account, you can create one at http://www.google.com/accounts.
To create your channel, head to YouTube.com. You can either create a channel under your Personal Name (i.e. Bryan Caplan) or your brand name (i.e. Bigger Better Biz.) Choose whichever fits your marketing strategy best.
Bookmark this link to easily switch between channels and create new ones in a flash: https://www.youtube.com/channel_switcher
The three essentials of your YouTube channel
Once your channel is set up, you need to remember the three essentials:
Channel name
Your YouTube channel name should give the audience an idea of what your channel is about. Your channel name can be the name of your business, or it can play to a big picture topic. For instance, my business name is Bryan Caplan Marketing, but we opted for Bigger Better Biz as our channel name because it conveys our goal in helping viewers to grow a bigger, better small business.
The process of naming a channel on YouTube can be very similar in practice to how you would name a company, especially when it comes down to determining what the main focus of your channel will be. Good brands often devote substantial resources to brainstorming their brand names to give the audience a particular impression of their products and services. This rings true for a YouTube channel as well.
If you have an existing business or have spent the time to build a buyer persona, you have an idea of who your core audience will be and what they might expect from watching your videos.
Channel description
Does your channel description (also known as the "About" section) even help the YouTube algorithm? Heck yes, it does! The YouTube search crawler reads and indexes your channel's description, video titles, video descriptions, video tags, and more to determine if your content is relevant to a viewer's search.
Crawling your channel's description helps YouTube comprehend what your channel is about. As a result, YouTube gives you priority by showing your video to the YouTube searchers using those particular terms mentioned in your description.
But make sure not to stuff keywords! Try writing a lucid and honest channel description that includes keywords but speaks to your viewers.
Write a unique value proposition for your viewers. Explain why people should watch your videos over someone else's channel. Clearly explain the value your audience will get from watching your videos.
Channel email
When your channel exceeds 10,000 subscribers (which is very possible) you may find that companies and brand sponsors will reach out to you for sponsored content. You don't want to miss such an opportunity to monetize your channel.
Your channel email is your gateway to networking with your audience and earning through potential brand deals. Make sure to include your email address, as it helps your audience, brands/sponsors approach you.
Other important YouTube channel elements
The following elements can be added under the "Customization" tab in the YouTube Studio. These items show on your YouTube Channel homepage and can play a major role in your ability to drive video views, gain subscribers, and get clicks to your website and social media profiles.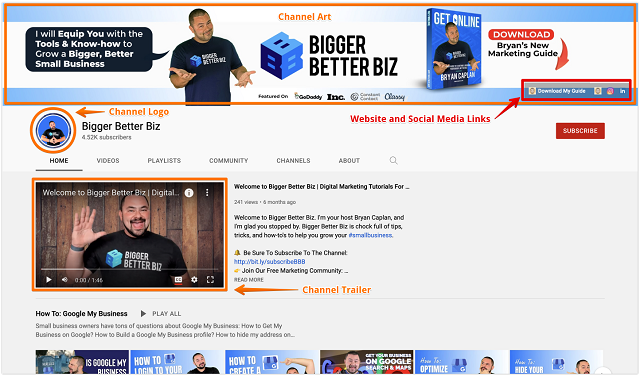 Channel logo
Your channel logo is important because it shows up next to each of your videos in YouTube search results. Your logo can be your actual business logo, a professional headshot, or a photo of your product.

Related: How to create a logo in 12 steps — a DIY guide
Video watermark
The video watermark is an image that shows up on the bottom right of your videos in an attempt to help you gain more subscribers. This can be any image you choose, but to increase your click-through rate, be sure to use an image that will catch viewers' attention.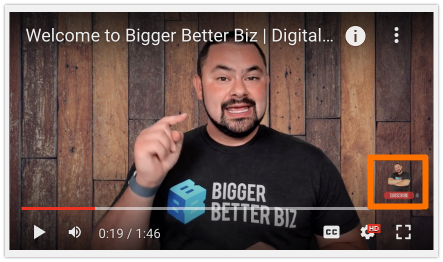 Website and social media links
You're able to include links to your website and social media accounts — Facebook, Instagram, Pinterest, Snapchat — in your channel banner. This will help the YouTube audience to connect and engage with you around the web.
If your audience lands on your Instagram or Facebook page and loves it, then you just bagged one loyal follower. Hence, social widgets help boost your social media reach & engagement.
Channel art
Adding channel art to your profile hugely aids your channel branding because it sets an expectation for your viewers. The ideal size for a YouTube channel art image is 2560px by 1440px. The safe area that will display on all devices is the central area of 1546px by 423px. Keep any logos, text, or image focal points in this area.
Related: The ultimate guide to social media image sizes
Channel trailer
Imagine you run a YouTube channel that covers diverse topics (like vlogging or interviewing). When YouTube users come across your channel, the video trailer gives them a brief idea of what your channel is about and why they should watch your videos.
Be sure to instruct channel trailer viewers to watch your other videos and subscribe to the channel so they don't miss any new videos you publish. This is a great way to build your subscriber count.
I used the Bigger Better Biz channel trailer to welcome new viewers while pointing out my video playlists and prompting them to subscribe to the channel.
Next steps
In this article, I've taken you through the process of how to start a YouTube channel for your business. With nearly seven out of 10 consumers consulting YouTube to help them make purchasing decisions, there's no better time than now to create your YouTube channel to promote your products and services.
Be sure to choose a channel name that either mirrors your business name or reflects the nature of your business. Also, put some time into your channel graphics including your logo and channel art, as they'll help you to win new views.
Share your Youtube channel everywhere
Once you follow the best practices above to optimize your YouTube channel (and improve your chances of showing up in YouTube search results) be sure to share your channel around the web. Some of the best online places to share your channel include:
On your website
In your blog posts
In your email marketing campaigns
In social media posts
On your Google Business profile
Hopefully, this guide can help you with how to start a YouTube channel of your own. Good luck and see you online!