In the fourth quarter of the year (Q4), consumers pull out their wallets like no other time.
Given the popularity of ecommerce in recent years, especially around the holidays, many businesses will update their product pages in time for the holiday season, and I'm here to remind you to update your blog as well.
When it comes to your blog, an online store has a lot to gain when they write blog posts that:
Rank in Google search
Make special holiday offers
Improve conversion rates on their websites
Blogging may be seen as an old medium that's taken a backseat to social media marketing campaigns, but a well-optimized blog funnels viewers 24/7 from Google without requiring you to post stories on the weekends or stay on top of trending audios.
Tap into that tidal wave of searching and shopping and boost your holiday ecommerce sales with these tips.
Understanding the holiday audience
Before trying to improve your conversion rate for this holiday season, first look at last year's analytics. Determine your highest-value blog posts and product pages and prime those pages for this holiday season by:
Making sure product information is current
Adding relevant images
Updating links
Exercise: Make all of your most-visited pages a top priority when updating content for this holiday season.
16 tips to improve conversion rates for the holidays
So your SEO strategy is working and you're getting viewers to your website via your blog - how do you turn them from readers into buyers?
1. Improve website technical performance
Before we can talk about how to increase your conversion rate, let's look at the fastest way to reduce conversions: giving viewers a slow, unreliable website. Your website's conversion rate optimization starts with improving the technical experience of using your site.
Potential customers will be scared away from pulling out their credit cards if your blog loads slowly. Ecommerce site speed gives a feeling of either reliability or distrust.
This is particularly important for improving mobile conversion rates. Desktop shoppers have more patience, as they're willing to switch to another tab while the page loads. Mobile users are less forgiving.
Make sure that your website checks these boxes:
Mobile performance: Check your website's mobile experience for responsiveness
Load speed: If your load speeds are slow, outsource this to a website speed service
Security: Make sure your website has its SSL certificate (web address starts with https, not just http)
Broken links: Check that all links lead to active and relevant pages
Mobile forms: Test mobile forms and make sure that they all work correctly
Give website visitors the confidence they need to complete the buying process and make your site easy to use at every turn.
2. Answer FAQs
In order for your website to serve visitors best, it should be actively answering FAQs that they have about how your products work.
The opportunity here for business owners is two-fold: first, you anticipate your readers' needs. Second, you qualify for premium placement on Google if you can have your answers featured in the "People also ask" section that sits on the top half of search results.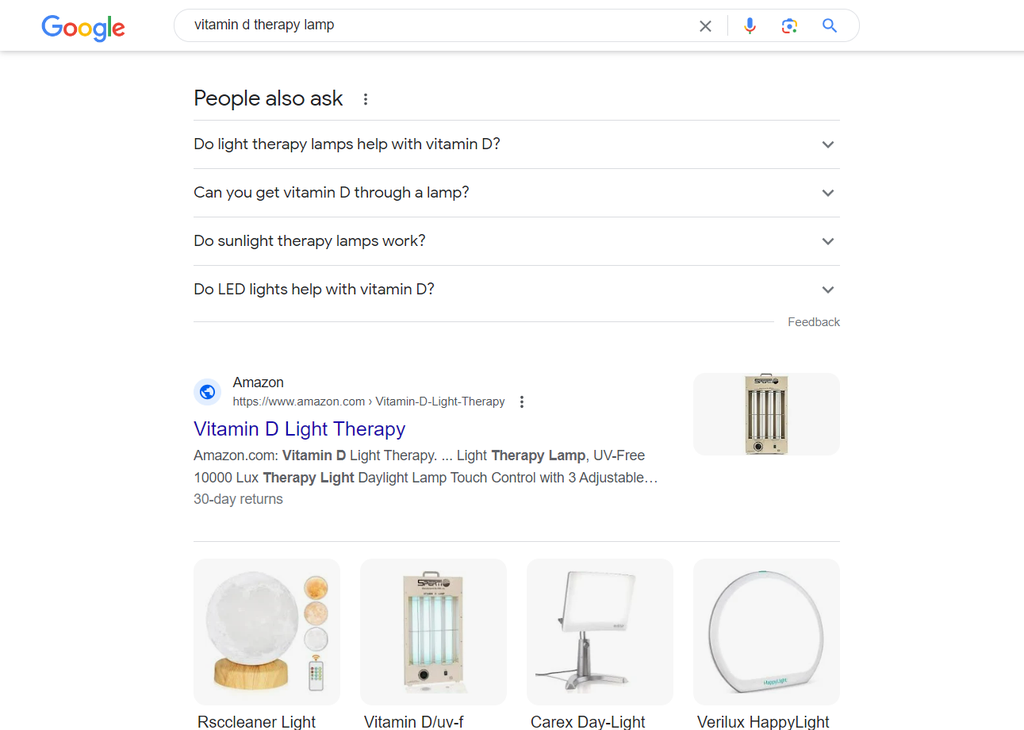 Follow these steps to try to rank in the "People also ask" results:
Find which questions people are asking that relate to your content
Add the question as an H2 in your blog post
Repeat part of the question at the beginning of your answer
Answer concisely, trying to provide a better answer than whatever is currently being displayed on Google
3. Add a chat box
Given the intense research that holiday shoppers put into their purchases, an ecommerce site that offers one-on-one answers to questions is opening itself up to higher revenue.
Take your helpfulness beyond just an FAQ and be available to answer questions from holiday shoppers. Consider adding a chatbox to your website that allows visitors to search help articles or easily send an email to your internal team.
This gives you the opportunity to continue the conversation you're having with potential customers instead of them clicking away and searching for the answer on another website.
4. Converting viewers to email subscribers
Digital marketers who engage in email marketing don't have to worry about making a sale immediately once a reader comes from Google. If you can offer free gifts to incentivize readers to join your email list, then you'll lengthen the relationship with the viewer.
This is where email marketing becomes the middleman between your blog and your ecommerce site, but it's a highly effective way to ultimately increase your conversion rates.
And, customers love free gifts! Convert your readers into subscribers, and then follow up with an email campaign that directs readers into your sales page.
You can convert readers into email subscribers through pop-ups, dedicated landing pages or in-blog offers like this example from Gravel: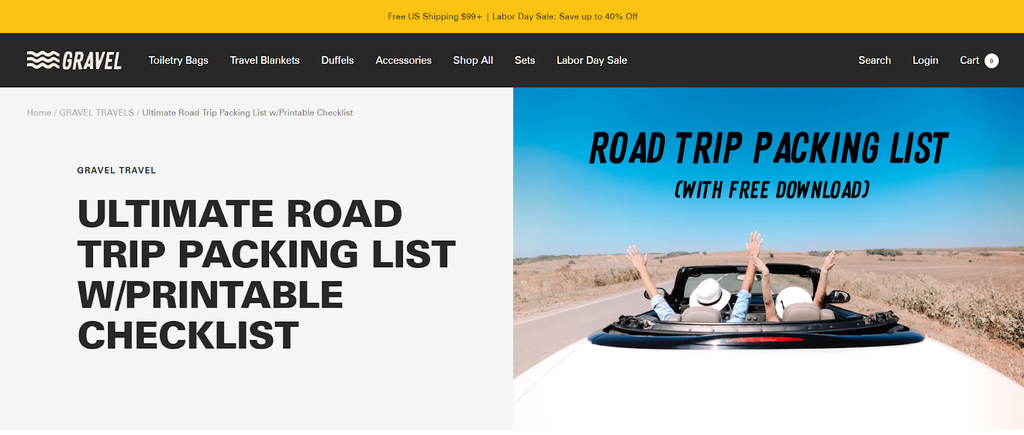 5. Using sale pop-ups and banners
Incentivize your website readers to become shoppers by offering special incentives via a pop-up.
The timing of your pop-up is important: website pop-ups have much higher conversion rates if they're delayed. Give readers a chance to enjoy your content before you hit them with an offer.
If the pop-up appears immediately when a reader comes to your website, they'll close it out right away so they can get the information that they came there for and your conversion rate will be very low.
Schedule the pop-up to appear after the reader has been on the page for a specific amount of time, such as 30 seconds, or once they've scrolled through a specific percentage of the page, such as 50%. Here's a coupon pop-up from Proclaim: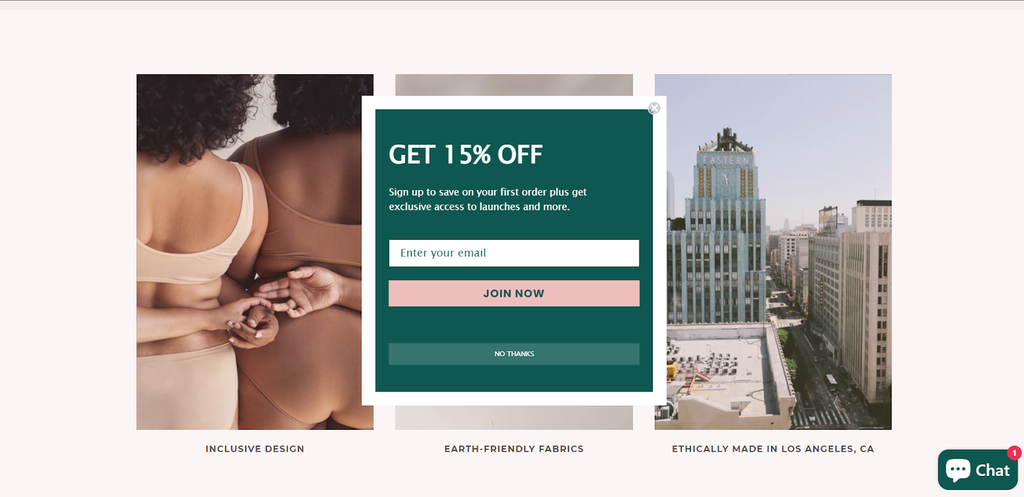 Bonus tip: Make the pop-up offer seasonal for higher conversion rates.
6. Creating product video pop-ups
Do you have a short-form video from TikTok or Instagram that shows your product in use? Have that video pop up in the bottom-hand corner of a related blog post as viewers are reading your free content.
7. Adding countdown timers
Urgency and scarcity techniques are long-time favorite marketing tricks that should be a part of your conversion rate optimization.
Your blog can advertise a countdown timer with limited-time offers trying to create urgency and get more sales out of blog readers:
A deal of the day (a new product on sale every only 24)
Quickly-expiring discount code
Free shipping deadlines
Early-bird offers
Here's an example from It's All You Boo of a banner creating urgency and scarcity to encourage visitors to buy on the spot: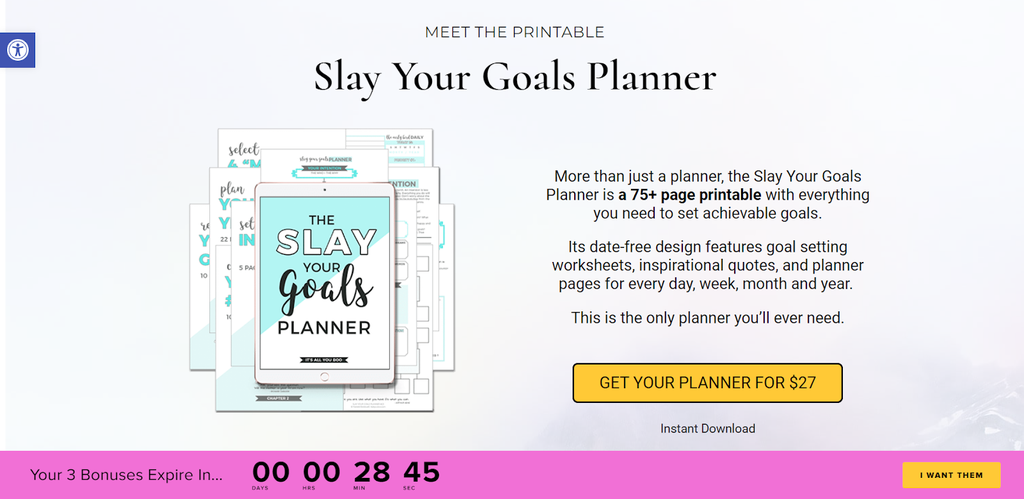 8. Creating dedicated holiday landing pages
In addition to sending blog readers to specific product pages, you can also create a landing page dedicated to your holiday offers.
A landing page can be incredibly high-value for holiday shoppers if it makes some of the sifting easier for customers. Rather than clicking through dozens of product listings, make a landing page for the common themes that shoppers might want to explore.
Consider creating a landing page with:
Bestsellers of the year
Most discounted items
Top holiday favorites
Here's an example of a landing page from Notabag that celebrates all of the different styles of one of their products: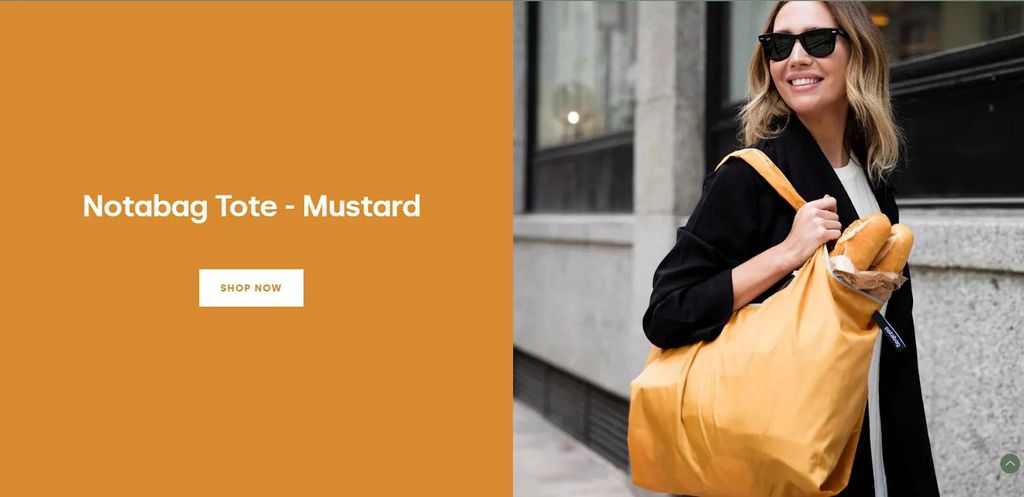 9. Showing your product
After combing through dozens of blogs associated with ecommerce sites, I noticed something huge missing from many blogs: pictures of the product.
Product visibility was completely forgotten on at least half of the blogs I visited. Your product needs to be visible, whether it's through product-specific photos or more stock photo-style lifestyle photos.
Did you take any new photographs in anticipation of the upcoming holiday season? Or maybe you have photos from last year? Display them in your blog posts so that holiday shoppers know what you offer, like this example from Tristar Boutique: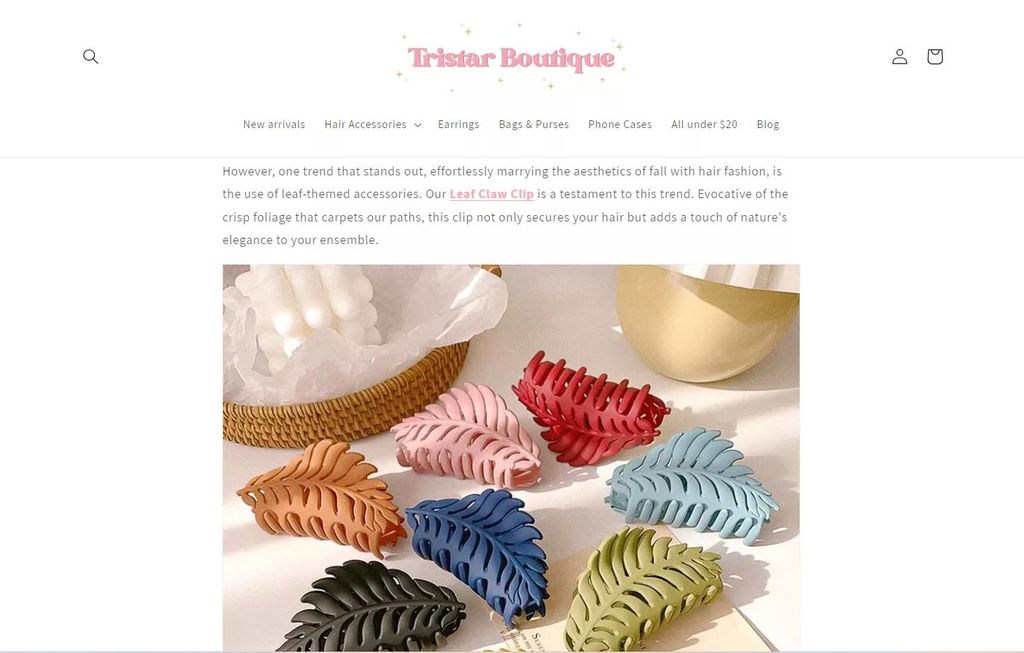 10. Making offers visible
Don't hide your categories and offers from viewers in a hidden website menu that requires viewers to click to even see the tabs (this is called a hamburger menu).
The menu on your website is like a billboard for your offers, and a hamburger menu hides them from potential customers.
Make your offers clear to potential customers with a visible menu. Consider even highlighting your shop or seasonal offers with a different color on your menu, like in this example from Popflex: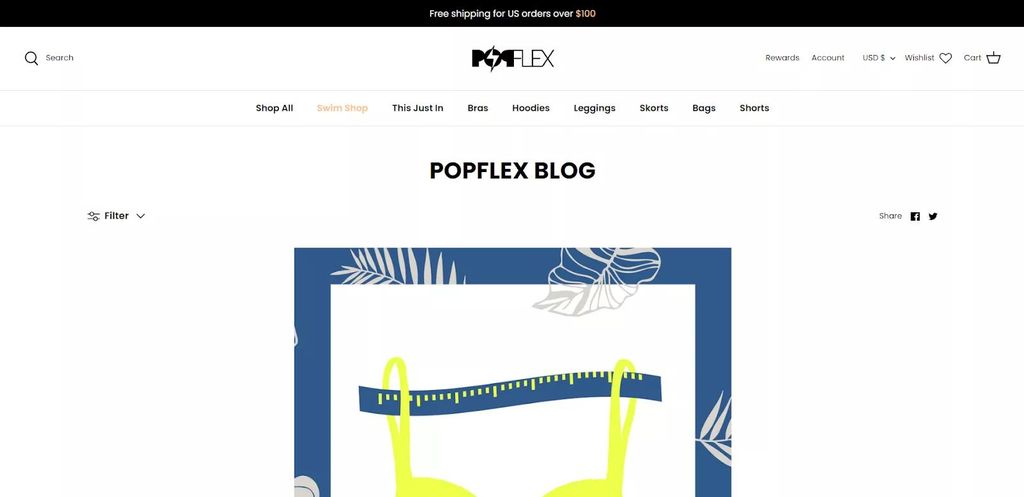 11. Displaying social proof
Social proof should touch on your value proposition to customers: what unique benefits do they get from choosing your product over one of your competitors?
Social proof on your blog comes in many forms:
Testimonials
Case studies
Awards or recognition
Mentions in the media
Share count
Here's a creative social proof example from Elfsight that they put in the footer of their blog: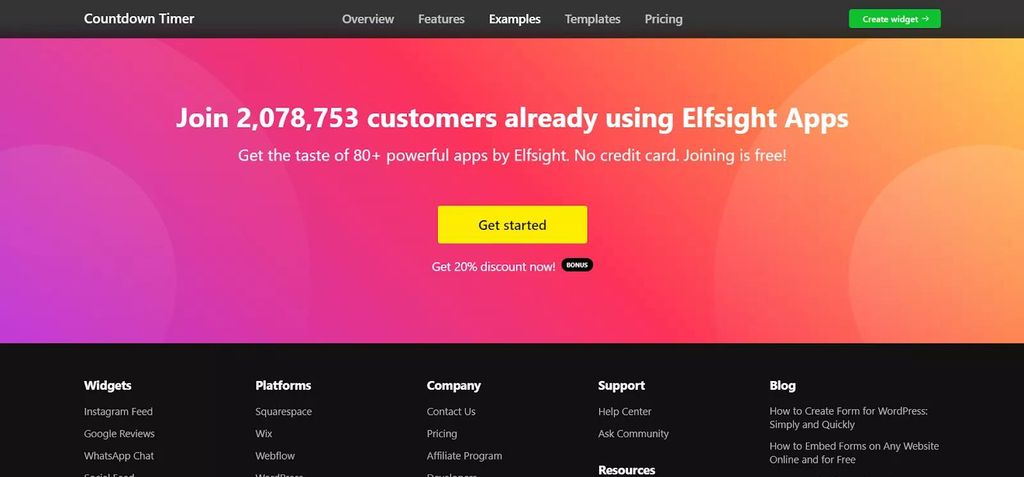 12. Making a gift guide
Gift guides are usually themed and are extremely popular during the holiday season as consumers are looking to buy thoughtful gifts in an efficient manner. This is a great way to show an angle of your products that consumers might not be familiar with.
For example, The Sparkle Case creates custom tech cases, and made a gift guide titled "the best gifts for dog and cat lovers" showcasing how pet photos can be used to customize cases: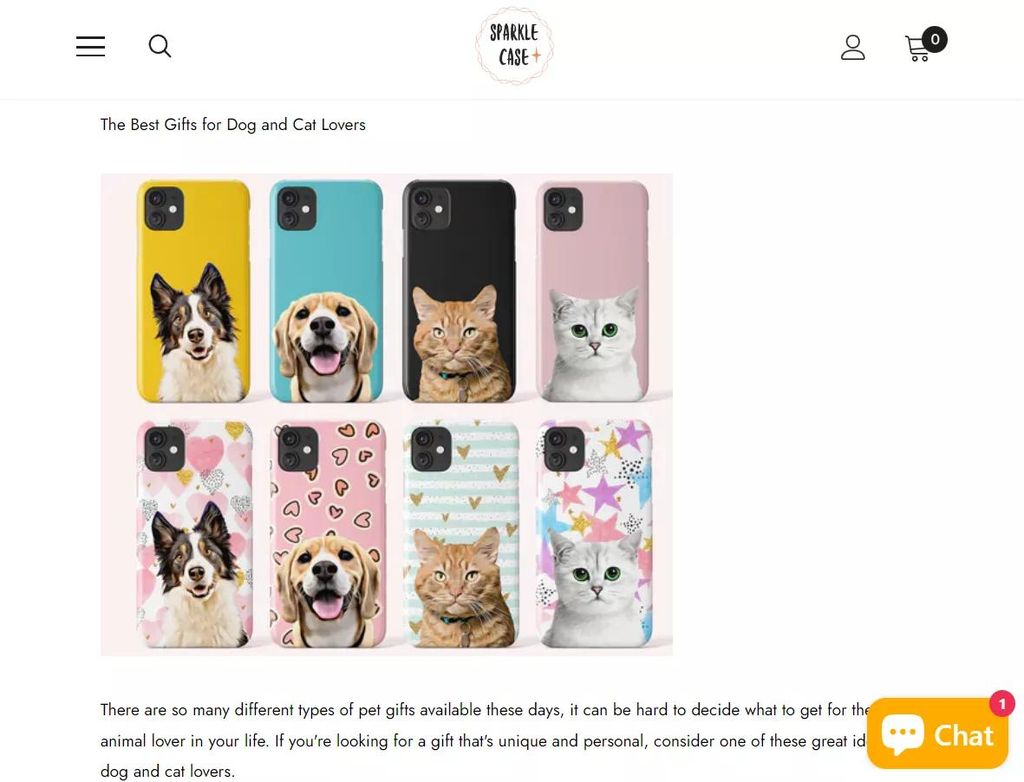 13. Showing your product in a holiday theme
Ecommerce stores with versatile products can go beyond the normal gift guide and specifically show how their products can be used at the holidays.
Here's an example from Stasher Bag. This is a gift guide offering holiday season gifts that all fit inside of their product. It's creative and shows how multi-faceted the product is: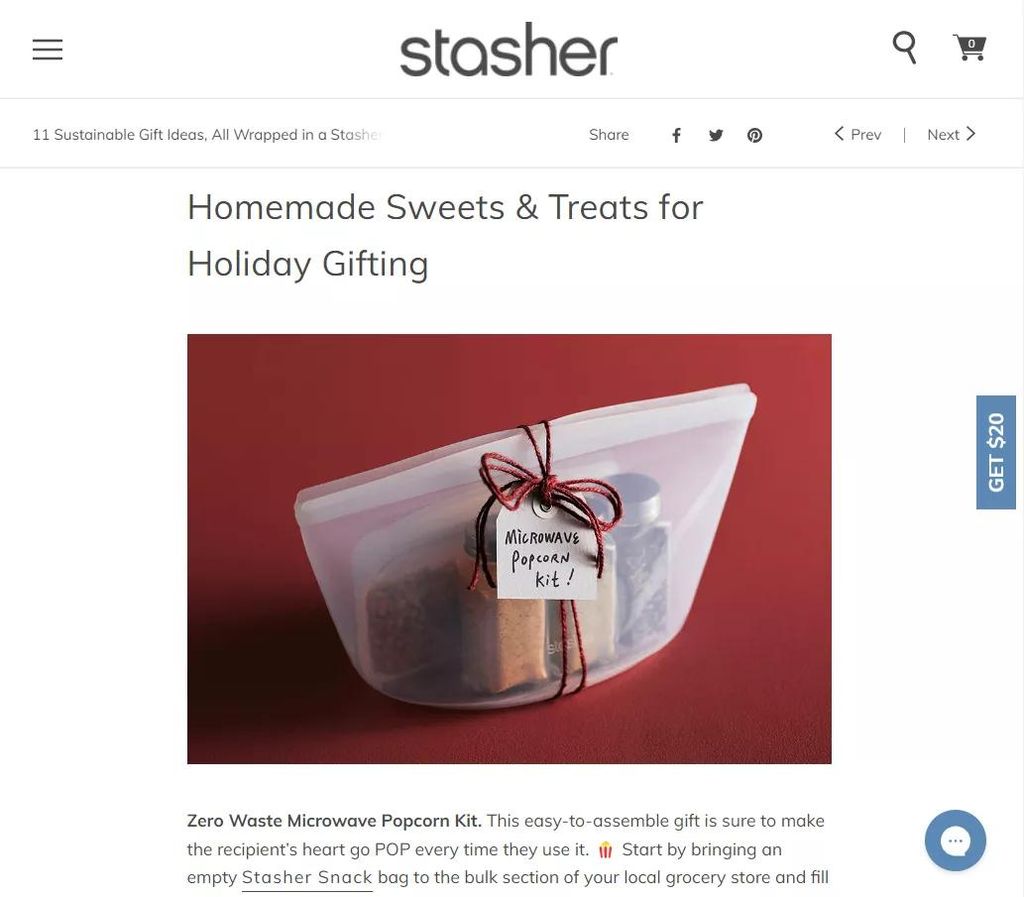 14. Building internal links to product pages
"One of the best ways to increase your conversion rates is through cross-promotion," shared Spencer Haws, owner of linking software Link Whisper. "We all know that Amazon does a great job of suggesting 'You might also like.…'"
"Are you doing the same thing for your blog? By promoting related products on your checkout pages, you can absolutely increase your cart value; especially, in the 4th quarter!"
Internal linking is a technique that's often underutilized in conversion optimization, but it's a step that's extremely important for websites that want to increase conversion rate from their blog to their shop.
Your blog posts should always include internal links to relevant:
Product pages
Landing pages
Blog posts
Email subscriber forms
Let's look at an example, using a company that sells red light therapy devices. They write a blog post about the pain relief benefits of red light therapy. Within that post, after answering all of the common questions, they share one of their own red light therapy devices and link to the relevant product pages.
Now readers are being turned into potential customers by being directed from the blog to the ecommerce pages. This example comes from red light therapy ecommerce site Kineon: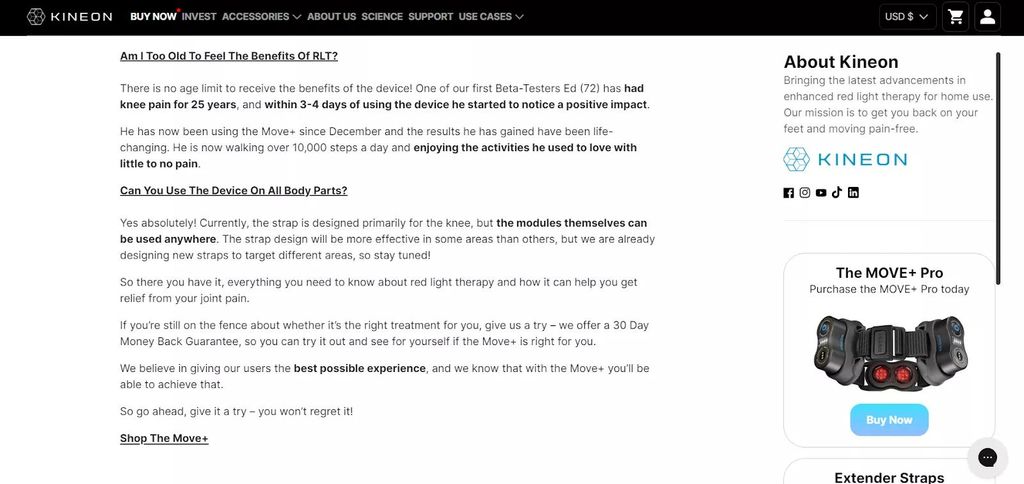 15. Crafting timely call-to-actions (CTAs)
Persuasive CTAs are an important part of all sales copy. While every ecommerce strategy likely already covers CTAs, revisit them for the holiday season to make sure that your prompts are as timely and convincing as possible.
Here are some CTA ideas that can increase conversions:
Timeliness: Order by X date to ensure Hanukkah or Christmas delivery
Scarcity: Order before colors and sizes sell out
Instant purchase: Digital gift cards are available immediately! Check this gift off your list
Look at holiday data to see if you look for opportunities and leverage this consumer behavior when developing your CTAs.
16. Updating top pieces
There are multiple benefits to updating top-performing Q4 blog posts.
This is powerful for SEO: updating your content sends positive signals to Google that your content is still relevant to viewers. And, this matters to viewers as well.
Viewers want to feel like they're reading up-to-date information, and blogs can provide this feeling of relevance and timeliness by adding the date on which each blog post was most recently updated.
For example, say you have an air fryer buying guide on your website that's been very popular in recent years.
Air fryers have boomed as seasonal gifts in recent years, but in 2023, consumers saw headlines about air fryer recalls. They'll find a guide that's been updated this year more trustworthy than one from 2020.
Here's an example from my website Writing From Nowhere. You can see the original publish date above the feature image and then the date at which is was most recently updated: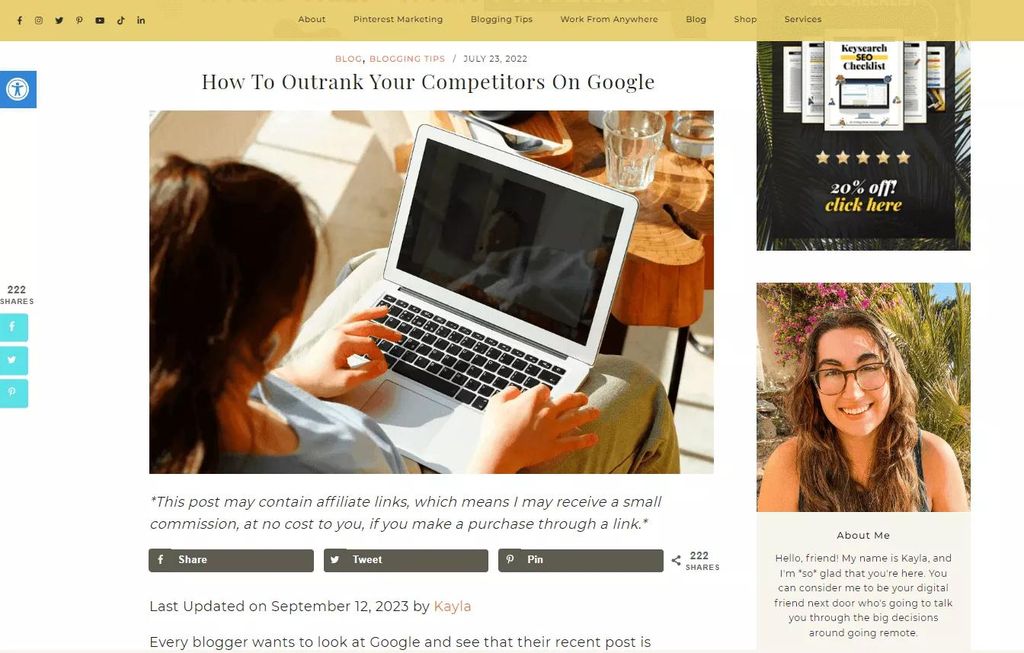 If you see that you're getting a lot of holiday website traffic from a blog post that was originally published years ago, go update it with and make sure it displays the most recent date.
Conclusion
Online retailers have a lot to gain by investing in conversion rate optimization in time for the holidays.
Whether you're adding new images to blog posts, reviewing your Google Analytics to find update opportunities or adding seasonal pop-ups, a few tips can make a big difference when it comes to turning readers into customers.
Many of these tips can be implemented in under two hours. Don't wait until the week before Christmas to start implementing these strategies. I'm raising a glass of eggnog to your holiday ecommerce sales and improved conversion rates!