I started out as a daily newspaper reporter, covering the environmental beat (remember pfiesteria?) for two stories a day. At 3 p.m. sharp each day, my fellow beat reporters and I would gather around our editor's desk and pitch our stories for the next day's edition. Nobody ever wanted to pitch first because they knew they'd be at the bottom of the one-up pile as we took turns trying to convince the boss that our story deserved one of the few coveted spots above the fold on the front page.
Above the fold. That's prime real estate, my friend. The part of the paper that people see while they're waiting in line at the convenience store. That's where you want your byline.
It's not a whole lot different with websites. The top section of a web page, the stuff you see without having to scroll down, is a site's most valuable real estate. The part above the fold or, in this case, above the scroll, gives visitors their first impression. It's where you'll want your company name and your logo and your most compelling headlines and images and calls to action.
And it's premium placement for digital ads.
Best practices for making digital ads more viewable
Veteran blogger Jenny Lauck dug into the topic of digital advertising at this year's BlogHer Conference (an amazing event). During a roundtable called "The Blog Monetization Landscape: Don't Leave Money on the Table," Jenny outlined a handful of best practices to improve ad viewability -- and make advertisers happy.
The rule of thumb? To be valuable, at least 50 percent of a digital ad's graphics have to be visible on the user's screen for at least one second, without the user actively scrolling. Lower-placed ads will increasingly become devalued.
Check out five best practices to help you get to that benchmark:
1. Make the most of your above-the-fold space.
Figure out how to optimize the space by looking at each element on the page. Can you make your masthead a little thinner? Can you cut the amount of descriptive copy with links to more info on inside pages? Does that video really need to occupy two-thirds of the premium space?
2. Align ad units along "slow content."
While scanning a web page, readers are more likely to pause on certain types of content. This is known as "slow content," and it might include photos, videos and exciting offers. Ads placed near this content will get longer views.
3. Adopt a fixed ad position.
More and more advertisers are interested in fixed placement, or position, where the ads stay in place even when scrolling.
"What is your site delivering to your mobile readers?" ~ Jenny Lauck
4. Use a mobile-optimized template.
It's not an overstatement to say that mobile is taking over the web game. And if your website -- and the digital ads on it -- aren't easy to view and navigate on a mobile device, you're missing out on business. You might need to look into mobile-specific ad sizes.
5. Be aware of how mobile-responsive templates present your sidebar content.
It's common to place ads in a sidebar on the website. If the mobile user has to double-tap her screen to get an amplified view of your site, the sidebar content (including the ads) might no longer be visible. Conversely, the user could get so fed up trying to navigate your site that she stops trying. Bye-bye, business. Adios, advertisers.
This is how it's done right: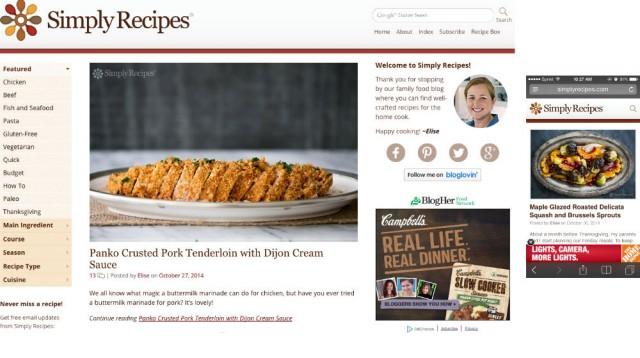 Do you feature ads on your website? If so, how do you ensure optimal viewability? Please share in the comments below!