Have you ever wondered what it takes to make money investing in domain names? You've probably seen or heard news of someone selling a domain for an incredible amount of money. So how do you get that cool, million-dollar sale? Is making money with domains really possible?
Short answer: Yes. Long answer: To be successful, you need to work hard in the right direction, with the right advice.
The best way to learn what it takes to make money with domains is to look at someone who's already doing it — and doing it well. They can spark ideas for domains within your own niche and offer sage advice that you would otherwise discover through trial and error. Don't reinvent the wheel. Don't fall prey to common pitfalls. And if you want to know what those are, I've got the perfect person for you.
Ali Zandi, an aftermarket success
I was lucky enough to have Ali Zandi, a guy who fits the bill for working hard and making money with domains, answer some questions. Hopefully his advice will help domain investors new and old learn more about how to be successful.
How did you get your start investing in domains?
My journey into the domain name investing world began out of the sheer necessity for survival and a profound inner aching to achieve something greater — to do something more with my life. Up until that point, I had made career choices that lead me mostly to inner dead ends. Choices that taught me many lessons yet did not fill the gaping entrepreneurial void, or worse, my bank account.
I was dead set on finding this "way out." However, I also had to find a way that wouldn't sacrifice my need to be location independent, my own boss, and remain free to do as I please. Tall order, I know.
One night, I was scouring the internet for unique ways to make money. As you can imagine, my findings were either a scam or would require me to sit around and take surveys all day long just to end up being able to afford ramen for the week. No, thank you. A few days went by and my hope began to fade, but somehow, I found a domain name industry forum. It immediately sparked my interest, and I started reading.
I did like most new investors do: read a few paragraphs, get filled with joy and excitement, and begin to register made-up domain names as if they were all some mystical lottery ticket that would guarantee me fortunes. I then proceeded to list these domain names for sale on the forum. Asking high prices and arguing with anyone who told me they were complete garbage (because I already knew everything, duh).
After being shot down numerous times, I humbled myself and came to the stark realization that this is a much more intricate process.
I would have to treat it like a career — and to succeed in anything, you must learn all of the ins and outs first. I stopped buying domains, put the ones I did buy on the shelf, and began reading, studying, and learning all that I could.
What was the thing that first got you hooked?
After my spout of learning, I decided it was time to take my findings and test them in the real world. I noticed a particular domain name related to apps had just sold for six figures, so I decided to go "mining" for app-related domain names.
I listed the bundle for sale at auction and bidding swiftly surpassed my reserve price. Not too long after the reserve was met, I was messaged by a bidder to negotiate a Buy It Now price. We settled on $7,500, and just like that — two weeks later — I was sitting with more than $5,000 in profit in my pocket. I was immediately hooked.
What was your initial strategy and how did that work?
My original strategy was solely based on quick returns by way of mining what I perceived to be golden nuggets from GoDaddy Auctions, and then flipping them to other investors through other auction platforms.

I was essentially value investing. Finding domain names that I believed to have more value in the wholesale market than I was acquiring them for. After purchasing the domain names, I would list them at auction and use my marketing strategies to get the word out to other investors.
How have things evolved into what you do today?
When I first started, I was only focusing on quick flips. I was buying and selling domain names within 30 days of acquiring them.
Today, I have my portfolio split into long-term and mid-term domain names with a much bigger focus on selling to end users as opposed to other investors.
I am slowly moving out of the quick-flip business as the competition has become fierce in the wholesale auction market. I have also put a much bigger focus on my domain name brokerage company, Starfire Holdings. Brokering (whether acquisition or sell side) high quality, six- and seven-figure assets is quite a thrilling experience, and I am becoming very addicted to it.
I would say my entire strategy has evolved to become a far more balanced blend, and I am very satisfied with the way things are going now.
How have you honed your techniques to find the biggest revenue opportunities?
I have recently begun to put a major focus on the brand worthiness of domain names. I've spent countless hours creating a database of industry data and greatly expanding my knowledge of brand psychology.
I spend a lot of time sorting through expiring auctions, closeouts and deleted domains lists to see who is picking up what, and how much they are listing the domain name for. Even further, I keep a close eye on what sells, how long it took to sell, and how much it sold for. This, along with my gut instincts, compilation of data, and brand knowledge, has allowed me to really hone in on acquiring the most likely to sell domain names for my portfolio.
What did you do that didn't work and what did you learn from it?
A lot of things don't work. That is the best part of this journey. You learn from all the failures, only to refine your technique, and grow exponentially.
That said, the biggest lesson I have learned to date is not to put all my eggs in one basket — because if I drop that basket, it's all over.
What tools do you use to be successful in the industry?
I use a lot of tools. The ones that have helped me the most over my journey have been the following (in no specific order):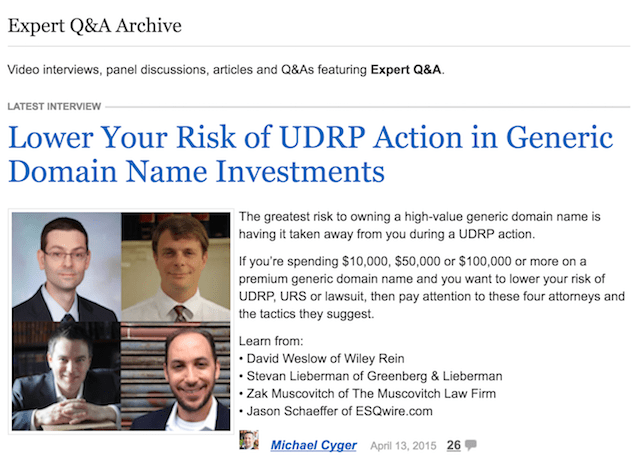 DomainSherpa.com. While not technically a tool, watching DomainSherpa videos has taught me more in the last few years about this industry than just about anything else. There is an incredible wealth of knowledge in the content!
DomainIQ.com. I love this tool. The best feature (in my opinion) is the ability to look deep into other domain name investors portfolios. I am able to look at domain industry veterans' portfolios and gain so much insight. Not only that, when I am shopping for domain names, I can also find out a ton of information on who owns the domain name — whether they are an end user, regular joe, an investor — and what else they own that I may potentially want to purchase.
ExpiredDomains.net. Another one of my favorite tools that allows me to search through GoDaddy (and other platforms) auctions, closeouts and deleted names. I love all of the filters, functionality and how incredibly fast it is. I use this tool every day.
TextMechanic.com. Another tool that I use every day, and while it isn't industry-specific, it is a very valuable tool. I recently used it, on top of data I accumulated, to generate more than 5,000,000 possible domain name combinations.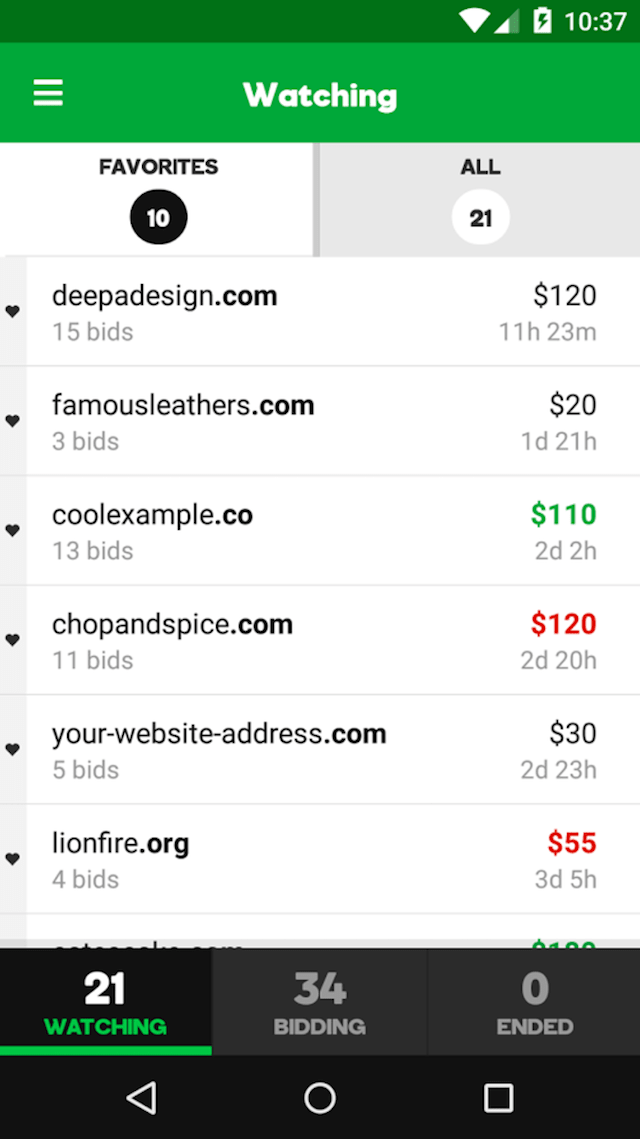 GoDaddy Investor App. This is one tool I cannot live without. I try to watch as many auctions as I can, and having this app on my phone, right in my palms, helps me keep track of every auction I am bidding on and watching. It notifies me if/when I get out bid, when an auction is ending, and better yet, let's me sit at the beach and invest in domains.
There are other tools that I use, but these are the ones I use on a daily basis. The most important thing you can do is find what tools work best, and use them to your advantage.
Overall, can you describe your level of success now and how using our tools has contributed to that?
I have been blessed to be quite successful in this industry so far. I am looking to surpass $10M worth of domain names sold/brokered this year, have grown my portfolio dramatically, and currently am working on a top-secret project that is set to launch soon.
While there are quite a few fundamental reasons for my success, GoDaddy has played a big role in my investing journey.
My very first domain names were registered through GoDaddy, and my first auction flips where purchased from their aftermarket. They are still my preferred domain registrar, preferred aftermarket, and to date I have nearly 5,000 domains (and growing) listed on their Afternic platform. They have always been there when I need them, and they know how to take care of their people. Truly grateful.
Anything else you would like to share?
Becoming successful in anything you do (especially this industry) takes a lot of hard work, determination and ambition. You will hit walls and you will fall flat on your face multiple times. You will find yourself backed into corners, stressed out, frustrated and even burn out a time or two.
You have to study harder, work harder, and dig deeper than everyone else around you if you want to rise to the top.
There is no get rich quick. There are no lottery tickets. You will not find yourself driving around in a Ferrari and popping Cristal (or whatever kids do these days) overnight. In short, you don't become a surgeon just by holding a scalpel. You have to earn it.
Making money with domains
So there you have it — wise words from Ali Zandi. If you're willing to work hard, put in the time, and learn all that you can from other investors, making money with domains can be a lucrative future for you.
Want to get started? Register a domain now.