As a web designer or developer, you may think clients will only come to you for a website. If you dig a little deeper, though, you'll find that what they're really looking for is a way to grow their business through an online presence.
While that may involve your skills in building a website, there's a lot more you can offer to help them achieve their goals. One of those things is email marketing — which ties into offering a newsletter service.
When it comes to growing a business, going viral on TikTok or Instagram may be the ultimate prize for marketers, but email marketing still reigns supreme over social media. Consider that email marketing has the highest ROI of other forms of marketing.
According to a report by HubSpot, "email generates $42 for every $1 spent, which is an astounding 4,200% ROI, making it one of the most effective options available."
Did you know that nearly 55% of global website traffic is generated from mobile devices, excluding tablets (Statista, 2021)? If that just blew your mind, also consider that nearly one in five email campaigns are not optimized for mobile devices (SuperOffice, 2020).
When you reflect on those stats, you can see where your clients might need your unique skills in creating their newsletters.
By offering newsletter services, you can help clients grow their business — and develop a nice stream of recurring revenue.
Selling new services can be tricky
When offering a new service, you want to prove the value right out of the gate. You also need to make it sound easy and painless, which can be a challenge. For example, let's talk about some common issues when setting up WordPress and an email marketing platform that can enable the newsletter service.
Underutilized platform
Many of your clients may already have an email service provider. But they could be unfamiliar with the platform and not even be using it. Creating and designing newsletter campaigns is a whole different ball game than writing a post in WordPress. There's training and a big investment of time involved.
Learning curve
If your client doesn't have an email marketing platform yet, getting them set up and training them to use it can be problematic. Some platforms are not very intuitive. It can take hours to set up templates and learn how to apply them to new campaigns. If you're working with a team of marketers, each one has to learn the process and everyone needs to sync up with best use practices.
Redundancy
It can take a lot of time and effort to write a great post. Then, once you're done and it's formatted, you have to format it all over again on a new platform. That time could be better spent planning the next post or campaign. Those common issues could prevent you from selling your new service to clients.
Using the Newsletter Glue plugin for newsletters in WordPress
What if you didn't have to move platforms just to publish a newsletter? What if you could stay inside WordPress and send the newsletter right from the post editor? Newsletter Glue is a WordPress plugin that allows you to do exactly that.
If clients already know how to create a post in WordPress, then sending a newsletter is just as easy. Once a client has written and formatted their latest post, it only takes a single click to email posts to subscribers at the same time it publishes.
This new service offering only takes about five minutes to set up.
How to set up Newsletter Glue
Here's how to do it. How to set up Newsletter Glue First, install the Newsletter Glue plugin by downloading at newsletterglue.com. With their 14-day, no questions asked refund policy, there's no risk to try it out. Then install it via the plugins menu in WordPress as you normally would.
Once you've installed the plugin, there is a simple, 6-step onboarding process that helps you get set up. First, you'll connect to your email service provider.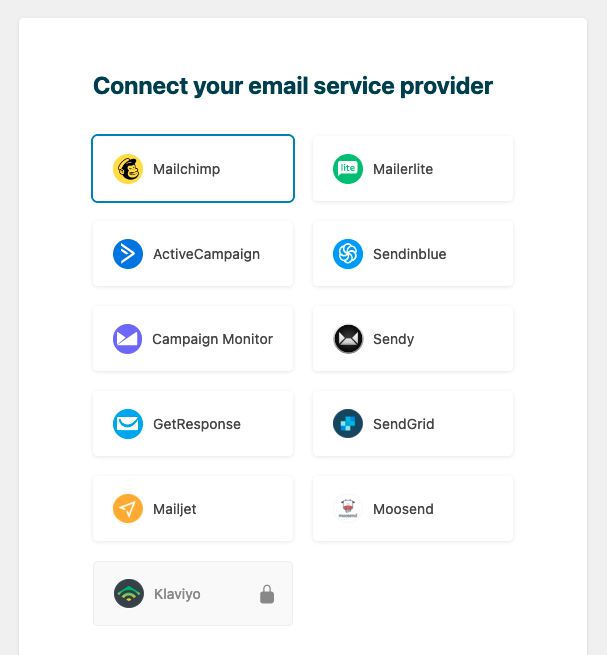 Then, you'll set your default newsletter settings. You can choose an audience and segment, and even create a new segment right inside the onboarding wizard. You also fill in the newsletter From Name and Email address you'd like to use.
Next you'll personalize your patterns, which means you'll set up the merge tags that will display in the email, like Company name and physical address. In other steps, you can add a logo and set up social media accounts that will be included in your newsletter's Social Follow block.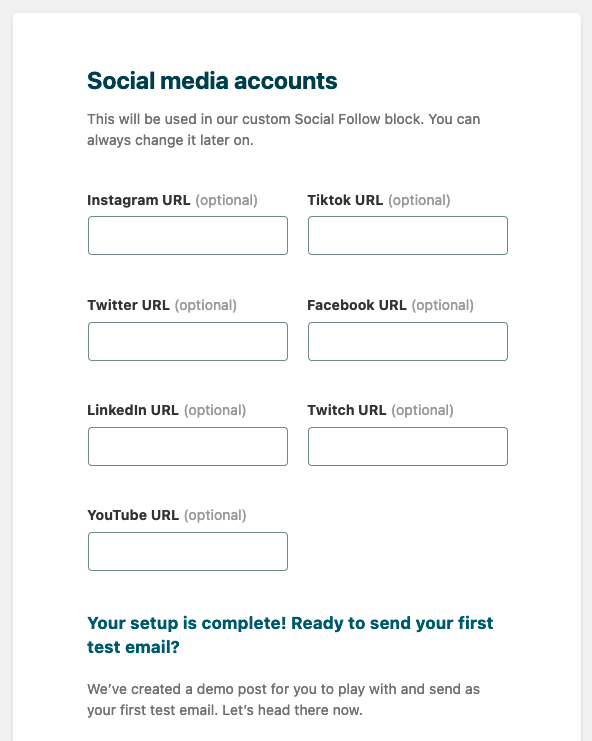 Once you've set everything up, you can send yourself a test email with a demo post created for you.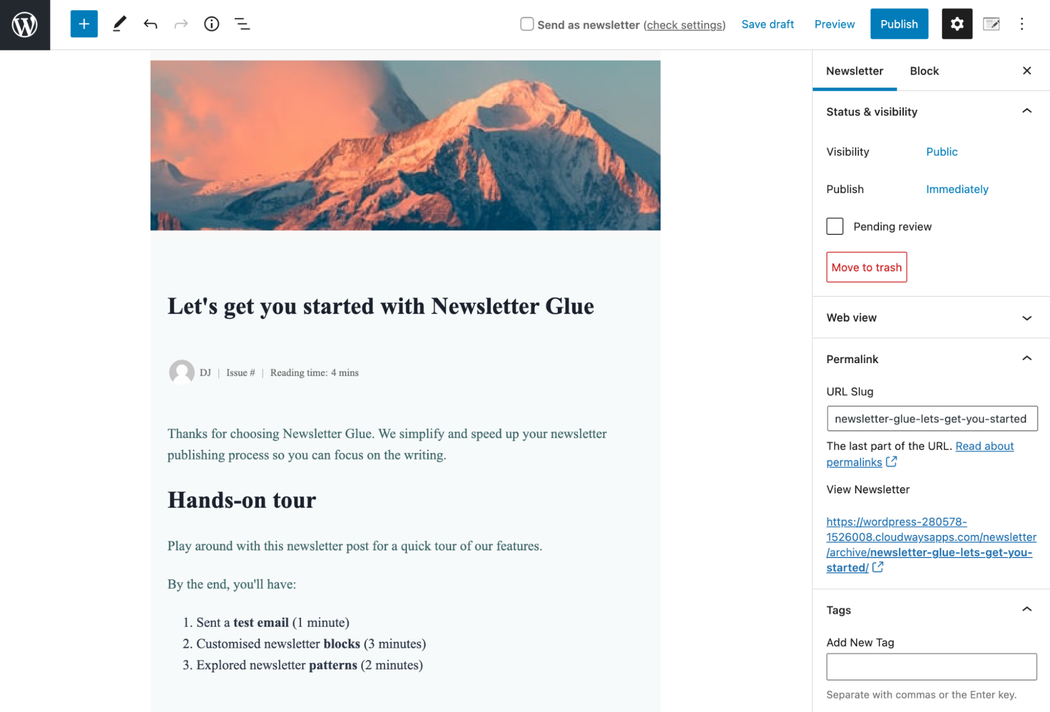 Any of the settings you've created during the onboarding process can be changed later. You can always restart the onboarding process in the Settings.
Creating and sending newsletters
Creating and sending newsletters Newsletter Glue adds a Send as newsletter metabox in the editor right below the post. Just write and format your post as you normally would. Before you publish, you can choose your audience and segment, adjust your subject line and preview text, and even send yourself a test email.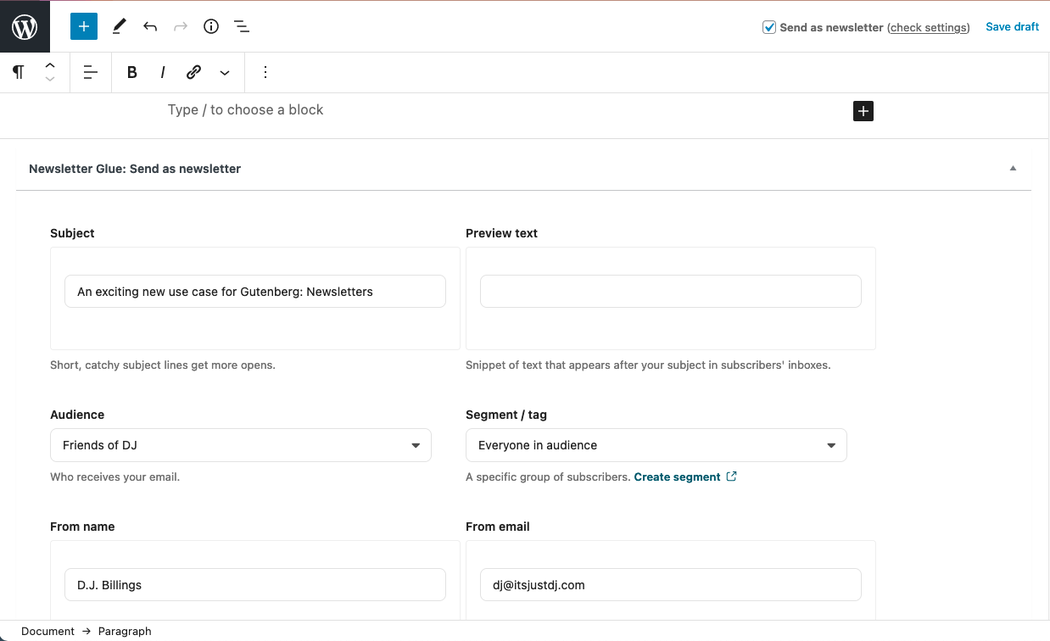 When you publish your post and include the option to send as an email using Newsletter Glue, it converts plain div markup into email-ready HTML code. There's no reformatting you need to do to make your newsletter look great in your subscriber's inboxes.
There's also a range of custom newsletter blocks you can use. Say you want to include a social follow section or a subscribe form in your content. Simply add a new block and type "/NG." You'll see a range of choices in the popup that you can quickly and easily add to your post.

Newsletter block patterns
Newsletter Glue also lets you create email templates from block patterns. You can create templates for entire newsletters or specific sections, and easily customize them to fit your brand and content needs.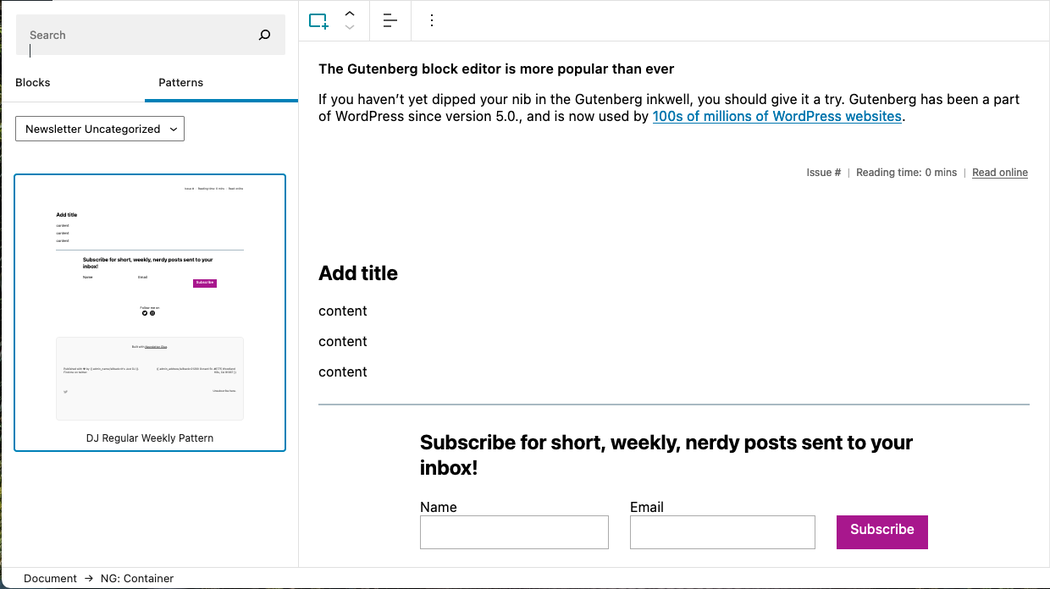 For example, if you have a regular weekly deals email aside from your usual newsletter content, you can set up block patterns for each. That makes the process more efficient, letting you (or your client) focus on writing high-quality content rather than recreating layouts.
The one downside to using Newsletter Glue is that it doesn't play well with site builders like Elementor or Divi. This is because HTML and CSS is coded differently for the web versus email. Unlike with web standards, which make sure your HTML and CSS look the same in all browsers, different email clients support many different subsets of HTML and CSS. So even if the post looks good in Elementor, the receiving email client (like Gmail or Outlook) may not parse the code in the same way.
Newsletter Glue works behind the scenes to turn text, images and many of the default Gutenberg blocks into email-friendly code. Unfortunately, there are just too many variables when it comes to site builders and a lot of the web-optimised code cannot be properly displayed in email.
In cases where the site is created using a builder, just switch back to Gutenberg when writing and publishing posts.
Using Newsletter Glue to send emails requires less than 30 minutes a week to help your clients market their small businesses with a newsletter.
Invoicing your new service offerings is easier with The Hub by GoDaddy Pro
Most web designers and developers are likely to admit that getting paid for their services is a challenge on its own. Sending invoices, tracking payments, finagling past-due accounts… Just the thought can make your new service a non-starter.
Enter The Hub by GoDaddy Pro. Users report it saves them an average of three hours each month for every website they manage for clients.
Once you add clients to The Hub, you can send them invoices and even get paid through the same intuitive interface that streamlines an array of other time-consuming tasks. It's free to sign up for GoDaddy Pro and use The Hub, making it an easy addition to consider for your business.
Helping grow your client's business can grow yours grow, too
Helping your clients expand their online presence using newsletter publishing can be a valuable part of your service. Whether you offer it as an add-on or as part of a complete package, you'll increase your revenue and show your clients that you really care about their business.