Happy holidays. Yes, people are already starting their holiday shopping, searching online for that perfect gift for everyone on their list this year. It's shaping up to be a great season for ecommerce, so get ready.
Thanks to GoDaddy's new Google channel, you can easily act upon holiday season insights and reach your next customer looking for goods and services just like yours — all without leaving your GoDaddy store.
Drive sales this holiday season with GoDaddy's Google channel
Today's holiday shoppers are researching and looking for products in more ways than ever before, across multiple platforms and devices. People shop across Google more than one billion times each day to search for the things they want and need, creating countless opportunities to be discovered by potential customers.
This peak shopping season, take advantage of a new way to reach customers right where they are. You can easily list your products to Google for free, right from your GoDaddy online store, then promote them with a Performance Max campaign to drive traffic to your store. Here's how it works.
List products for free on Google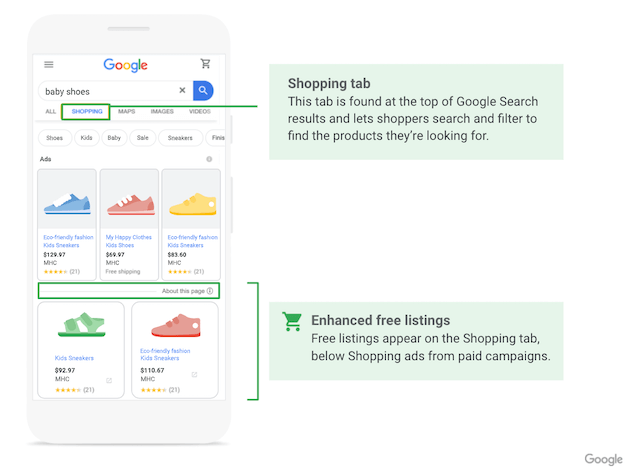 Have your merchandise appear in unpaid product search results by participating in surfaces across Google, including Google Shopping, Search, and Images. If you've already submitted product data through the Google channel, you may be automatically opted in. The richer the data, the more eligible your products will be to appear across Google surfaces.
Run Performance Max campaigns and see results quickly
Performance Max campaigns are paid ads that help reach shoppers across Google networks like Search, YouTube, and Gmail. Whether you're new to using Google Ads or a seasoned pro, it's easy to set up a Performance Max campaign on GoDaddy's Google channel.
First, while you're in your online store, go to your GoDaddy product page and scroll to Websites + Marketing to select the Google channel to connect your Google Merchant Center and Google Ads account. Your product feed syncs automatically, and your items will be eligible to appear across Google surfaces.
Next, to reach more customers and drive traffic to your store, start a Performance Max campaign. Google uses real-time signals to optimize your campaign and chooses the optimal time and place to show products to shoppers.
Let Google do the work driving sales
Performance Max campaigns set up through GoDaddy use Google's machine learning to optimize your ads and automatically show your products to those who are more likely to buy and spend more. Google does the heavy lifting to get you better performance and conversion value out of your campaigns.
And the best part? You only pay when someone clicks on your ad. Performance Max campaigns show your products to customers when they're searching for products like yours online. In these illustrations, you can see how Performance Max campaigns would appear in Shopping, Search and YouTube.
Follow 3 simple steps to get started
Here's what you need to get the new Google channel all set up from your GoDaddy online store:
1. Create or connect your Google account
In Marketplaces, select the Google channel and connect your Google account, or create one if you don't already have one set up.
2. Verify that you meet Google policy requirements
Next, you'll be asked to verify your information to ensure that you meet Google Shopping policies. Much of the required information should already be pulled from your GoDaddy online store, but you'll need to double-check to make sure your information complies with Google's policies.
To ensure only more secure and trustworthy products appear on Google, you'll also see a list of the types of products that are prohibited or unsupported in Performance Max campaigns and free listings. This includes, but is not limited to, counterfeit products, dangerous products, and products that are designed to enable dishonest behavior.
3. Create or connect a Merchant Center account and your Google Ads account
This is an important last step. It enables you to generate new sales and leads by reaching shoppers with your own free listings and Performance Max campaigns.
With a Performance Max campaign, you'll be able to reach the right customer at the right moment across Google.
Plus, if you're new to advertising with Google, we'll match your ad spend up to $500.*
Catch this on-demand webinar and hear the team from GoDaddy and Google share how to drive sales in three easy steps with Google.
*Terms & Conditions:
You are eligible for promotional credit if you (a) are new to Google Ads and your first ad impression was served from your first Google Ads account no more than 14 days before you enter your promotional code; (b) your account is billed to a country where Google Partners promotions are offered.