When Facebook users scroll through their newsfeed, sometimes all it takes to get them to visit your restaurant is seeing a photo of your world-famous pasta dishes, sushi or happy hour specials. Nearly 75 percent of Facebook users make decisions on which restaurants to visit based on the photos and comments they see in their newsfeed. Establishing your restaurant's Facebook page will not only give you the opportunity to bring in new customers, but will also help you strengthen your relationships with current customers.
5 strategies for your restaurant Facebook page
Not sure what to post? Try these 5 ideas to fill your restaurant with new customers and keep them coming back:
Share photos of your product.
Share and request customer testimonials.
Leverage user-generated content.
Ask questions.
Show appreciation for your team.
Let's get started making your restaurant's Facebook page as effective as possible.
1. Share photos of your product
Facebook is a great platform for showing off all of the incredible dishes that you serve at your restaurant.
Post photos of your daily specials and customer favorites. Mix it up by showing off your dessert offerings and exciting appetizers. Add in your great cocktails and wine list.
Your customers will love seeing what's in store for them if they book a reservation with you.
Need some help taking tasty photos? Check out our post on wowing your followers with great food photos.
2. Share and request customer testimonials
When new customers find your Facebook page, they're eager to learn as much as they can about your business — especially from your current customers. Sharing reviews from customers can show off why your loyal fans love coming to dine at your restaurant.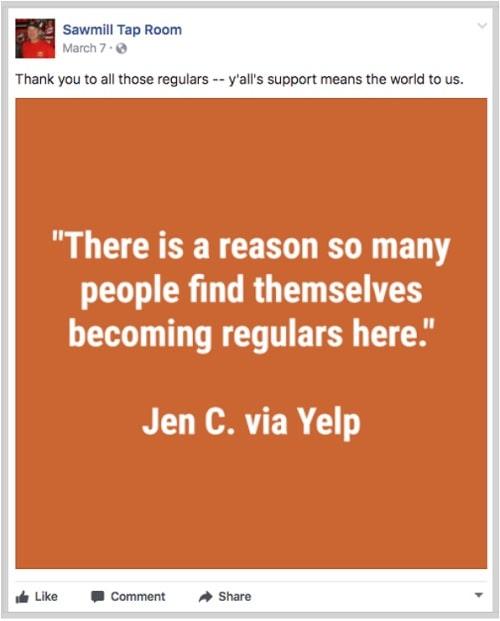 Cross-promoting your pages by sharing a fun graphic with the text of a positive review is a great way to let your customers know about all the places they can find you to share their experience at your business.
3. Leverage user-generated content
Many of your followers are loyal fans who love your restaurant, love your cuisine, and are already posting about you on their personal social media pages. Their content creates a great opportunity for you to share their endorsement on your page and encourage new customers to check you out.
You can share their photos and posts to your restaurant's Facebook page — just make sure you tag that user and thank them for their post: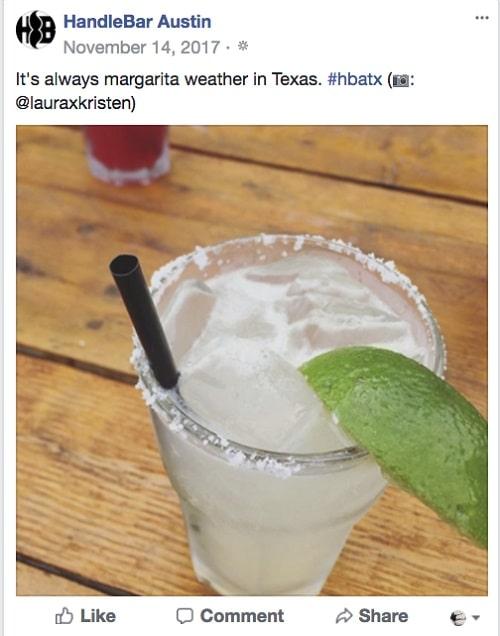 The majority of consumers trust other diners' opinions more than advertisements, so sharing content from your existing fans helps to build brand awareness and trust with new customers.
Related: What is user-generated content and can it help your business?
4. Ask questions
Your restaurant's Facebook page is a great place to strike up a conversation with your customers.
Whether you post a question as a text post or as an image, your customers love the opportunity to share their thoughts and feedback.
You can ask questions like, "What dish would you like to see on our menu?" "What's your all-time favorite dish to order at our restaurant?" "We're sharing one of our secret recipes for all you home cooks. Which one do you want us to share?"
Asking questions is a great way to get your customers talking and engaging with you online.
5. Show appreciation for your team
Behind the scenes of your restaurant, there's an incredible team working hard and making it everything it is. Share photos of those friendly faces on your Facebook page!
One of the best things about being a local business is that your team and community have the opportunity to get to know each other.
Posting about your team not only lets your customers get to know the wonderful people at your business — and recognize the faces they love to see when they come visit — it also shows how deeply you care about your employees.
You can post about celebrating your employees' anniversaries with your business, giving them shout-outs for a job well done or a special skill on the grill or behind the bar, or wishing them a happy birthday. Your team will appreciate it, and your customers will appreciate how well you treat your team.
Whatever you choose to post, be sure to stay active. Try to post multiple times each week, and make sure you're responding to your loyal followers. They'll love to hear from you.
Want to learn more about using Facebook for your business?
GoDaddy Social can help you elevate your Facebook marketing strategy to engage with your customers like never before — get started here.