Owning and operating a restaurant is tough work. Not only does your food and customer service have to be on point, but customers expect a strong online presence as well. This is where your restaurant website will come into play.
These days, potential customers want to be able to see what you have to offer before they'll visit. If they can't quickly pull up a menu for your restaurant, then in many cases, they aren't likely to visit your restaurant.
And if your site isn't formatted for mobile devices? Forget about it.
In the United States alone, the number of smartphone users is expected to reach over 270 million by 2022.
Your website is often the first contact that potential customers have with your business.
Outdated, slow or poorly formatted sites offer a negative experience to your potential restaurant customers. Designing an efficient, attractive website is equally important to creating a site that operates seamlessly on mobile devices.
Is your restaurant's website sorely lacking, or missing entirely? Worried that you don't have time to build a fantastic, mobile-responsive site on top of all of the other demands from running a restaurant? Fear not, GoDaddy Websites + Marketing has you covered.
Related: 7 reasons you need a small business website
How to build a restaurant website
In this guide, we'll cover everything you need to know to build a sizzling restaurant website.
Ready? Let's dig in.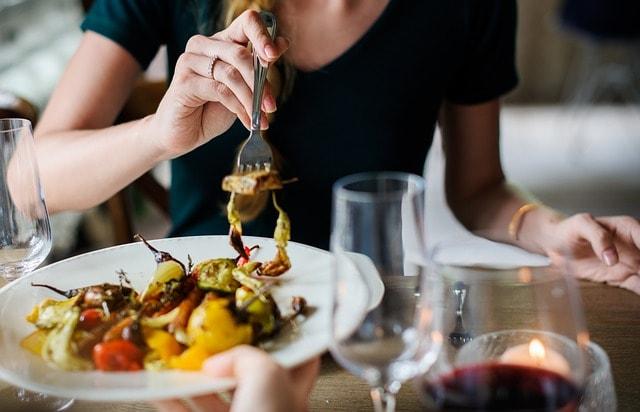 Starting a restaurant website with an easy site builder
With the exception of your menu, your restaurant's website might be the most important marketing vehicle you have. It represents a platform from which you will launch many of your marketing efforts.
Plenty of potential diners will want to visit your website before deciding to try your restaurant, so if you don't have a restaurant website, it's time to get going.
Why having a website matters
Not sure why your restaurant needs a website? Let's explore the reasons below.
To bring in customers
Having a website these days is practically a foregone conclusion. In fact, 90% of guests research possible restaurant options before deciding where to eat, far more than any other business type. Not having a website can seriously lower your chances of being found by those hungry customers.
By having a website, you increase your visibility and the likelihood that people are going to become first-time customers.
You can also use it as a way to engage customers and gather contact information from them. Use your site to keep loyal followers informed about events and menu specials. Local restaurants need to stay connected to people to bring them in the door.
To share hours and menus and take reservations
A good website answers basic questions right away — menu, location, hours of operation and reservation information are the essentials. You should also include contact information, methods of payment and social media links all in one handy location for everyone to see.
People are more likely to look up a business online than to call in for information, so put it out there.
Including reviews or links to review sites on your website is also a great way for customers to offer feedback or preview the experience through comments from other customers.
To establish a local identity
A well-designed restaurant website gives you the chance to show future customers what you're all about and who you are before they even set foot in your restaurant.
Entice diners with your menu and pictures of appetizing dishes, laughing patrons or busy chefs preparing meals. Showcase your ambiance with photos of your interior, patio, bar or comfy private dining room.
All of these give customers an idea of what they can expect walking through your doors.
Traditional advertising channels are no longer as effective as they once were; now it's all about word-of-mouth and online presence.
Roughly 57% of potential restaurant patrons view a restaurant's website before visiting. People might be hesitant to try a place they've never heard of. A website is an easy way to assure them you offer an experience they'll enjoy.
To set yourself apart from others
Competition is fierce in the restaurant industry. We've all seen restaurants come and go. You want to stand out from the crowd. What special things do you have to offer?
Delivery service, catering, happy hours — a website tells people what you are all about.
Let's face it, if you don't have a website in this day and age, people will quickly assume something is off. Having a website is expected, so don't cut corners and start making your site for free right now.
To create brand awareness
Unlike national chains, most local restaurants don't have the luxury of launching expensive national branding campaigns. It's entirely up to you to get the word out. With more and more diners turning to the web at dinnertime, not having a website is like a front door with a closed sign.
Identifying yourself as a professional brand with a website is a must even if you are a single restaurant.
GoDaddy Websites + Marketing is a powerful, affordable, and easy-to-use tool that allows even the most novice of site builders to quickly craft a beautiful, responsive restaurant website.
With templates available for " target="_blank" rel="noopener noreferrer">all sorts of restaurants, GoDaddy Websites + Marketing offers personalized stock photo and text options to get your site up and running even faster.
Before we take a look at the site builder, though, you'll need a domain name first.
Get your domain
Choosing the perfect domain doesn't have to be a struggle.
With an array of new industry or location-based domain extensions, there are plenty of domain options available for your restaurant website. While .com domains remain the most popular domain extension, it can be tricky to find a good .com domain that hasn't already been taken.
The first thing you'll want to make sure of is including your business name in the domain name. That seems like a no brainer, but there are a few factors that you might want to consider.
For my fictional business, Stacey's Breakfast Cafe, I could use staceysbreakfastcafe.com. While it is a .com domain, that domain is a bit wordy. Checking on available domains, though, staceysbreakfast.cafe is an available option and is a bit shorter.
Or, with location-based domain extensions available, you can get a bit more regional when choosing your domain. The options are numerous.
Related: Domain extensions guide — What you need to know before you pick a domain name and Great domains for the food and hospitality industry
Want to see if your business's domain is available? Give it a try:
Related: How to buy a domain name in 3 steps
Build your restaurant website with GoDaddy Websites + Marketing
Now that your domain name is locked in, it's time to get building.
Using GoDaddy Websites + Marketing makes it simple and fast to get your restaurant website up and running. Let's take a look at how quick and easy it is to establish your online presence.
First, you can easily start your GoDaddy Websites + Marketing free trial.
Once you start your free trial, you'll immediately be taken to the setup page for your website.
On that first screen, you will be able to choose your industry. Doing this will provide you with stock images and template options appropriate for your business.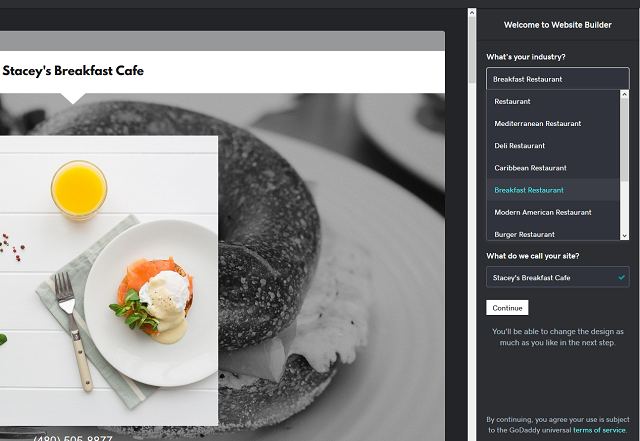 My restaurant is a breakfast cafe, so I'm going to choose Breakfast Restaurant as my business type. As you can see, GoDaddy Websites + Marketing has already started generating stock photos and a template that fit my breakfast restaurant industry.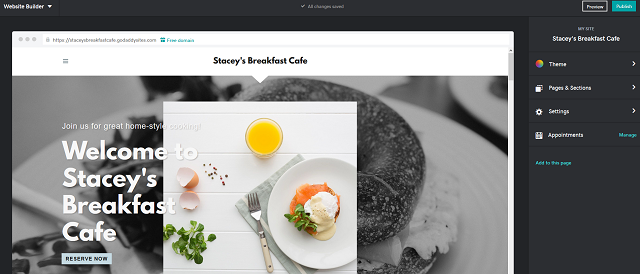 The theme that was automatically selected, while good, doesn't quite fit my own cafe's aesthetic, so I'm going to click on the Themes option on the right side to adjust the look of my site.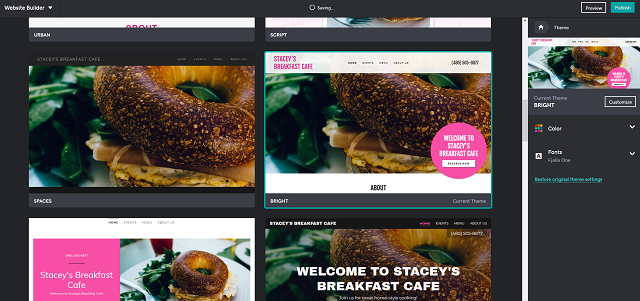 The Bright theme fits my restaurant, so after adjusting the colors slightly to match my restaurant (by clicking on the Colors tab there on the right), that's what we'll go with.
Each section you add in GoDaddy Websites + Marketing will have customization options on the right side of the editing screen.
The theme selected and customized, it's time to start fleshing the site out.
What to include in your restaurant website
Now that we have our basic informational website framework, it's time to delve a bit deeper into the functionality that GoDaddy Websites + Marketing can add to our restaurant website. The ideal restaurant website will include the following items:
Menu.
Restaurant information.
Online ordering.
Integrations to entice new customers.
Mobile-friendly content.
Content to keep loyal customers coming back.
Read on for a deep-dive on each feature below.
Menu
Being a restaurant, having an online menu is probably one of the most important features that you'll have on your site. Users want to know what food they can expect during their visit.
Some potential customers with allergies or restricted diets need to know if there's anything that they can eat at your restaurant.
A menu is a vital way to convey that information.
It's essential to stress here how crucial it is for your site to have an easily accessible, mobile-friendly menu.
I'm sure you've encountered restaurant websites in the past that left you feeling frustrated as a customer — outdated menu information, a clunky menu that has to be downloaded to be viewed or, even worse, no menu at all. Ugh.
Thankfully, GoDaddy Websites + Marketing makes it easy to add details that customers want to see. Let's take a look at how we can easily add a clean, accessible menu to our site.
Creating a menu in GoDaddy Websites + Marketing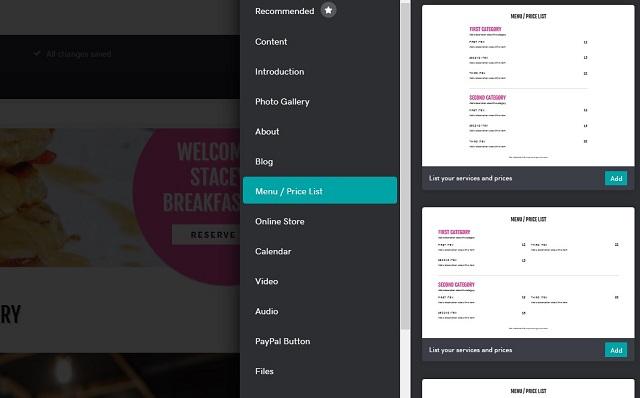 From the editing screen, click to add a section and choose the Menu/Price List option from the choices on the right. A default menu layout will be added to your page, but you can choose a different layout option in the menu options window.
After choosing the layout, you can use the options menu on the right to start adding sections and items to your menu.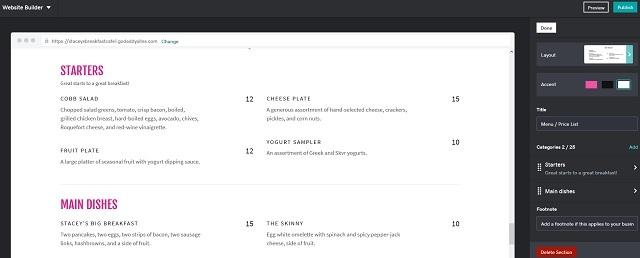 Related: 4 ways to write enticing menu descriptions
Restaurant information
For hungry potential customers, being able to quickly view your restaurant's information is imperative. Beyond just a menu, many want to easily check on your seasonal specials, location, hours, etc. When these options aren't easy to find or utilize, it can turn potential customers away.
Contact information and operating hours
Using the Contact section in Websites + Marketing you can easily set your preferred contact details, daily hours, as well as a custom message if needed. Custom messages are especially handy if you need to communicate any disruptions or changes to your normal operating hours.
These details are crucial, as incorrect operating hours or contact information can quickly frustrate potential customers.
Websites + Marketing makes it easy to keep this up to date, saving you time and your customers frustration.
Business photos
If you use images on your website (and you definitely should), it's important to follow some simple tips for a positive user experience:
Ensure that you format images to the proper size.
Use high-quality images. Because food is such a visual product, it might be a good idea to pay for professional photography of your food offerings.
Use image file names that include keywords. Including key search words in your image file names will improve your restaurant website's search results.
The photo gallery option included with Websites + Marketing makes it simple to highlight your stunning food photos.
Related: 6 tips for taking enticing food photos
Online ordering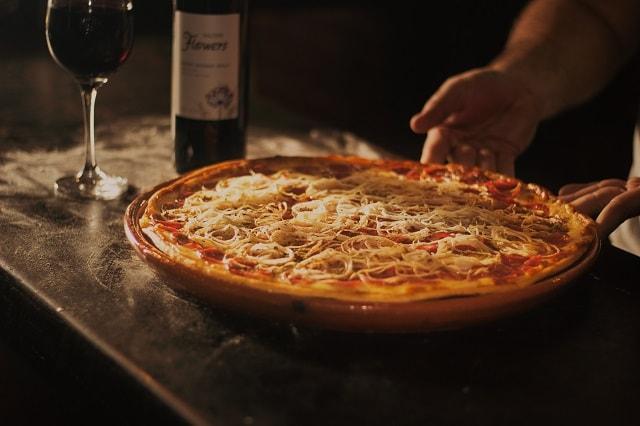 With the rise of food delivery services like DoorDash and Postmates, restaurants need to be able to compete with their online ordering offerings. Morgan Stanley estimates that food delivery will grow to 40% of restaurant revenue or $220 billion by 2023.
Luckily, setting up online ordering for a restaurant website couldn't be easier with GoDaddy Websites + Marketing.
The online ordering section in GoDaddy Websites + Marketing utilizes ChowNow, a highly-regarded online ordering platform, so if you already have an account through them, you can simply add your restaurant ID to that section and GoDaddy Websites + Marketing will integrate with your account.
If you don't have one, you can sign up directly on the GoDaddy Websites + Marketing page instead.
Once you've signed up or connected your ChowNow account, you'll be able to fully customize your food ordering options, as well as the background images and text for that section. Easy as pizza pie.
Related: Is your restaurant ready to offer food for delivery?
Integrations to entice new customers
Many web users have experienced the frustration of having to bounce between multiple websites to find the information that you're looking for, or to complete a simple task, like making a dinner reservation.
A frustrating experience will absolutely deter possible customers from your restaurant.
With GoDaddy Websites + Marketing, your restaurant's site can avoid sending your potential customers elsewhere out of frustration. It's quick and easy to add an option for users to make a reservation, or even view your restaurant's reviews — and they won't have to leave your site to do so.
OpenTable integration
GoDaddy Websites + Marketing offers a simple OpenTable integration that assists you with adding a reservation function to your site painlessly.
You will need an OpenTable account to fully utilize the reservation system, but GoDaddy Websites + Marketing can help you get that process going as well.
With 47% of consumers expecting online reservation options, GoDaddy Websites + Marketing easily helps you meet this need via OpenTable.
Integrating reviews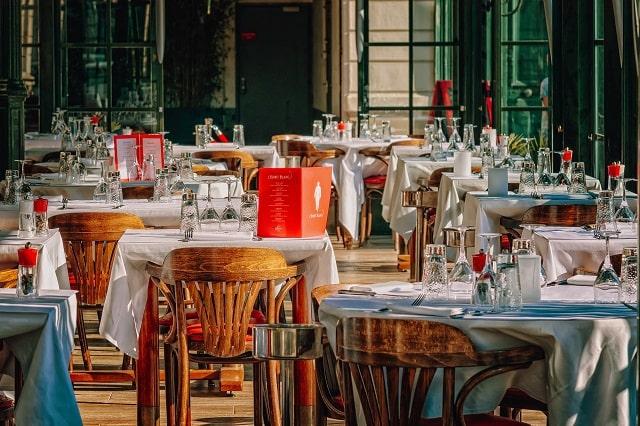 Additionally, you can add reviews from around the internet directly to your website. Customers who haven't visited your restaurant before will be interested to see what others have to say about your food.
If they're able to view reviews on your site directly, they're saving time (and that's a good thing for hungry website visitors).
While Yelp is a popular option, you have the ability to automatically pull in reviews from multiple sources, like Google.
Once you've chosen the provider, you'd simply need to connect GoDaddy Websites + Marketing to your preferred provider and it'll continuously pull in reviews automatically.
Alternatively, you can also add reviews manually. This is a great option if you want to call out reviews that might fall outside of the typical review sites. An example of this could be an excerpt from a newspaper review of your restaurant.
Just be sure that you're keeping any manually added reviews fresh, since a review from years and years ago doesn't tend to mean as much to potential customers.
Reviews are the lifeblood of restaurants. Being able to showcase and integrate glowing reviews into your restaurant website will instantly boost your credibility with visitors.
What about negative reviews?
We've covered how to add your reviews to your site, but what about less-than-amazing reviews from prior customers? Don't fret. They aren't the end of the world.
While it's tempting to ignore the negative review and hope that it goes away on its own, it's not typically the best route to take. A better course of action would be to respond to the review, professionally and politely.
Don't be afraid to ask questions and dig a bit deeper with your customer.
Negative reviews are a chance for you to improve your restaurant, and even potentially save a relationship with your customer. With that in mind, you can likely turn a negative experience into a positive one.
Related: 5 ways to manage your restaurant's online reviews — good and bad
Make it mobile-friendly
GoDaddy Websites + Marketing automatically generates a mobile version of your site as you build it, which alleviates much of the stress typically involved with building a mobile-friendly website. There are, however, still some guidelines that you'll want to adhere to.
Image size and resolution
People tend to be very visual when it comes to food. Beautiful images are a no-brainer for restaurant websites. However, you'll want to be sure that you're correctly optimizing your images for mobile devices.
There isn't a hard and fast rule about exact image dimensions that work best for mobile devices, but you'll definitely want to test out how the images on your site look when using a mobile device.
It's also recommended to compress your images before you upload them to your website. Compressed images are smaller and will load faster, which will keep your mobile customers happy.
Avoid large blocks of text
While text content tends to load very quickly, having large blocks of text on your site can be very difficult to look at on a mobile device.
You'll want to keep your text concise and avoid long, chunky paragraphs. Otherwise, you risk overloading your mobile viewers. Keep it simple.
Design simple contact forms
If you choose to add a contact form to your restaurant website, adding too many fields to that contact form will cause similar issues to large blocks of text.
Consider how your form will end up looking to a mobile user and try to keep your contact form fields to a minimum.
Related: Google's mobile-first index — How you can prepare your website
Organize your pages and content sections with mobile users in mind
In general, GoDaddy Websites + Marketing templates will attempt to suggest a layout that works well for mobile and desktop sites. But while you're adding sections when building your site, try to avoid stuffing too much information into a single page, or adding unnecessary content on pages.
Adding a video to the top of your menu page, for example, might frustrate someone who is trying to simply view your menu. Design your website with ease of use in mind and your customers will appreciate your site.
Content to keep loyal customers coming back
We've talked quite a bit about designing a site for attracting new customers, and while that's definitely important for growing your restaurant, don't forget about your loyal customers.
GoDaddy Websites + Marketing has several options available to keep you connected with your loyal fanbase.
Email newsletters
Newsletters are a great way to keep your customers in the loop about happenings or upcoming special events at your restaurant. You can also send out occasional polls or surveys to gather useful feedback.
Newsletters keep your restaurant front-of-mind with your customers, so it's definitely worth the time investment.
Event calendar
Event calendars are another awesome way to keep your users coming back to your site. Events such as live music, seminars, tasting events, happy hour or trivia nights can be attractive to new customers, but will also appeal to repeat visitors.
Adding a calendar to your restaurant website is easy with GoDaddy Websites + Marketing.
Blog
Running a blog on your site might seem a bit daunting, but it's an effective method for keeping your restaurant human and accessible. And, with the built-in blogging tool that GoDaddy Websites + Marketing offers, you don't have to be a technical wizard to get a great looking blog off the ground quickly.
Related: How to write a great blog post
Social media
People appreciate authentic content and there's no better way to convey authenticity than through your social media channels.
Connecting with your customers via social media is a sure-fire way to keep them coming back for more.
Not sure what type of content users are looking for on social media? Research shows that the three most engaging types of content on social media are written articles (27%), videos (26%) and images (24%).
Consumers also positively view businesses that interact with their followers on social media, so social media can be a fantastic way to build customer sentiment with your restaurant.
Related: A beginner's guide to social media for small business
Wrapping up
We've covered a lot of details related to building a restaurant website in this guide, so here are the main ideas to keep in mind:
Having a website is crucial
Consumers expect an online presence from businesses, even if those businesses are brick-and-mortar establishments. It gives them an idea of what to expect and details about your business if potential customers need to follow up with you.
Don't forget to include your business information
Content like a menu, contact information and online ordering are features that all restaurant websites should include, so be sure that they're prominent and easy to access on your website.
Keep it mobile-friendly
Most users are accessing from mobile devices, so design your website with that fact in mind.
Keep your images relevant and properly sized, avoid long, blocky chunks of text, create simple contact forms, and organize your pages so that they can be found easily on smaller mobile screens.
Attract new customers, while keeping your loyal customers
With built-in features like email newsletters, event calendars, blogs and social media integrations, you can easily provide new and fresh content to keep your current customers coming back for more.
With these suggestions in mind, you're well on your way to getting an effective restaurant website up and running.
Build a restaurant website that cooks up business with GoDaddy Websites + Marketing and get going!
This article includes content originally published on the GoDaddy blog by Leslie Lynn.