Tell us about yourself. Who are you? Where are you based?
We are Seahawk, based in Boston and New Delhi. Our company specializes in marketing and WordPress professional services. We've been GoDaddy Pro partners since the program first launched.
The co-founders of Seahawk, Ryan and Gautam, met through the GoDaddy Pro program. Gautam won the GoDaddy India award for Bijness Bhai, which caught Ryan's attention. They met and quickly started working together.
Today, Seahawk is a 50+ person company dedicated to helping brands around the world with their marketing.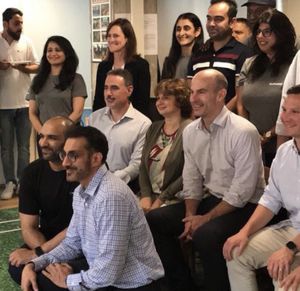 What's the elevator pitch for your business? Describe what you do.
Seahawk is a marketing and WordPress services company for brands around the world. We help brands build custom websites through our PSD-to-WordPress conversion process and offer a wide range of marketing services. Seahawk also operates professional service departments for large enterprises.
What inspired you to start your business? How did you get started?
The founder Ryan started his business when he first arrived at college. He shared details of the story on our website. He started building WIX websites, but later joined the GoDaddy Pro program, which gave him access to the best tools for WordPress like ManagedWP, managed hosting, and the Pro Clients dashboard to easily manage client products.
Ryan met his cofounder Gautam through the GoDaddy Pro program after Gautam won the Bijness Bhai award for GoDaddy Pro India. They teamed up and have scaled the team to over 50 employees mostly focused on building custom WordPress websites.
Who's your ideal client?
We work with brands of all sizes. Startups, personal brands, SMBs, celebrities and influencers, enterprises, and large news publishers. We choose to work with all types of brands so we are not limited to a specific niche. We also partner with large enterprises to run their professional services departments.
Our ideal client is a brand with an underperforming website that is interested in custom PSD-to-WordPress sites, no themes or templates. We also will take on clients with nice websites to help with SEO and social media marketing.
What kind of projects do you like working on?
Our wheelhouse is custom WordPress web design, but we offer other marketing services like WordPress tweaks, SEO, social media, graphic design, illustration, PPC management, etc.
There is no preference to the types of projects we like working on. We work with all industries.
What kind of projects do you not like working on?
Medical websites are something we stay away from because of privacy laws and the confidential data involved. It is a liability for us so we like to focus on what we are best at.
What are the most common problems you help your clients with?
We often see outdated websites, speed optimization, website redesigns, website security issues, SEO fixes, etc.
The most common problems we help people with are custom web designs or converting a custom design to WordPress. Many brands we work with prefer not to use a theme or template and opt for a custom design on WordPress, something that is unique to their own brand. Some other problems we help our clients with are website tweaks like speed optimization and updates. We also help clients solve SEO and website security issues.
Walk us through your project process from start to finish.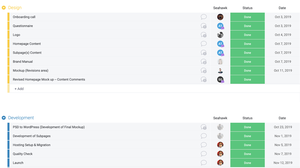 This is the shared client board we use with clients to help track progress and collaborate. It is powered by our partner monday.com — one of the best project management tools on the market. We are top professional service and channel partners of monday.com for the USA and India.
We have the client go through our onboarding experience, which is an extensive onboarding form. They will also have a call with our project manager to go over the project.
Once that is done, we share a monday.com board with our client so they can track the project progress and collaborate with their dedicated project team called a "Seahawk Nest."
What advice do you have for folks who are trying to take their business online?
Start with a brand name, domain and logo. Once that is done, create a brand Stylepage to set the foundation for your brand style and design assets like colors, art direction, typeface, etc.
What advice do you have for folks who are thinking about starting their own business?
Go for it! You only live once so take the leap of faith and try something new. You will always regret not trying.
---
Meet the 27-hour day
We built The Hub by GoDaddy Pro to save you time. Lots of time. Our members report saving an average three hours each month for every client website they maintain. Are you adding that kind of time to your day?