In this article, we'll cover the importance of taking cart size into consideration when you figure out your email segmentation strategy, and some examples and ideas for using cart size segmentation for both abandoned cart campaigns and post-purchase follow up campaigns.
The basics of segmentation
Let's start with a quick refresher to segmentation. At the most basic level, segmentation is a strategic way to personalize email outreach to different groups of customers based on different categories. Marketers generally organize segmentation into four categories: geographics, demographics, psychographics, and behavioral.
Segmentation is effective, too: Email campaigns using segmentation produce a 760 percent increase in revenue, according to Campaign Monitor. And the Direct Marketing Association found 86 percent of revenue comes from email campaigns that use an advanced, rather than a blanket, approach. (PDF)
You might be familiar with your eCommerce store's typical cart size based on calculating your average order value (AOV). Lifting average order value will increase your customer lifetime value, making you more money and giving you more flexibility in your marketing budget to acquire new customers. Some good ways to increase your average order value include upsells, recommended products, or setting a minimum threshold to qualify for free or discounted shipping.
But what it takes to bring a customer's $100 cart to $200 is going to be different than what it takes to bring a customer's $10 cart to $20. With cart size, we can organize these customers into personas.
The reason for using multiple personas comes back to the same thought behind segmentation: Marketing is more effective when it is customized, rather than a one-size-fits-all approach. Personas should come from quantitative or qualitative data. Surveys or interviews are great, but those are a significant undertaking. Cart size is an especially potent data point because it doesn't require an extra step—you already have it.
Some possible things you can learn about your customers based on cart size include:
High cart value means higher income
High cart value means more disposable income
Low cart value indicates they are unfamiliar with your brand
High cart value suggests they are aligned with your company mission
High cart value means they are shopping for a specific occasion or new hobby
Low cart value indicates someone is early in their shopping and hasn't fully browsed your site
Cart size can also tell you more about a customer's current and evolving needs. Just like the example of when I switched to my new job, a customer who typically belongs in one persona category might suddenly have more spending power due to a shift in lifestyle.
Cart size segmentation can work for both abandoned carts (to increase the size of the current order) and purchases (to increase the size of the subsequent order). In the next sections we'll dive into strategies for using segmentation in both of those ways.
Abandoned cart email campaigns
Abandoned carts represent lost revenue, and there is no shortage of tips for how to recover this revenue.
Part of the reason that abandoned cart recovery is important is that someone who's taken the time to abandon a cart is already several levels down your funnel—they've clicked on an ad, they've visited a product page, and they've converted by adding something to their cart. This person is more valuable to you than a brand new customer you've acquired through an ad or other promotion.
Most retailers report abandoned cart emails win back 12 to 15 percent of customers. Because the customer has indicated intent to purchase, email is a more appropriate follow-up than, say, a retargeting ad.
A study by Baymard found the primary reasons shoppers abandon carts—many of them related to the final price, either because of shipping costs or taxes, or simply seeing all items added up to a total.
Since price is a leading reason people abandon carts, it's tempting to use a discount in your abandoned cart emails. But discounts can put customers in a bad habit of only buying from your store when they get a discount, or undervaluing your products. This is definitely a case where you could use cart size-driven segmentation to decide whether or not to offer a discount—15 percent of $5,000 is a bigger hit to your revenue than 15 percent of $20. Let's look at some alternatives that serve your long-term best interests.
Large cart
For a large abandoned cart, we can assume the customer either has a need your products can fill—or has disposable income. Maybe the customer is making a big purchase like a bicycle and related gear, or it's a bunch of clothes and they're thinking they might return some of them. For this cart, you might make it clear in your cart abandonment email that you offer free returns—knowing they can change their mind makes the price less intimidating.
Also, high-cost items in the cart may require more consideration. The customer might have questions or need convincing that the purchase is perfect for them. Spotlight your customer service in your cart abandonment email so they know there's someone they can talk to before they pull the trigger on the purchase.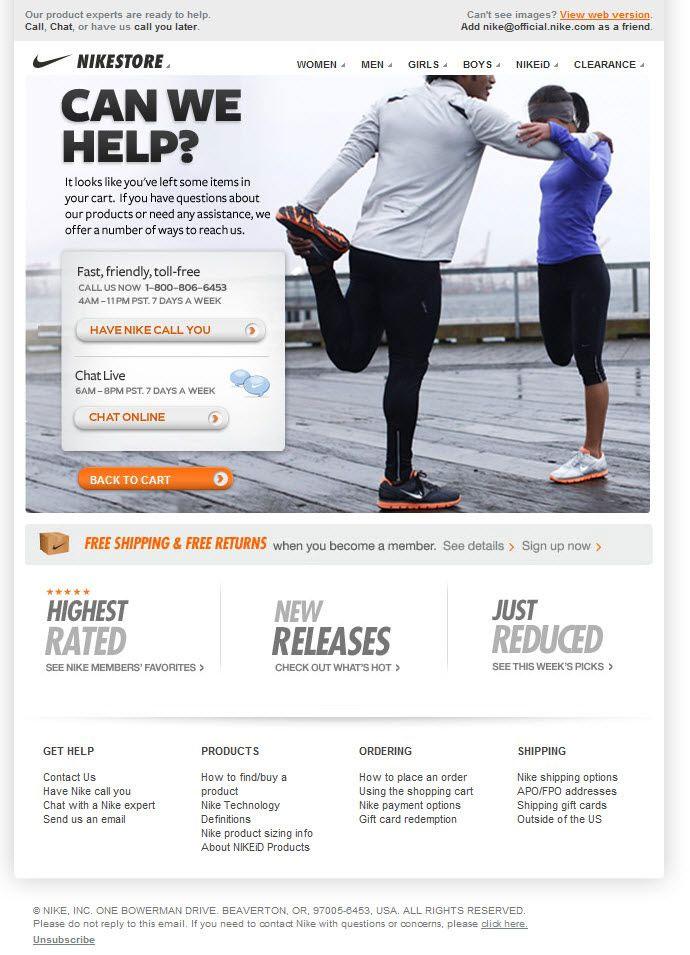 Lastly, you can upsell or cross-sell by sending them related products, or similar products. One, if a shopper wasn't convinced, a complementary product might push them over the edge. For example, a customer might be more likely to buy a new dress with a pair of shoes that match, or get a new TV with a TV table that's the appropriate size and shape. And two, it's a good way to increase the value of the cart—the customer might be more willing to add on a few smaller items since they're already considering spending big money.
Medium cart
When someone abandons a medium-sized cart, it's possible they are not finished shopping. One reason: Maybe they haven't reached your minimum threshold for free shipping. The example below is a pop-up on Glossier that shows how to recommend an item to push the total over the free shipping threshold. This is a double win for your customer—free shipping and a complementary product recommendation—and a win for you, since it increases the order total.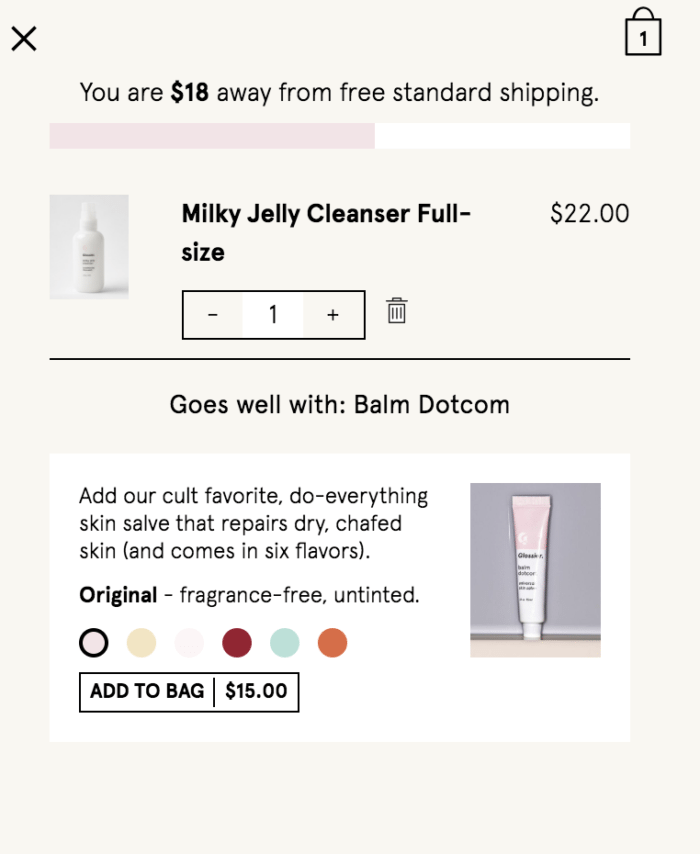 Since a medium-sized cart is a sign a customer could potentially become a big spender down the road and isn't just at your store for a quick one-off purchase, you could help push them into finishing their order with a small gift. Rather than offering a discount, giving them a code they can enter at checkout to get a free bonus item is another way to incentive the customer to complete their purchase.
Another option for the end of your cart abandonment sequence to someone with a medium-sized cart is a survey. Once you've sent your email series and haven't enticed them to come back to finish the purchase, you can ask them why they left, and collect your own data to improve your shopping experience.
Small cart
Someone who abandons a small cart may be looking for just one or two specific items. Because they are only looking to make a small purchase at your store, this is the case where the best way to win them back just might be to offer a discount. It's a small amount of lost revenue, but once they're a happy customer, the statistics say you can expect their next purchase to be larger.
According to Bain, a customer's 10th purchase is nearly 80 percent larger than the first—so even if someone starts with a small cart, it's important to nurture the customer relationship to increase their average order value over time. (PDF)
Another option is to push them to customer reviews or to user-generated content on Instagram. This can provide some social proof that builds confidence in your store. Check out how Outdoor Voices can drive potential customers to see a mountain of social proof, all under the hashtag #doingthings.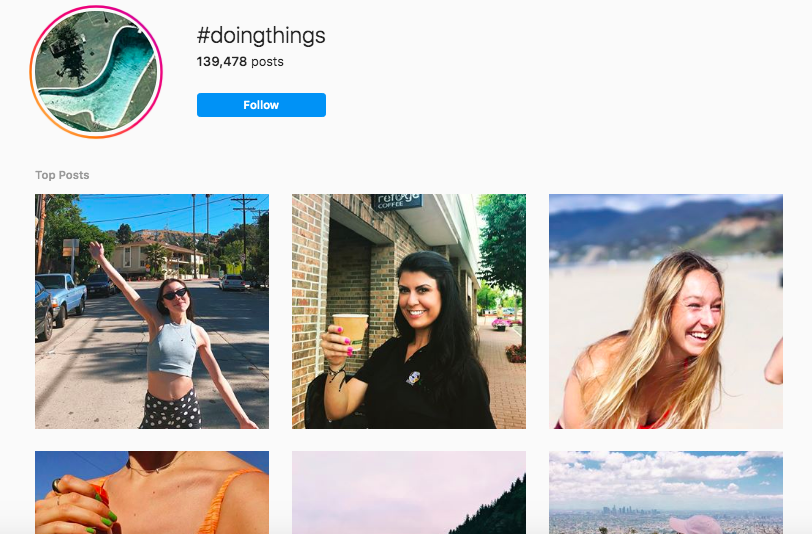 Finally, if your eCommerce store does not have functionality for a wish list, customers may be using the cart as a shopping list. For someone with a small cart of only one or two items, sending an email indicating that those items have low stock could incentivize them to make the purchase.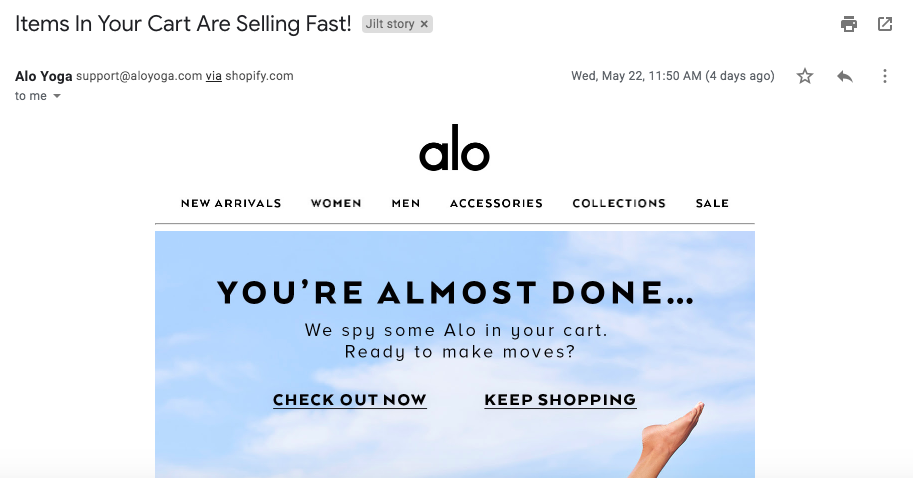 The yoga apparel company Alo does this for abandoned cart email campaigns. In my tests, I got the same subject line, "Items In Your Cart Are Selling Fast!" for two different small carts with different items, so it's possible they are using a blanket approach. Either way, it can trigger FOMO, although this type of message will be more believable long-term if you're only sending "low stock" cart abandonment emails about items that really are almost sold out.
Post-purchase follow-up email campaigns
A completed purchase is great news for your store—but doesn't mean you should stop engaging with the customer. It's five to 25 times cheaper to keep an existing customer than acquire a new one.
A study by Adobe found that a customer who has purchased from your store twice is nine times more likely to convert when compared to a first-time shopper. Plus, 40 percent of revenue comes from repeat purchasers, even as they represent only eight percent of all visitors (PDF).
Here's some sage advice from Metacake regarding upselling after a purchase:
There is no risk of losing the sale by offering an upsell (as it has already been completed), but still allows the customer to add an additional item to their purchase.
Large purchase
Someone who's made a large purchase is a very valuable customer, either because of their spending power or affinity for your store—or, hopefully, both. You'll want to be careful with offering discounts to big spenders. If they've just bought items at full price and it might detract from your store's value and even make them regret how much they spent if you start offering discounts.
Instead, add them to an email segment that provides early access to new products or limited editions. Sephora, for example, has a tiered VIP program with different exclusives for different levels of spenders.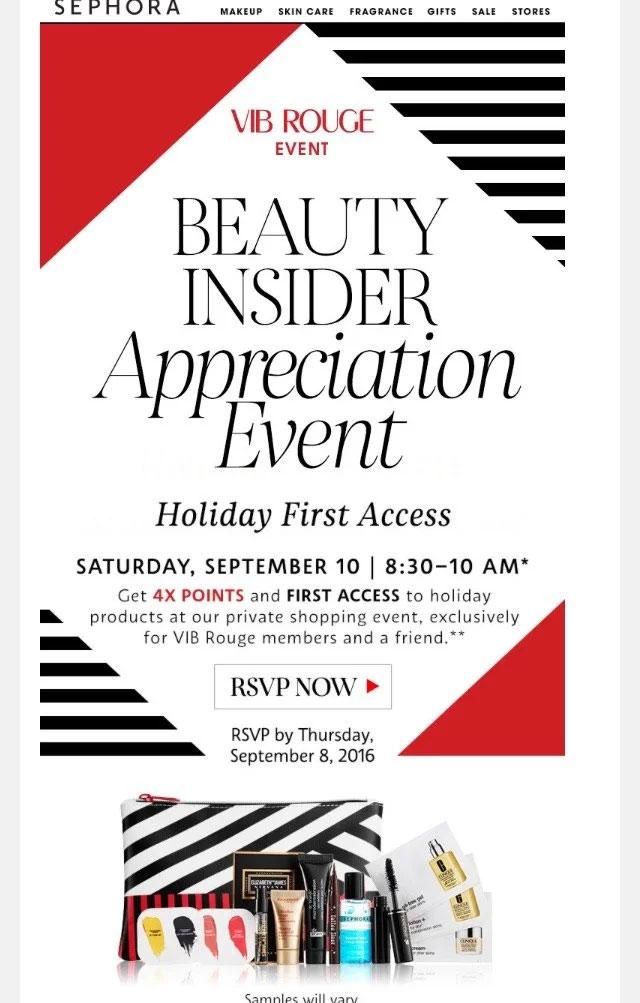 You can think of this customer as a VIP and, as a VIP, you can and should put more effort into your marketing to them. Since you don't have to worry about scaling it across your entire customer base, you can take the time to really make your VIP customers feel taken care of. For example, Shopify recommends sending a personal thank you note to your VIP customers.
Medium purchase
A customer with a medium-sized purchase may be shopping from just one department, when you have five available. Since they've demonstrated a legitimate interest in one aspect of your brand, you could continue to grow the relationship and drive future purchases by introducing them to the other things you do. And they'll most likely be receptive—in one survey, Bain found that nearly 70 percent of Gap's online customers said they would consider buying furniture from the Gap. (PDF)
Your email follow-up could introduce your customer to a new product line or products in a department they haven't shopped yet. They already like and trust you from this purchase, so now they'll expect a good experience from you with their next purchase.
For example, Airbnb's home rental reservation confirmation email includes recommendations for its complementary product, experiences.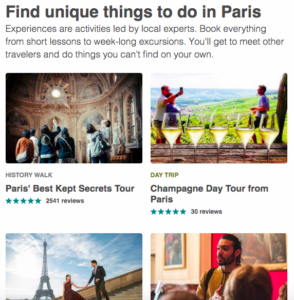 Another idea is to build affinity with your brand by sharing content that helps customers get the most out of their recently purchased items. Here's a post-purchase onboarding email from Fitbit showcasing some of the features of the product and giving links to content that will help the customer get the most out of what they bought.

Small purchase
Again, since it's cheaper to retain customers than acquire new ones, it's important to try to turn people who made small purchases once into people who will make more (and, hopefully, larger) purchases in the future.
After a small purchase, you'll use a different tactic to bring this customer back for more. Scentbird, a perfume subscription box, offers the second month free to new subscribers.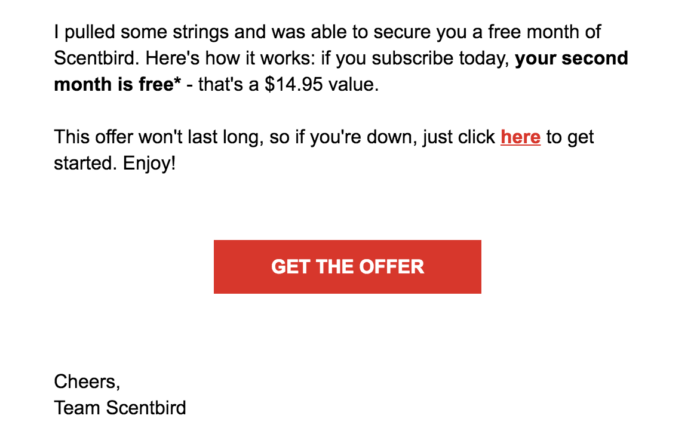 This is clever because it makes it less tempting for customers to simply pretend to be a new customer repeatedly to gain a discount. The discount is enticing, and also gives the customer two months with the service that makes it more sticky. Although this example is for a first-time purchase, offering a customer a discount off their second purchase achieves a similar outcome.
Key takeaways
Segmented email marketing provides a more personalized experience for your customers and will improve the effectiveness of your marketing. Cart size is an easily accessible metric that can help you define personas and craft relevant offers for each audience segment.
With cart abandonment emails, you can approach different cart sizes with different approaches:
Customer service, free returns, and cross-sells and upsells can be most effective on large carts.
A push to hit a free shipping threshold or the offer of a complimentary gift can work on medium-sized carts.
And a discount or social proof can help convert a small cart.
And with post-purchase emails there are similar routes to take based on cart sizes:
Invite people with large carts to a special VIP program with exclusive offers and more chances to keep spending big at your store.
Educate people with medium carts about other aspects of your store and/or how to best use your products.
And use incentives to bring back people with small carts to generate more, hopefully larger, orders in the future.
Segmentation by cart and order total is one of the built-in rules you can use with our automated email system, so you can quickly set up different emails to go out to customers based on their cart sizes.
And though we didn't explore them here, segmenting on cart size could work on other email campaigns as well, including win-back emails, shipping confirmations, or even receipts. Most of all, your results will come down to understanding your own customer base—and cart size is just one of many indicators that can help.