Clients must think web developers and designers have it easy. They come to you asking for a "simple e-commerce thing" that is completely customizable, inexpensive, and simple to use. But unless you spend significant time keeping up with a sea of e-commerce solutions, you likely feel waterlogged when it comes time to find a match for their business.
Fortunately, there's hope, or at the very least, a way to narrow down your e-commerce options. To simplify your search for the right "thing," consider the following fundamental questions:
Which of the two main types of e-commerce solutions meet your client's needs?
How does your client interact with its customers?
How does your client want to get paid?
Here are my top three ways to tackle those basic considerations in the e-commerce world:
1. Understand the two main types of e-commerce solutions.
Generally speaking, there are two types of e-commerce solutions for businesses based on whether they sell physical products or services:
Shopping carts and online stores with inventory integration and order management capabilities.
Lighter weight "Buy Now" checkout experiences often linked to a booking, digital ticketing, or scheduling engine.
Historically, businesses selling and shipping physical products have been the primary focus of e-commerce solution developers. But shopping carts and online stores don't work for everyone — particularly, small business owners selling local services.
As of late, it's been these folks making waves in the "on-demand" economy. Consider the recent mass migration of beauty professionals and aestheticians, health and wellness experts, fitness trainers, nonprofits, photographers, tourism companies, home-service providers and the like who are now selling their professional expertise online. They all need flexible solutions and payment systems.
From an e-commerce perspective, these types of clients have different and often simpler needs because:
Their customers are purchasing a single service item versus loading up an online shopping cart.
Their inventory is smaller and their offerings narrower.
There's no shipping required.
Pricing and packaging might need to change often.
Sales tax often does not apply.
The challenge arises if you initially mismatch your client's simple needs with a complex e-commerce solution.
Take for example clients who really only require customized "Buy Now" buttons specific to a service item. If you set them up with an e-commerce solution for selling physical products, not only will you cost them more than they need to spend but you'll likely have an integrated shopping cart that exceeds their needs, their budget, and their patience.
2. Determine how your client interacts with customers.
Higher demand for flexibility and convergence between multiple online channels beyond "the site" is the result of an increasing number of businesses that use email and social media to:
Interact with customers.
Promote services.
Generate sales.
Therefore, you must consider how your client interacts with its customers.
For instance, if your client wants to give customers the ability to purchase anywhere, anytime, you'll need an e-commerce solution that accepts payments for each customer-outreach vehicle. Think "Buy Now" buttons in email campaigns and "Get It Now" posts on Facebook in addition to an easy e-commerce checkout on your client's site.
One more thing to take into account — mobile. The average consumer spends more time web browsing on a smartphone than on a computer. Therefore, you must ensure you have a responsive purchase experience that works well on a mobile device.
3. Match payment needs with payment solutions.
Now that you know where your clients are selling their services, find out how they want to get paid.
One-stop shop e-commerce solutions
Clients with super simple needs usually don't require more than a single-solution provider who offers a one-stop shop. Again, I like the "Buy Now" button solution because it's easy to set up, and you can use it across multiple digital channels without having to deal with integrating a shopping cart, or taking traffic off your client's site to a third-party payment service. In fact, "Buy Now" buttons take less than 10 minutes to fully launch. Then, it's only a matter of nabbing the code and plopping it into common platforms like WordPress.
Hybrid e-commerce solutions
Clients who need a slightly more complex e-commerce solution — such as those who also deal face-to-face with customers — likely need hybrid and/or highly customizable solutions. Usually, these merchants want to manage online orders, invoices, and take payments anywhere, anytime.
Let's say your client is a fitness trainer who sells packages online and also has trainers collect payment after individual sessions. It goes without saying that he considers easy online payment just as important as easy in-person payment. Your job is to find a payment tool built for hybrid offline (often mobile versus brick and mortar) and online sales that brings all the data together in one place.
This can be a bit tricky as there are many e-commerce solutions and mobile point-of-sale apps with card readers, but very few hybrid solutions designed for small businesses that allow for easy customization.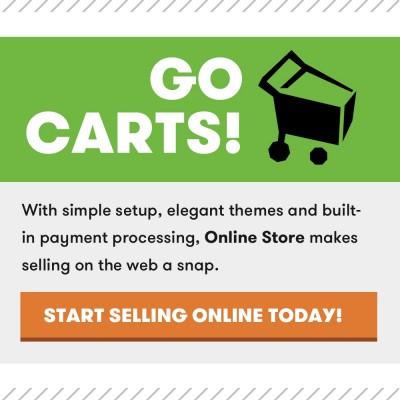 Some standout features to look for include the ability to:
Accept online payments with a customizable "Buy" buttons and checkout forms that can be used across all digital channels and communication vehicles.
Power a great e-commerce purchase experience on all screen sizes.
Issue invoices when needed, and get your client paid online.
Conveniently accept on-the-spot mobile payments through the same service/app running on your smartphone without requiring any additional card reader hardware.
Send customized e-receipts and manage data and customer email addresses across all types of transactions through a unified interface on your phone, tablet, and computer.
Increase customer loyalty by sending custom digital coupons at no additional cost to customers.
Cost effectively accept credit cards and receive an even lower transaction fee rate on debit card charges — which account for more than 60 percent of U.S.-based card payments. (You want users to pay the same fees without any surprises for all types of transactions whether they're shopping online or in person.)
Get started in minutes without needing a merchant account.
There's a new world of flexible business happening and a new breed of solutions designed to power them. Please share what's recently caught your eye — both the e-commerce solutions that have made your clients happier (and your life easier) and those worth skipping — with GoDaddy's community of web designers and developers. We'd love to get your take in the comments below.