Trending topics
I remember landing in Austin for SXSW and sending a series of text messages to short code 40404 as I rode the cab in from the airport. What came back was a river of information, all via SMS messages from Twitter. (This was pre-iPhone, so all of this was happening from an old-school, candy bar dumb phone. The App Store hadn't even been announced yet; that'd be later.) Beep. A bunch of folks were at Iron Cactus. Ping. A few more were at Buffalo Billiards. Buzz. A couple were at Casino El Camino. It was an absolute wonder. I could see my network, where they were and what they were doing. I felt a bit like Professor Xavier wearing Cerebro, except instead of being surrounded by points of light, I was looking at tiny Tweets of information on a minuscule greyscale screen. It was a wonder. I had the cab drop me off at the hotel, ditched my bags, and headed out toward the throng.
"MySpace will continue to dominate…" ~ eMarketer, 2007
OK, maybe that prediction was a miss. That said, the media, the methods and the measurement of social have all evolved a lot since those days. We've had a radical shift in media. Today, video, visuals and mobile screens all need to be top of mind. How businesses use social networks (the methods) have evolved, as well as the way content is envisioned. And we've learned that there are no free lunches. We measure things differently now. A lot has changed.
Video and images in social media
Video matters. For example, Cisco predicts that 80 to 90 percent of global Internet traffic will come from video by 2018. And it's not just video that matters; visuals of all sorts matter significantly across social. Jeff Bullas points out that thinking visually across social media can have notable improvements in effectiveness. In particular:
Articles with images get 94 percent more total views.
Including a photo and a video in a press release increases views by over 45 percent.
Sixty percent of consumers are more likely to consider or contact a business when an image shows up in local search results.
On an ecommerce site, 67 percent of consumers say the quality of a product image is "very important" in selecting and purchasing a product.
In an online store, customers think that the quality of a product's image is more important than product-specific information (63 percent), a long description (54 percent) and ratings and reviews (53 percent).
Engagement rate on Facebook for photos averages 0.37 percent, where text only is 0.27 percent (this translates to a 37 percent higher level of engagement for photos versus text).
Combined with the changes in media around video and images, the most significant change in social media trends is that mobile has become the dominant way in which customers and users interact with social sites. In the fourth quarter of 2014, more than 700 million users accessed Facebook via a mobile device every day.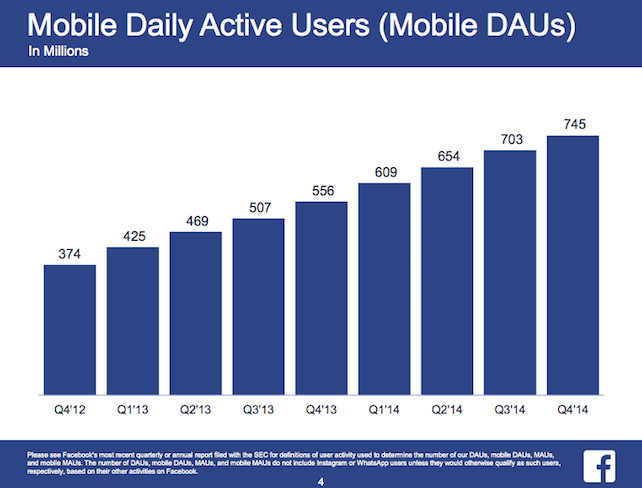 Takeaway No. 1
The "media" part of social media has changed, and continues to do so. Anything you're doing as a small business (or creating for one, if you're a designer or developer) needs to account for video, visuals and mobile as part of your strategy.
The methods in the madness
As late as 2011, comScore was reporting on a Facebook analysis that a business that posted on its brand page five days a week would reach, on average, 16 percent of its fans over the course of seven days. Having lots of fans was good. Having more fans was even better! Since that was the case, businesses invested significantly in growing their fan bases on Facebook in particular, in both time and dollars spent.
Oh, how times have changed. Last year, Jay Baer pointed us to a CIO magazine article and a Social@Ogilvy report that indicated Facebook organic reach had dropped from the double-digit percentages noted earlier to a paltry 2.1 percent for pages with large fan bases. The fans you paid to acquire, you now had to pay Facebook to reach. Predictably, there was an outcry, and the current organic reach is approaching 0 percent.
With the method of reaching customers through social channels moving to a pay-to-play model, it becomes even more important to understand how to get the right information in front of customers when you do reach them, and to present information in social channels in a way that connects to the business.
"Social activity should bring people back to their core business," says Shashi Bellamkonda, Chief Marketing Officer at Surefire Social. Using structured data as part of a website's design and as part of social sharing means that "more and more networks are providing more data from websites in their feed," continues Bellamkonda.
Google search results and Facebook and Twitter feeds can now contain rich images, menus, as well as location data and content like hours of operation. Including this information in social streams can help a customer understand the offerings, accessibility and availability of a small business. As this information is increasingly embedded right in search engine results pages and social streams, it's becoming even more important for developers and designers to not only think about the device on which a website will be viewed, but how the information from that site will be represented in social and other streams — especially if a business is needing to pay for reach.
Takeaway No. 2
Organic reach has dropped, pay-to-play is real, and you want your business's content and information to travel through social networks. It's critical to design for distribution of information using structured data and to design for usability on-site across a variety of devices.
Changes in social media measurement
You get what you measure. At the outset of social, the predominant measurements were what John Lovett and others call "counting metrics" — counting the number of fans, number of followers and likes. Worse than counting those things, there were some businesses that would actually try to artificially inflate those numbers through buying fake followers, likes, faves and fans. This practice has thankfully fallen out of favor. (Note: this practice was so bad that we actually spoofed it one year in an April Fool's prank.)
As noted in the section above, social is increasingly becoming a pay-to-play world, especially for larger brands. And if you're paying, you should know what you're getting for that investment.
"Measurement has changed over the years, from 'Hey, we have followers' to 'Hey, we have real ROI,'" says Christopher Penn of SHIFT Communications. He explains:
"In 2009, it was a nascent question. By 2012, lots of people wanted to know about social media ROI. Today, [the number of people asking this question] is on the downswing partly because tools like Google Analytics and others have helped solve for this problem, and partly because 'pay to reach' turned social into advertising."
Takeaway No. 3
Measure what matters to the business.
Despite the changes, the human connection still matters
There have been a lot of changes in social media trends over the years. What hasn't changed is that customers and businesses can directly connect, if they are both committed to doing so. And that can mean big benefits for businesses. According to Danielle Vincent, co-founder of Outlaw Soaps:
"Being able to be 100-percent human and myself, and connecting with customers on a 100-percent human and social way, is probably the biggest benefit. I am able to connect as friends, and it has made our 'brand' — cringe … saying that feels so cheap — stronger in terms of customer loyalty and retention. More than three-quarters of our customers are repeat customers, and it's because we have a real relationship with each person. I think social media has been absolutely critical in our ability to be the kind of business we want to be — authentic, personable, and not always right. And people are OK with it because we're just 'Danielle and Russ,' not 'a business.'"
Despite all of the changes over the years in the media, methods and measurement of social, Danielle's point may be the most important one of all. Business relationships are still about the connections between people. And that's one thing that won't change anytime soon.
Disclosure: A business relationship exists between GoDaddy and Shift Communications.
Hat tip to Andie Grace for the input on the point about companies buying social media fans and followers.