Task management software is an important tool for staying productive. Whether you're a solo online worker or manage a growing staff, staying productive when running a business is key for long-term success.
In the modern era, staying productive often means using a core collaboration and task management software program.
These tools help you to know what you and any other collaborators have to do next and keep you synced on even the most complex processes.
While it might also include an analog-to-digital shift, upgrading to the best task management software for your business might be the difference between lackluster performance and breakout success.
What is task management software and why is process management so important for entrepreneurs?
Task management software allows you and other collaborators to view all of the steps, due dates and outstanding items. It also helps you to communicate while working toward a shared goal. That could be creating websites, building furniture, or running a summer camp.
There is no limit to what you can track and accomplish with task management software.
There are several categories of task management software, and each one has unique features that could be helpful in specific industries or types of projects.
What's most important for entrepreneurs and growing businesses is picking something that you and your team will use consistently.
A study from multinational accounting and consulting firm PwC found that digital project management software improves performance and is utilized by 77% of projects that met its "high performance" criteria. And a survey by Gartner found that about half of IT projects fail due to "functionality issues and substantial delays," both of which are better managed with task management software.
When a solution is rolled out to your whole team, everyone can log into a website or app on their phone to see every important detail about the project in one place.
It can also be set up to send messages when tasks are waiting on someone or past due. And it can integrate with email and other productivity apps as well.
Running a business requires tracking customers, orders, finances, marketing, delivery, customer service and the seemingly endless number of to-dos that go along with any product- or service-based business. Small businesses often can't afford the cost of going back to regularly correct things or make up for bad customer experiences.
Project management apps help make sure you don't drop one of the many balls you're juggling at the top of a small business.
A mistake could mean a lost client, an expensive return or a time-consuming fix. When your project management needs are well organized, there's a lot less risk of something going wrong.
Related: 10 productivity strategies for eCommerce pros
5 ways to modernize using task management software
Now that you know why task management software is so important, let's look at some of the most common features you will see across apps that might be useful to you or your team.
Let's jump in.
1. To-do trackers
Productivity starts with the to-do list for many people. In the analog-to-digital transition, this has led to a long list of different types of checklist apps.
Powerful team task to-do trackers, however, offer a lot more than just making a list and checking things off as they are completed.
One of the most popular task management apps with this focus is Asana. Asana allows you to create workspaces with dedicated to-do lists for each major project area you work on.
Within each area, you can add projects, tasks and subtasks. Within each task or subtask, you can chat, mention other users, upload and attach files, link to other tasks, and more.
Each task and subtask can also be assigned to someone with a due date. If you have something due or pending, you can get an email or push notification reminder so you don't miss that deadline.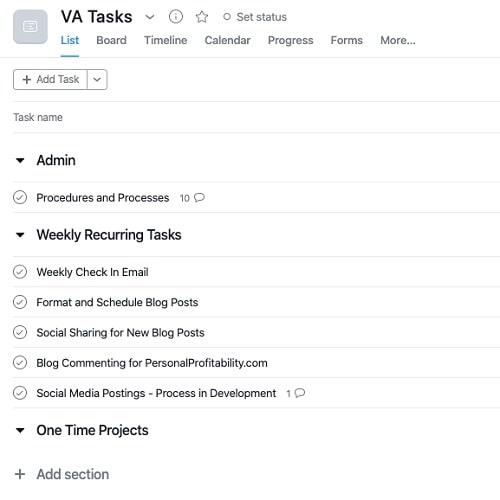 2. Kanban boards
Kanban boards use a series of vertical "boards" for each stage of a project and "cards" for each task. This is ideal for businesses that have a recurring set of to-dos for each customer, sale or unit produced.
While most to-do lists use a vertical list, Kanban boards use horizontal categories. Each task can be moved along through the process, assigned to someone new, or stored any other way you choose to organize.
Trello is one of the most popular places to find Kanban boards in action.
Kanban is particularly popular with software developers, written publications, and businesses with distributed teams. They can also be very useful for sales and support, as multiple people can track progress and add notes, even with multiple points of contact.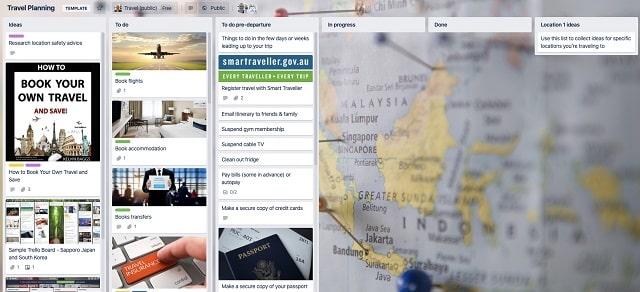 3. Gantt charts
Gantt charts are a form of bar chart that shows the schedule of a project over time. These charts break down projects into chunks where you can set an expected number of hours, days, weeks, or months to complete. Gantt charts can also show dependencies where the start of one phase can't begin until the completion of another.
Bitrix24 and Agantty are both collaboration tools that offer Gantt chart features for free.
Agantty is free to use and includes task overviews, drag-and-drop editing, and flexible PDF and email exports per person or per project.
Bitrix24 has a free version and paid plans for additional tools and features for projects, sales, and other needs.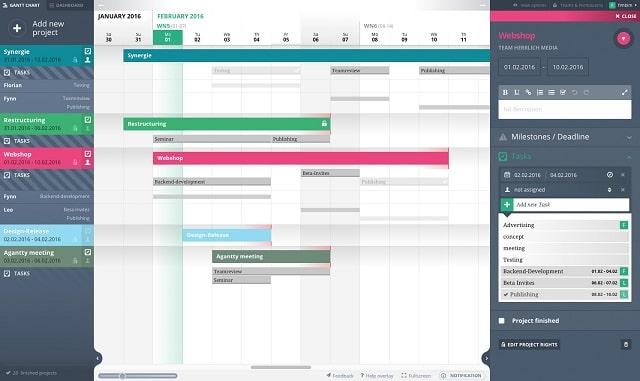 4. Chat and communication
Unless you work completely alone, communication is vital if you want to keep your business moving in the right direction.
A crop of chat and communication apps, led by Slack, is at the center of this movement.
Chat apps connect your team in small or large groups, known as channels, so you can keep an ongoing conversation and log of your discussions.
With Slack, you can reach your team on their computers or mobile devices. Mentioning people with an @, or a wider group if you want, pings them almost instantly. This kind of app is essential to companies with a distributed workforce.
If you all work in the same place, however, it can still save time and trips from one desk to another. It can even save you from scheduling productivity-sucking meetings.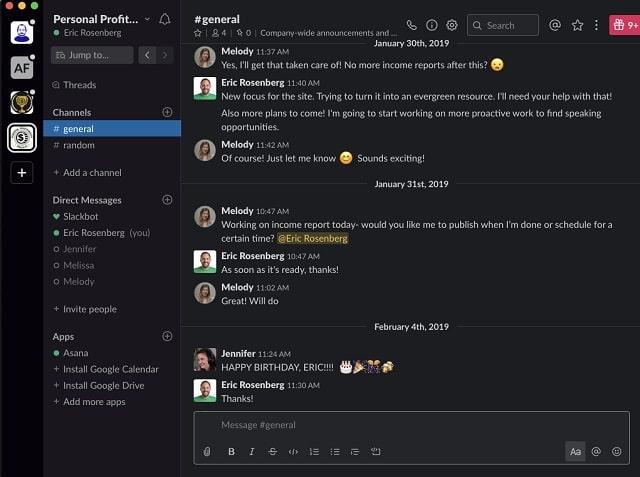 5. Spreadsheets
There are many modern project management apps, but some entrepreneurs prefer the familiar comfort of an old school spreadsheet.
If you all work on a shared drive, you can use a traditional Excel sheet.
Modern offices might also employ Google Sheets, which lives in the cloud and allows multiple users to access the same document at the same time.
Spreadsheets are powerful tools that can do a lot of math and even word manipulation. Most people already have them easily available at no extra cost, but they don't have the same powerful collaboration tools built in to specifically manage projects and tasks. They can work well when thoughtfully implemented, though.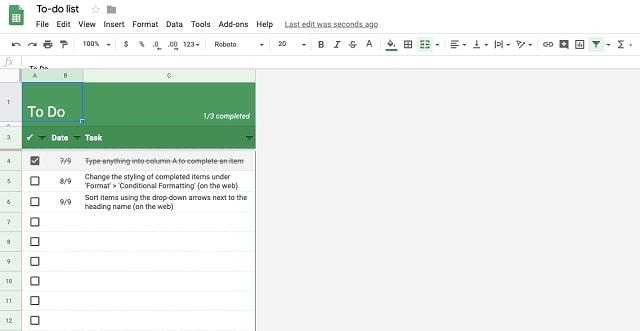 Some of these features might be built into larger app suites, like a CRM (customer relationship management), ERP (enterprise resource planning), or other larger app suite. Those could be overkill for some small businesses, though, so it's good to understand your needs before picking the tool to take your productivity to the next level.
Related: Excel for beginners — 13 ways to use Excel
What are the benefits of converting from analog to digital?
Analog project tracking used to be the only way to go. If you use a paper to-do list, a whiteboard, or keep a notebook to track your productivity, it can work well for limited needs. But there are many benefits of moving from analog to digital.
Here's a brief look at some digital project management software benefits:
Due date reminders — When you set a due date in an app, you will get an email or push notification reminder that a task is due soon or past due.
Assign tasks to others — If you work with a team, you can assign tasks to specific people without having to send an email or talk to them in person.
Share files — If you use text, image, video, or other digital files in your business, you can share revisions and the latest versions in a digital app.
Always the latest information — Track your progress (or your team's) at any time. Just log in and view open tasks. You can also add notifications for when a task is completed.
Access anywhere — Just as you can log in at any time, you can log in anywhere. Using your phone, laptop or desktop computer, most apps give you cloud access to your projects anywhere with an internet connection.
If you've been waiting to upgrade, there's no better time than the present!
How to modernize task management processes with software
To get an idea of how modern task managers can help you, here's a look at some examples of how digitals to-do lists, boards, and collaboration tools can help you succeed in business:
Website development — Creating a new website, whether it's a professional team or a basic drag-and-drop editor, requires many fine adjustments and updates. Kanban boards are excellent for creating a list of tasks, tracking what's in progress and on hold, and what's finished.
Editorial calendar — Businesses that run a blog or other content marketing channel have to regularly create content to engage their audiences. Asana is great for idea generation, assigning tasks, and tracking progress. Using templates, you can simply copy and paste to create a list of to-dos for each content piece based on your process.
Tracking PR and marketing results — If your business does any kind of marketing or outreach, you'll want to track results for your clients. A board dedicated to outreach could be useful in showing potential contacts, completed contacts, and results from marketing and PR efforts.
Physical order fulfillment — If your business sells physical products, you can create an order flow with productivity software at the core. New orders can generate a new task or card which can be updated until it's shipped and out the door.
Contracting — If you work in construction, contracting or home-improvement businesses, Gantt charts can present steps that need to be completed in order and estimate the time to complete each portion of a project.
Some industries might even have their own customized programs. ProCore, for example, offers premium construction tracking apps to help you stay on track from before construction begins until everything is wrapped up.
In almost any industry, there's no limit to how you can use productivity apps to better your business.
Embrace improved productivity
Those who live by the expression, "If it's not broken, don't fix it" have a good point in many areas of life and business. But when it comes to your productivity and project management, sticking with old ways can be a costly mistake.
Adding productivity software can squeeze more value out of your time and the time of your team.
Businesses are always looking to do more with less. Productivity suites help you identify excess capacity, process slowdowns, and other problems in your operations.
With a system in place to connect every person and every process, the possibility for things to slip through the cracks shrinks.
Whether you've been hesitant to make the switch from analog to digital or you're fired up and ready to try task management software, it can offer a great opportunity to improve your business. Choose the solution that makes the most sense for your business needs and grow your business.