This article was originally published on Sept. 11, 2017, and was updated on Nov. 20, 2019.
If you've ever wondered how to sell your domain name, you're not alone. Whether you have one domain name for sale or are a serious investor with thousands of domains on the market, it makes sense to leverage the best practices others are using in order to maximize your sales potential. But it's important not to put the cart before the horse.
In order to profit, you'll have to choose domain names that have the potential to be re-sold for a higher value.
Not all domain names are created equal, and making sales is a result of smart purchases.
It's possible to find valuable domains in the aftermarket — it just takes some due diligence.
Also, learning how to value domain names is important. Do some research into what types of domain names typically sell and what ones would make smarter investment options.
In my opinion, it's best to stick with areas you know so you can easily spot the value a domain might make to the right person or company in your niche. There are some other considerations, however.
Selling a domain isn't exactly straightforward
After you've done your research and acquired some domains, you'll need to know how to sell your domain name. But it might not be as straightforward as you think.
The current domain market is disparate and inefficient for domain sales as a whole.
In the domains market, much of the information (and the ability to buy a domain) is fragmented and can be hard to navigate.
There are hundreds of places where end users go to purchase domain names. Each domain registrar/reseller has different segments of potential buyers that often only look on one site for available domains to acquire.
Getting your domain in front of every possible end user who is searching for it can be difficult and cumbersome.
Afternic bridges the market gap
Fortunately, Afternic provides a better solution by seeking to bridge the market gap.
Our goal is to correct these inefficiencies by creating a domains market with the best possible chance of visibility from interested buyers.
For reference, imagine the MLS system used in real estate listings. If you've ever bought or sold a house in the US, you're probably familiar with the process. Your agent lists your property for sale in one place, and then it populates sales listings across the country on various different websites and listing platforms.
Afternic is a lot like that.
With Afternic, you can list your domain name on their sales platform and have it sent out to more than 100 different partners around the world.
These include other major registrars (the companies who sell domain names to the public), such as: GoDaddy, Network
Solutions, Register.com, Enom, etc. Which means, anyone searching for a domain at these sites will have the ability to see your listing.
Listing with Afternic should be a No. 1 priority.
This level of visibility will get your domains in front of more potential end-user buyers. It's easy and free to set up an account, and you only pay once your domain name sells.
Related: Tried-and-true tips for buying and selling domain names for profit
How to sell your domain name on Afternic
In this guide, we're going to cover step-by-step how to list your domains for sale. Here's an overview of the process:
Visit Afternic.com and click Sell Domains.
Create an account.
Enter the domains you want to sell.
List a price and submit for processing.
Optimize your listings for better domain sales.
Ready to dive in? Let's go.
1. Visit Afternic.com and click Sell Domains

Simple enough. Go to Afternic.com and click Sell Domains in the upper right-hand corner.
2. Create an account
Enter the required information and set up an account to gain access to Afternic's services.

3. Enter the domains you want to sell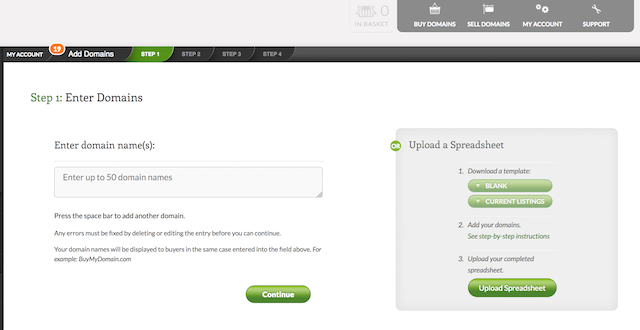 Enter up to 50 domain names that you'd like to sell. You can enter them manually or upload a completed spreadsheet. Then, click Continue.

4. List a price
You'll have the option to set a Buy Now price, as well as establish a Floor and Minimum price. Once you've determined your pricing, click Submit Domains.
The Buy Now price is the published price that will be distributed across the Afternic Network.
The Floor Price is the lowest acceptable sales price our sales executive can negotiate without seeking approval (the floor price is not viewable to buyers). This allows us to quickly close deals on your behalf and capitalize on impulse buyers paying right then and there.

5. Optimize your listings for better domain sales
Getting your domains listed is the No. 1 priority as once you list it we begin the process of distributing them across the partner network.
Once you have your domains in Afternic, there are three specific things you can do to optimize your listings for the highest sale probability.
Tip 1: Let potential buyers know your domain is for sale by utilizing a "For Sale Page" or "For Sale Banner"
As much as 40% to 60% of your domain sales could come from leads received through your domain lander.
Afternic has optimized the lead capture process to ensure the greatest likelihood for a sale.
Whether the buyer contacts us by phone or through the contact form, our sales team is ready 24/7 to engage with the buyer and sell your domain. It's easy to set up!
There are two options to do this:
1. Use GoDaddy For Sale Landers by pointing your nameservers to NS3.AFTERNIC.COM and NS4.AFTERNIC.COM.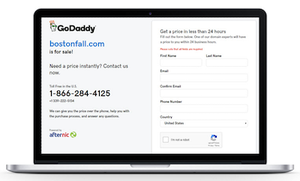 When this happens, a for sale lander will automatically propagate anytime anyone visits the domain — prompting potential buyers to call to speak with a domain consultant or fill out the lead form for a follow up.
2. Use Afternic domain parking by pointing your nameservers to NS1.AFTERNIC.COM and NS2.AFTERNIC.COM.
When this happens, a "For Sale" banner will appear when someone visits BestDomain.com in their browser.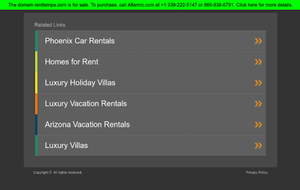 Once pointed you just need to sit back and relax while the world-class Afternic Sales team is put to work for you! By displaying this banner and inviting visitors to buy the domain or speak to one of Afternic's representatives about acquiring it, you're further boosting your sales potential.
Tip 2: Price your domains with Buy Now
We've found that many domain purchases under $10,000 are often impulse buys. To not lose out on those possible sales, we strongly recommend having a Buy Now price on all domains that you value at $10,000 or less.
Domains with a Buy Now price are three- to four-times as likely to sell compared to unpriced domains.
You have the best chance of selling your listed domains if you set a Buy Now price. Why? We can break it down into two main reasons:
1. Impulse buyers. With a set price attached to your domain, someone can purchase it the same moment they see it — without any negotiation. This often leads to more sales for you.
2. Distribution. By setting a designated price, you're opening yourself up to a much larger group of companies who will display your domain for sale. If you elect to skip the Buy Now option, you'll only be listed on a handful of sites, rather than the 100 or so companies you'll have access to with a Buy Now listing.
Setting a price for your domains also allows our sales team to more effectively engage with potential buyers as there is no time lost waiting on pricing from you as leads come in for your domains.
Tip 3: Opt your Domains into Fast Transfer
For Sale Lander... Check!
Buy Now Pricing... Check!
Now let's see what we can do to maximize your domains' exposure across our network.
Some Afternic partners only accept or give priority to Fast Transfer domains so they don't need to manually transfer domains.
Opting your domains into our Fast Transfer/Premium Network can increase your exposure (and therefore sales) by 10% to 15%.
When you participate in our Premium Network, your domains will be in front of millions of end users through over 120+ partner resellers, including 18 of the top 20 registrars.There are no additional costs involved in opting into our Premium Network and domains have a 33% higher average sales price! It's a no brainer!
When a domain sells via Fast Transfer the domain is automatically moved, requiring no work on your part (besides telling us how you want us to pay you if it is your first sale!)
Not all registrars are eligible for fast transfer. If your domain is registered at a Fast Transfer Eligible Registrar (like GoDaddy) you should have received an email asking for your permission to opt-in your domains. Once you click through that email your domains will automatically be opted-in and your domains will start receiving the increased exposure.
In conclusion
So if you're wondering how to sell your domain name, the answer is simple: post it on Afternic.
Once posted on Afternic you can take the additional steps of adding a For Sale Lander, adding Buy Now Prices and enabling Fast Transfer to increase your sales potential.
By following these simple steps, you can get your domains exposed to the maximum number of potential buyers and leverage the network/sales teams to help get your domains sold.
The article includes content originally published on the GoDaddy blog by Joe Styler.