With Twitter's® newest advertising feature — Twitter Cards — one Web marketing agency increased its Twitter lead generation by 1,000 percent over a four-week period. For that company (Webtrends) and many others who are discovering the marketing magic in Twitter Cards, this tool promises lower costs to get leads and higher engagement with customers — translating into what we're all really looking for: a healthier bottom line.
Twitter Cards 101
We all know the basics of social media marketing — or think we do. Create some great content, blast it out there where we believe our target customers are likely to see it, then include a call to action to entice them to buy a product or subscribe to a newsletter or fill out a form to request more info.
Until last year, Twitter's very 140-character nature meant that most branded Tweets tried to entice users away from their Twitter accounts and to a landing page. Even the most alluring call to action can get lost in the crowd when it involves stopping what you were doing (perusing your Twitter feed), clicking over to another tab, and then figuring out what the heck you're supposed to do from there.
At their simplest, Twitter Cards change all that.
Hear what Webtrends brand and social marketing manager John Lee had to say to Search Engine Watch:
Social marketing is at a tipping point. Until now, the focus has been on optimizing social content, making it more accessible and more discoverable. What's happening now — and Lead Generation Cards reflect this — is you're optimizing the social user experience; you're making things more convenient and more accessible for users — without them having to click anywhere else."
These branded advertisements allow users to respond to your call to action directly from Twitter. They cut out the landing page middleman, and brands are all the richer for it.
Optimize your message
How can you optimize the social experience for your users? With Twitter Cards you can persuade your followers to:
Use a coupon
Sign up for a newsletter
Register at a website
Visit a landing page (hey, some things will never change)
Do something new and creative!
And they never even have to leave Twitter. The experience is better for everyone.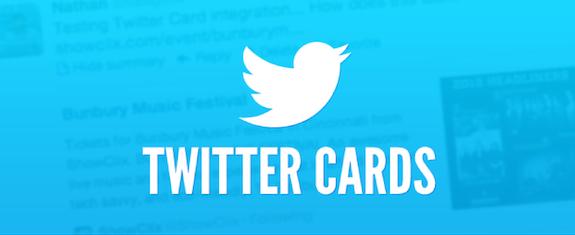 Getting started with Twitter Cards
Any kind of online advertising comes with a built-in learning curve. Luckily, the Awesomely Techie team has written us a thorough introduction to the use of Twitter Cards (which come in a bunch of different forms, including Lead Generation cards). In "Twitter Cards: Why Your Site Needs It and How to Activate It," lead geek Luvvie Ajayi and her crew walk you through the installation process — from downloading WordPress SEO by Yoast (if you haven't done so already) to previewing your test card.
Ready to get started? Head over to Awesomely Techie to begin crafting the card that could be your ticket to a bunch of new business.
For more great tips, check out the GoDaddy Tool Kit on BlogHer.