When listing a product on Amazon, you need to add a unique product identifier. It's a number that distinguishes that specific item from the rest of the products in the Amazon Marketplace. You can't sell anything without it.
Picture a brick-and-mortar store. Each time a product is sold, staff scan the barcode labels and the inventory updates. The same principle applies to ecommerce. UPC codes are unique identifiers that allow you to track and manage your inventory automatically. You don't need to manually enter product information or count stock, which eliminates errors and allows you to dispatch products faster.
We put together this guide to help you understand what UPC codes are and how to obtain and use them. We'll take you through the process step by step, so you can start listing (and selling!) on Amazon.
Related: Learn how to sell on Amazon.
What are UPC codes?
A UPC (Universal Product Code) is a type of product identifier. It's a barcode with up to 12 digits that's used in the US and Canada to identify individual products.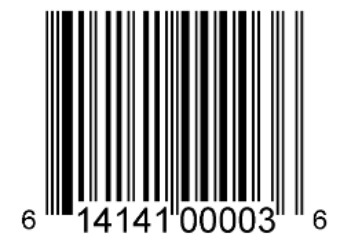 [Source]
Using unique product identifiers in retail is a global standard. They help sellers to manage stock. They allow consumers to find the specific products they want.
How do you know this product in the storeroom matches the product the customer ordered?
The product identifier code.
A GTIN (Global Trade Item Number) is a unique product identifier. GTINs are encoded into different formats, so there are a few codes that are just different types of GTIN. UPC is one of those.
If you're selling online for the first time, the amount acronyms you'll see is overwhelming. Let's go through what the different codes mean.
UPC (Universal Product Code)
Also known as GTIN-12, this is the type of barcode used in the US and Canada.
EAN (European Article Number)
Also known as GTIN-13, this is the type of barcode used everywhere else. An EAN code is the same as a UPC but with an extra digit for identifying countries. If you're required to enter a 13-digit number, but you have a 12-digit UPC, add a 0 to the start of the number.
ISBN (International Standard Book Number)
This is also a GTIN; it's the type of barcode used on books.
GLN (Global Location Number)
You'll also see mentions of GLNs. A GLN is a barcode that identifies locations (like warehouses) or legal entities (like companies). A GTIN is different because it identifies products.
SKU, FNSKU and ASIN
These are not internationally recognized codes like GTINs.
An SKU (Stock Keeping Unit) is a number that contains information about the characteristics of products. You generate and use it internally in your business to keep track of stock.
ASINs and FNSKUs are Amazon-specific terms related to the way Amazon operates.
Amazon uses ASINs (Amazon Standard Identification Numbers) to identify products within the Amazon catalog. If you list a product that's already being sold on Amazon, it'll have the same ASIN. In this case, you usually won't need to go and buy a UPC; you'll just enter the ASIN. If you list a new product that doesn't exist in the catalog, Amazon will assign a new ASIN.
FNSKUs (Fulfillment Network Stock Keeping Units) are related to 'Fulfillment by Amazon' (FBA). An FNSKU connects an Amazon product to you, the seller. If you use Amazon FBA to fulfill your orders, your inventory is automatically tracked for you. For example, if you sell products from a supplier, it's possible that other Amazon sellers do as well. Imagine these products are in the Fulfillment Center warehouse. They both have the same UPC barcode from the manufacturer. The FNSKU links you to the product; that way, you get credit when a sale is made.
Every product you list on Amazon needs to have a unique product ID, regardless of the method you'll use to fulfill orders.
Now let's look at how to buy UPC codes for Amazon.
How to buy and use UPC codes for Amazon
When you're ready to create listings, there are three scenarios to consider:
You manufacture your own products and need new Amazon UPC codes.

You've ordered products from a supplier and have manufacturer's codes.

You've ordered products from a supplier but don't have manufacturer's codes.
Let's take a closer look at each of these.
1. You need to buy a UPC code for Amazon.
If you make your own products, you'll find that there are a lot of sites out there that sell UPC codes. Avoid them. Chances are, these codes are used and might result in Amazon removing your listings. A better approach is to apply for and buy UPC codes for Amazon from the GS1 US website. GS1 charges an annual renewal fee, but it's the most reliable way to get valid UPC codes — it's a non-profit organization that sets the global standard for UPC codes.
There are four steps to buying your own UPC codes:
Apply for a GS1 company prefix.

This code is six digits long and appears at the front of all your UPC codes. At this stage, you'll also have to decide how many UPC codes you need; determine your pricing plan, since there's an initial fee and a renewal fee; and complete the application.

Confirm unique product numbers for each of your products.

Identify the product package types you'll sell — for example, case, bundle, pallet, etc. This will give you a GTIN barcode.

Figure out how the code will appear on your products.

This is where you specify whether you need a barcode that will be scanned at checkout, whether you'll sell products online, and whether you'll need warehouse barcodes.

Place an order for your UPC codes.

Now you're ready to test your barcodes to make sure they work properly; then, place your order.
Amazon regularly checks the barcodes you add to your product listings against GS1 US's database to make sure your codes are legit. You run the risk of having your listings removed if Amazon finds that your codes aren't in the GS1 database.
2. You have a manufacturer's code.
If you're a reseller — you purchase from a supplier to sell on Amazon — and your products already have a manufacturer's barcode, you can use these UPC codes when you create listings. You'll enter the code in the "Product ID" section.
3. You don't have a manufacturer's code.
You might encounter instances where your supplier doesn't provide a manufacturer's barcode. If this happens, you have to use an Amazon barcode (an ASIN) as the product ID instead.
Some types of products aren't tracked with a manufacturer's barcode. These products also need an ASIN. Products that fall into this category include the following:
Products that expire

Topical products like skin creams, shampoos, and cosmetics

Products that can be consumed

Products that don't have a barcode printed on them
How to add your UPC code to Amazon
On the listing-creation page, there's a field called "Product ID," this is where you enter your UPC code.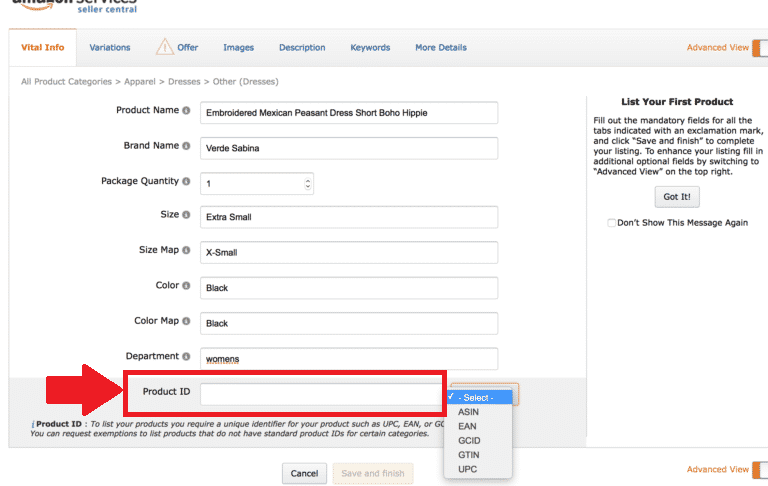 [Source]
Keep in mind, unlike other aspects of your listing that you create on your own — like the product description and image gallery — you can't create your own Product ID. You must go through one of the above channels to get an approved barcode.
As long as the rest of your listing follows Amazon's listing guidelines, your listing will appear on the site — ready for shoppers to buy.
Best practices for UPC codes on Amazon
Now that you know why you need UPC codes on Amazon and how to get them, there are a few guidelines to remember:
Buy codes from reputable sites.

On some sites, you can buy UPC codes in bulk for a few dollars, compared to the $250 you need to get started on GS1 US. However, don't get distracted by the low price tags some sites advertise. Codes might cost more on GS1 US, but you minimize the risk of Amazon thinking you're using recycled codes and having your listings removed.

[Source]
Create a unique code for each product.

Every product variation you sell needs its own code. For example, if you sell backpacks online, and one style comes in five different colors, you need five different UPC codes for that backpack style. GS1 US has a

barcode estimating tool

to help you figure out how many barcodes to buy.

[Source]
If reselling products on Amazon, use the manufacturer's UPC code.

Don't create a new UPC code for products that you didn't manufacture — there's a risk of your account being shut down if you do. If a UPC code isn't available, you can apply for a

GS1 exemption from Amazon

.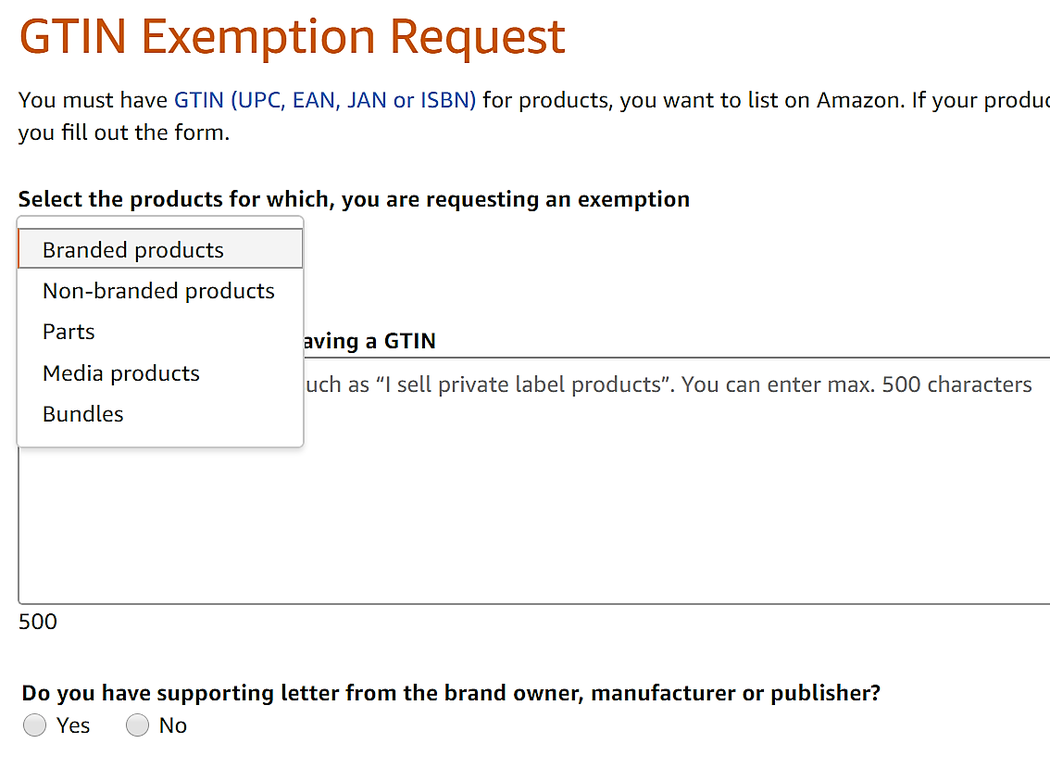 [Source]
UPC codes, sorted. Now you're ready to create your Amazon listings
Once you've determined whether you'll need to obtain new UPCs and followed the steps here to get them, you're ready to create your new listings on Amazon. There are a few steps involved when you buy UPC codes, but it's worth it. The last thing you want is for your listings to get removed from the Amazon Marketplace. If this happens, shoppers won't see your products, and your sales goals will take a hit.
You've gone to the trouble of sorting out your codes. Don't waste that effort by cutting corners with your listings. Creating detailed product descriptions keeps your seller account in good standing. For a small business, your reputation is everything. You want to make sure that the listing you create matches the product buyers will receive.
Putting in the effort at the start to create great listings will reduce the possibility of problems later. It'll help shoppers feel confident about buying with you, so you can sell more. Start by thinking of all the questions someone might ask if they were checking out your product in a physical store.