It's only a few short years since using video content as part of an overall web development project was the preserve of major brands — each with significant resources to throw at the medium. These days, integrating video is an increasingly common requirement for even the smallest of web development projects, and fortunately, the options available for doing so have never been simpler or more powerful. The last few years have seen the emergence of some eminently affordable video hosting solutions that put global distribution within everybody's reach.
In this piece, we'll step through three of the most popular video hosting options currently available, and break down their respective advantages. By the time we're finished, you should have a much clearer idea of which way to lean with your next project.
Let's start with a brief word about why you don't want to handle video hosting yourself.
Leave video hosting to the pros
Though broadband speeds and hosting packages have both come on in leaps and bounds over the last decade, video remains an area where you'd want somebody else to handle the actual hosting complexities.
Yes, it is possible to upload that 100MB file directly to your account via WordPress, but you're opening yourself up to a world of potential pain — particularly if your content takes off virally.
To cut a long story short, you simply can't be sure that your video will reliably play for each and every user if you go it alone. If you're looking for more detail, the good folks over at WP101 have an excellent overview of all the reasons why self-hosting is a bad idea.
Let's move on now to the three main video hosting providers we've identified, starting with the most obvious one.
The 3 top platforms for video hosting
1. YouTube
Since being acquired by Google back in 2006, YouTube has moved from being a quirky niche entertainment provider to the dominant video platform worldwide. Getting set up is relatively straightforward — and perhaps just as importantly, totally free.
Choose YouTube, and you can be pretty much guaranteed that your videos will load virtually instantly, and play smoothly across all devices. No matter how viral your videos get, you're never going to hear a peep about bandwidth concerns, and integration with WordPress is trivially simple.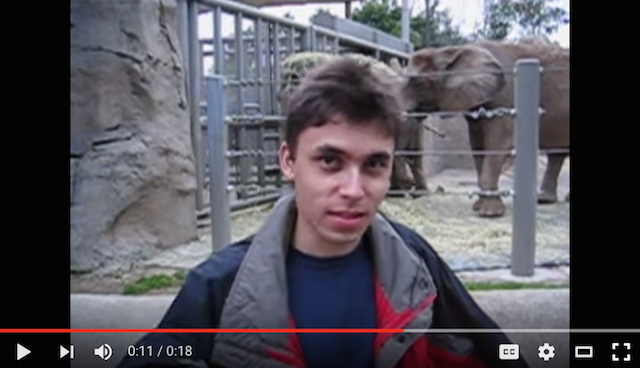 It's not all rainbows and unicorns, however — all that power comes at a price. You'll be stuck with a certain level of unavoidable branding, and will need to make some decisions about how much advertising (if any) you're prepared to tolerate around your content.
2. Vimeo
If you want a little more control over your content and aren't averse to putting your hand in your pocket to get it, Vimeo could well be the way to go. The platform has made a name for itself powering the distribution of innovative feature-length pieces for directors worldwide, but it's equally useful if you're putting together a small site for a client.

You've got three basic options to choose from:
Vimeo Basic. This free, entry-level option gives you 500MB per week of storage and unlimited bandwidth. You may just about be able to squeeze your content into this if your needs are basic.
Vimeo Plus. A modest investment per year gets you 5GB storage per week, advanced privacy controls, better support, and more sophisticated customization and analytics options.
Vimeo PRO. Investing a bit more gets you 20GB per week, top-notch support, privacy and customization options, and the ability to rent, sell, or offer subscriptions for your content.
3. Wistia
Wistia is making a very direct play for the professional video hosting market, with a particular focus on advanced analytics and video marketing tools.
The Wistia pricing and feature breakdown is relatively simple:
Free tier: You can host up to five videos with Wistia completely free of charge, but they'll contain Wistia branding.
Pricing per videos hosted: Wistia offers three unbranded pricing tiers with breakpoints at 25, 50, and 500 videos.
Enterprise hosting: If you're realistically expecting millions of views, you're encouraged to contact Wistia directly to discuss enterprise options.
All tiers of Wistia include a genuinely impressive set of features, including viewer history tracking, video heatmaps, and generally intuitive organization options. You've also got the option of integrating directly with popular marketing automation software including Hubspot, Marketo, and Pardot.
We should also give a shout-out to the consistently excellent Wistia blog, which contains solid overviews of topics such as business video fundamentals, and how their product stacks up against YouTube. Regardless of whether you plump for their product or not, it's well worth a poke around.
Conclusion
There are plenty of other video hosting services out there, but the three we've covered make an excellent starting point when narrowing down your options.
Let's recap them one more time and briefly outline which one works best where:
YouTube: If you're on a budget and can live with the branding, it's hard to beat YouTube for just getting the job done.
Vimeo: If your focus is long-form content and you're looking to monetize it directly, Vimeo has you covered across the board — and its PRO package in particular represents something of a steal for the price.
Wistia: If your video content is going to be tightly tied into lead generation and marketing, Wistia's blend of analytical insight and marketing tools integration put it out ahead.
Got any video hosting insights of your own to share? Let us know via the comments section below, or join the discussion in the community.