Your value proposition is one of the most important elements in marketing your business. What is a value proposition? It helps your customers and clients understand why they should do business with you and sets you apart from your competitors.
Your value proposition can also be the difference between closing a sale and losing one.
But what exactly is a value proposition, and more importantly, how do you write a good one? In this article, I'll give you the value proposition definition, explain why it matters, share tips on how to write one for your business, and show you value proposition examples that will win customers.
What is a value proposition?
A value proposition is a statement that introduces a brand to consumers and explains what the company stands for, how it operates, and why they should do business with that particular company.
A value proposition encompasses the value that a brand intends to deliver to customers and clients when they purchase the brand's product or sign up for services.
Your value proposition should convey three things:
It tells your customers and clients why they should choose to do business with you instead of your competitors.
It explains how your product or services solves a problem your customers or clients are facing.
It defines your company's tangible and specific benefits.
The most important thing to remember about your value proposition is that it needs to be created with your customers and clients in mind.
When deciding what is the best value proposition for your company, keep it friendly and jargon-free, so your customers and clients can easily tell how doing business with you will benefit their lives. Go back to the value proposition definition above if you feel stuck.
Avoid any hyperbolic language, such as "the best email marketing software in the world." Statements like those tend to cause suspicion and skepticism, rather than invoke curiosity about your product. You'll get the hang of it when we go over some value proposition examples in a bit.
Confusing value propositions with other messaging
Now that we've covered what a value proposition is, it's worth explaining what a value proposition is not. Many business owners confuse the value proposition with their tagline or their positioning statement. These are important, but they are secondary.
Your value proposition is your primary message to the marketplace.
Your tagline and your positioning statement will flow from your value proposition, which is one of the reasons why you have to nail down your value proposition first.
Why a great value proposition is critical
When done right, your value proposition shapes your marketing and positioning messaging and is critical for your business success. There are several benefits to defining a great value proposition:
Your customers and clients can easily understand what you have to offer. With a clear value proposition, they will immediately be able to tell if your products or services are what they were looking for.
It differentiates you from your competitors and tells potential clients and customers how and why your product or service is better or different than competitors.
It helps you attract the right customers and clients while dissuading customers and clients who aren't a good fit for your offering. In other words, a great value proposition will help you attract high-quality leads who are ready to invest in your offer.
A great value proposition helps you close more sales as your audience can quickly and easily recognize the benefits you offer and see how buying your products or signing up for your service will improve their lives.
Related: Find your unique selling proposition to build a website that really works
What makes a great value proposition and how to create one
Now that you know what a great value proposition is and why it matters, let's take a look at what the value proposition should consist of, and go over tips that will help you write a winning value proposition for your business and website.
Editor's note: With GoDaddy, you can build a website for free in under an hour. So get started on your website today, and share your value proposition with the world.
Elements of a value proposition
The value proposition is usually a block of text that consists of a headline, a subhead or a paragraph, and a short list of key benefits along with an accompanying visual. Let's take a look at each of those elements below.
Headline
The headline should be the most prominent element of your value proposition. It should explain the end benefit of your offer in one short sentence or phrase.
The headline should incite curiosity and make potential customers interested in reading the rest of your value proposition.
You want to prompt them to scroll down the page to learn more about you.
A subhead or short paragraph
Once you nail down your headline, use a subhead or a short paragraph to elaborate and provide more detail. Explain what you do or what you offer, who the intended audience is, and why your offer should matter.
List of benefits
If you feel you need to provide more detail, you can include two to three main benefits in a bullet point list.
Visual
Lastly, tie all of the elements above together with a visual that showcases your product or represents your services in a compelling graphic or image.
Related: How to use Canva to create branded images in less than an hour
How to craft a winning value proposition
Here are a few tips that will help you come up with a winning value proposition for your business.
Know your audience
The most important tip about crafting a winning value proposition is knowing your audience or, in other words, defining your ideal customer persona, also known as a buyer persona. Understanding what your target audience wants, the problems they face, and how they behave is key to knowing which benefits to focus on and how to explain the value that your product or service brings to the table.
Identify benefits and values
Once you have a deep understanding of your audience, you need to identify the benefits of your product that will resonate with them. Make a list of all the benefits that your product offers and ensure they align with your ideal client persona. Then, link those benefits to the value your product or service brings to the table.
You need to be able to tell how your product or service will help your audience, how it will improve their life, and what results will they be able to see after they purchase your product or decide to sign up for your service.
Related: Create it — Building your presence, brand and product
Know your competition
Keep in mind that you also have to be familiar with your competition and what they offer. Knowing this allows you to fill the gap in the market by identifying what their offer is missing and to understand how you can make your product different from theirs.
Related: How to find inspiration from your competitors (without stealing their ideas)
Find the difference
When you've familiarized yourself with your competition, you're clear on your product benefits and you know how it helps your audience, it's time to find the difference that will set you apart. This could be a feature that your competition doesn't offer, using a different type of material, or delivering your service faster than the competition.
Related: How to create and test a minimum viable product
Aim for simplicity
The last tip is to keep your value proposition simple.
Your value proposition should be crafted with your audience in mind, which means potential customers need to be able to understand it within seconds of landing on your website.
Avoid fluff and industry jargon and opt for language your ideal client avatar is likely to use.
10 terrific value proposition examples
We've covered a lot in this guide so far. Now it's time to see value propositions in action. Below, I've gathered 10 great value propositions from well-known brands. I've also listed what makes their particular value proposition so strong.
1. Asana — Make more time for the work that matters most
Asana makes it easy to understand what you'll gain by signing up for the app — more time to tackle the most important tasks in your business or life. The paragraph below then goes on to explain what it is, who it's for, and why it matters. And the graphic shows you exactly how the product works.

2. YNAB — Gain total control of your money
It's no secret that finances and budgeting can be the cause of major anxiety. YNAB promises to put you in control of your money and goes to deliver the main benefits: You'll stop living paycheck to paycheck, save money, and get out of debt. Who doesn't want that?

3. Zapier — Connect your apps and automate workflows
As a business owner, you have a lot on your plate, not to mention you're juggling multiple apps and tools to try to get things done. Zapier's value proposition statement speaks clearly to this problem and outlines exactly how it helps you save time so you can focus on important tasks instead of jumping from one app to another.

4. Sumo — The easiest way to turn your visitors into eCommerce customers
Sumo definitely triggers your curiosity with a strong headline in their value proposition. They go on to explain how you can turn visitors into eCommerce customers with their shortcuts and provide a list of benefits and differentiating factors. What's more, it implies that competitor products are more difficult to use, making their product more attractive.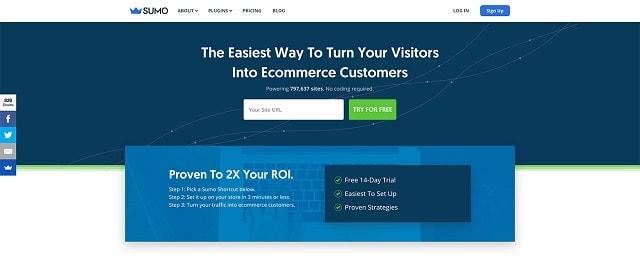 5. LastPass — Simplify your life
In today's day and age, we all have dozens, if not hundreds, of passwords to remember. Keeping track of all those passwords is tedious and time-consuming. LastPass offers a clear benefit and result with their value proposition statement. When you sign up for LastPass, your life becomes simpler and you only have to remember one password.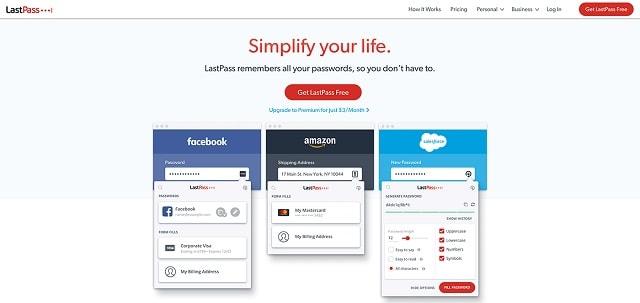 6. CrazyEgg — Make your website better. Instantly.
No matter how good your website is, there is always a way to make it better. Whether better means more sales or more subscribers, this value proposition triggers every business owner's nagging fear that his or her site is not all it could be. CrazyEgg capitalizes on that with a bold statement that promises immediate results and explains why you should sign up for the platform.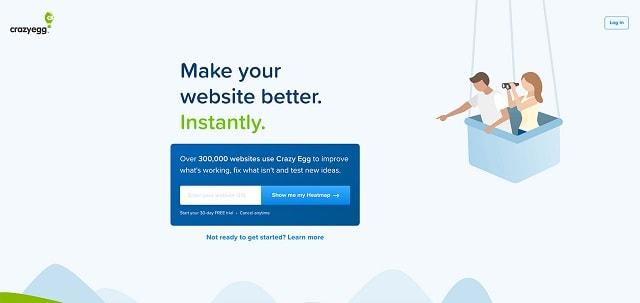 7. Slack — Imagine what you'll accomplish together
Though the headline doesn't make it crystal clear what Slack does or is, it certainly piques the visitor's interest. Not reading further is impossible, and that's where you learn what the true benefit of Slack is, how it helps your team and why you should use it.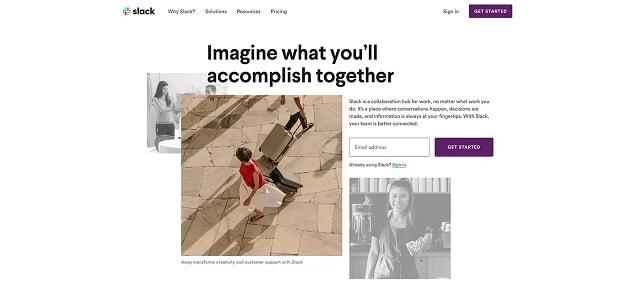 8. Unbounce — Convert more leads and sales from your ad spend
If you want to see the best return on investment for your ads, you need a landing page that will deliver results. Unbounce makes a promise that their software will help you build not only landing pages but also sticky bars and website popups that convert those leads and visitors into customers. It's succinct, clear and to the point.

9. Interact Quiz Maker — Make a quiz to generate leads for your business
Interact's value proposition clearly outlines why you should use the app. It then elaborates further by explaining what it is and who it's for. This is a great example of a value proposition done right that hits home on all fronts.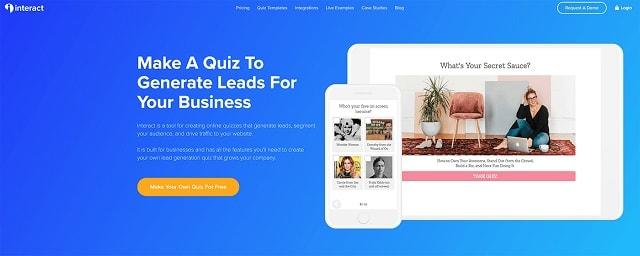 10. LeadPages — Turn clicks into customers
LeadPages doesn't beat around the bush. Their promise is clear — they will help you turn clicks into customers and the value proposition statement goes on to explain what LeadPages is, what you can use it for, and who it was built for.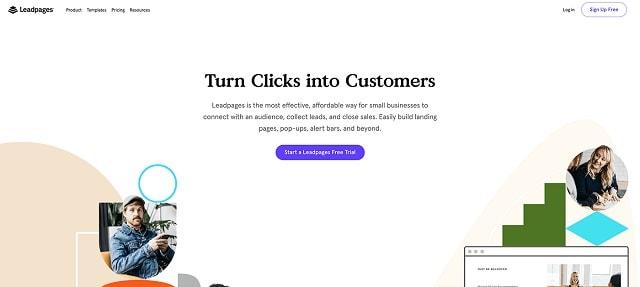 Where to include your value proposition
Once you've crafted your value proposition statement, it's ready for prominent placement on your website.
Ideally, your value proposition should be placed in the header area of your site, so it's the first thing visitors see when they land on your website.
Aside from your website, you can also include your value proposition in your social media profiles as a header image or in your bio. Your value proposition statement can also be included in your flyers or other marketing materials, and in advertising campaigns that help create brand awareness.
Final words
Now that you've defined your value proposition statement, it's time to share it with the world.
The best way to do that is to show off your products and services with a beautiful website.