Domain parking is an unfamiliar term for the majority of web users — yet it's something most of us have likely stumbled across at some point while navigating the depths of the internet. Sometimes referred to as cash parking, this online entrepreneurial strategy is an effective way to generate extra cash if executed correctly.
What is a parked domain?
So, what does parked domain mean? Domain parking, aka cash parking, is the leveraging of advertisements on a parked web domain to generate revenue while that domain is otherwise inactive. Similar to affiliate advertising, you make money based on how many users land on your site and click the advertisements.
To be clear, parked websites are completely non-functioning except for a landing page that contains ads.
Web hosting, email and every other element of an active site are turned off. The domain simply operates as a crossroads where people can either click on relevant advertorial links (and make the domain owner money) or bounce off the page.
In this guide, we'll be investigating the following topics:
The benefits of domain parking.
How domain parking fits into domain investing.
How you can make a passive income from domain parking.
Three types of domains worth investing in.
An in-depth explanation of how cash parking works.
How you can keep your parked domains safe and secure.
Ready to find out more? Read on.
Benefits of domain parking
When you consider domain parking, remember it isn't practical for every type of entrepreneur. It definitely holds certain advantages for ones intimately connected to the internet.
For instance, if you owned a great URL but didn't quite know what to do with it yet, you could use cash parking as a way to generate revenue without needing to run a fully operational website.
As you wait for emails from potential buyers who are interested in your awesome domain name, you can make money without doing anything.
Or if you're in the business of purchasing promising domain names, cash parking is an excellent way of generating profit while waiting to find the right buyers.
Want to see if the domain you have in mind is available? Give it a try here:
If you managed to register a domain that you're not planning to keep, why not use cash parking to place potentially profitable ads up on your unwanted domain?
The outlook for entrepreneurs interested in earning money off of online ads (or running any sort of business online whatsoever) has never been better — just ask Google. Getting into the game now can yield definitive dividends.
But before you start throwing your money around, it's important to understand how this form of earning cash ties into the world of domain investing. It's time to learn all about domain parking.
Related: Is domain investing a reasonable side hustle?
How domain parking fits into domain investing
Domain parking goes hand in hand with domain investing. Entrepreneurs in the business of snatching up promising domain names and turning them for a profit should be aware of cash parking.
Domain investors like Alvin Brown of Kickstart Commerce admit that while having ads up on parked domains don't usually generate amazing returns on their own, parking them is infinitely better than letting the domains sit around doing nothing.
He also talks about how companies like GoDaddy are updating their cash parking interfaces to make parkers more money, which is great news for anyone interested in getting into the game.
Related: 5 tried-and-true tips for buying and selling domain names for profit
How to make money domain parking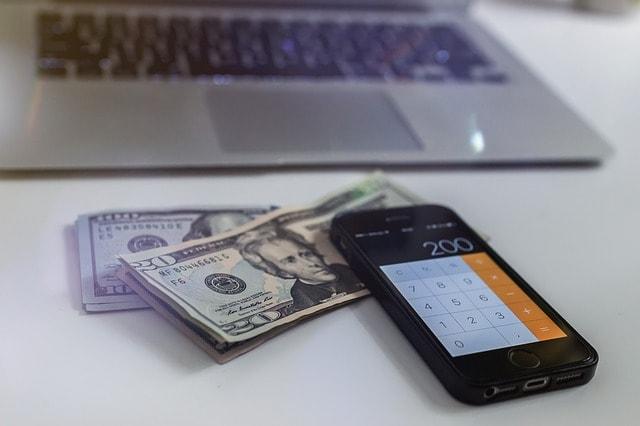 Now that we've discussed how domain parking can be used alongside domain investing, you're likely interested in how parking specifically can be wielded to earn you money. First, you'll need to understand the different types of domains you can snag, because they each come with their own advantages and disadvantages.
3 types of investment-worthy domains
Put some mental energy into executing a domain parking strategy if you're to have any hope at pulling a profit.
Since Google will penalize you for attempting to build traffic via SEO or any other method to a parked domain, your domain names have to be good — the name specifically acting as your only notable traffic-driving asset.
Here are three categories of domains for you to consider before you begin investing in them:
1. Misspelled domains
Did you know that Google alone owns and redirects to their home page the domains Gooogle.com, Goolge.com, Gogle.com, Gogole.com, Googel.com, Googl.com, and Google.net?
There are countless popular websites on the internet that people directly type into their browser every day, and users don't always type them out correctly.
These variations, which include single-letter misspellings and incorrect pluralizations (Googles.com, anyone?), get entered more often than you might think.
While Google has the money and clout to help redirect sloppy typists to their desired page, the vast majority of websites don't. And if they do, they're probably only interested in commonly used TLD variations (like Google.com and Google.net, for instance).
The bottom line is that people misspell domain names all the time — especially of popular websites that are being typed out tens of thousands of times each day.
If you're cash parking those misspelled domain names, you've put yourself in a position to make some money off of them.
Note that if you go this route, there are potential legal scenarios that could arise where a company tries to pry the misspelled domain name from you. Specifically, if you're domain squatting for the purpose of capitalizing on another company's trademarked name or brand, there are laws (see ICANN) in place to ensure the rightful company receives ownership of the domain in question. Don't be shady, and you should be OK.
2. Fresh (new) domains
A completely different strategy from buying misspelled domains (although you can and should combine all three types in your portfolio to assess which work best for you), purchasing domain names that have never been used is also an option.
The benefit of new domain names is that they are usually very affordable. You can quickly assess their potential cost on domain registrars like GoDaddy.
But how is it possible to make people land on such domains if they've never had traffic and you can't deliberately drive clicks to them? There's no clear-cut answer, but there are things you can keep in mind when buying such domains.
First, contemplate which industries are likely to take off in the near future (or already have but are still relatively new). Great domain names for these industries are likely available, and a few solid choices could end up landing you valuable clicks when things really start to grow.
Plus you can sell those domains for a profit later too, which is another great way for you or any savvy domain investor to make money.
You can also buy exact match domains (EMDs), which are domains that include high volume keywords in their name that people are typing into Google. EMDs are valuable because sometimes users add a TLD like .com to their search query without thinking about it and end up landing on a domain (rather than getting their intended results).
To assess potential exact match domains, do some keyword research using a tool like SEMrush (which offers 10 free keyword volume results per day), and then go back to GoDaddy and search for EMDs tied to industries you believe have a bright future.
Those domains could end up being your biggest moneymaker down the road, but there is always a risk that they do nothing as well. It's a gamble, but so is investing in all its various forms.
Related: How to choose a domain name
3. Expired domains
If you're worried that misspelled domain names could get you into trouble and that new ones aren't quite powerful enough, investing in expired domains is also a good option. Unlike new domains that have never seen the joys of organic traffic, expired domains have drawn users in the past and could potentially do so into the future. That makes them great candidates for domain parking. You can use GoDaddy's WHOIS tool to find out when a domain will expire.
There are ways to track down recently expired domains that will make your job easier, and they won't necessarily be expensive to purchase either.
Just make sure that your target domains actually received traffic, because many that pass their expiration don't, and will hold essentially the same value as a new domain (but likely with a higher price tag).
All three types of domains have the ability to make you money via cash parking. Building a collection of all three is your greatest key to success, and it's up to you to determine which ones seem most worthy of your investment.
How does cash parking work?
While cash parking does require time (domain name research) and money (for purchasing the desired domains) to get going, it eventually becomes the dream for many online investors: a form of passive income that you can largely set and forget.
But how does that passive income start rolling in?
First, you need to tie your parked domain to a domain parking service. Cash parking works differently depending on your partner, but the account will allow you to select which domains you wish to park.
Once you've created your account and established your preferred parked domains, a web page will be put up on each. That web page and its advertisements will be tailored to the specific domain — based on factors like its name and the amount and type of traffic it attracts.
Here's an example of a domain parked through GoDaddy's CashParking platform (note how its ads are all tied to misspellings of the word "care", as well as to the actual domain name, "ACLCare.com"):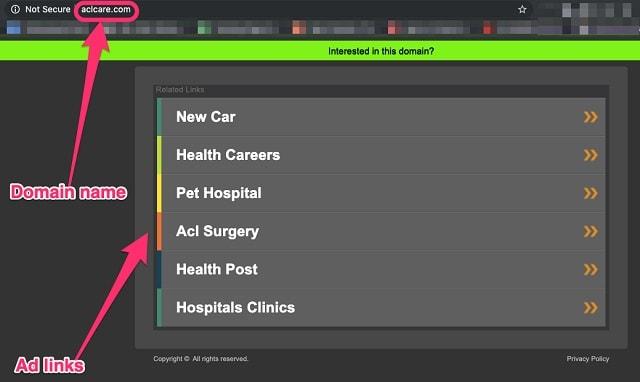 Every time a visitor drops by your parked domain and clicks an ad, you receive money through your cash parking account. Depending on your preference, your options normally include PayPal, direct deposit, and personal checks.
The more clicks you get, the more money you make.
Also, some clicks will make you more money than others. Talk with whoever your parking provider is and you can keep such factors in mind in the future if you want to invest in more domains.
How to keep your parked domains secure
Something to consider when it comes to registering domains is, when someone "buys" a domain, they aren't really buying it but leasing it for an agreed-upon period of time. When that period ends, they forfeit ownership of that domain. Losing ownership of a parked domain means losing that source of potential passive income.
Keeping your domains securely registered while you enjoy the passive income that cash parking can provide is imperative. Here are a few ways to make sure you keep your domains safe and in your possession:
1. Use a domain registrar with a good reputation
When registering a domain, always choose an accredited registrar. There's always a chance of a new or lesser-known domain registrar going out of business down the road.
Using an accredited registrar means that your domain will remain registered no matter what.
Additionally, accredited registrars have also agreed to abide by a set of rules established to protect domain owners, so you can be sure that you and your domain portfolio will be treated fairly.
Related: Check out our overview on the top domain registrars.
2. Lock your domain name
Locking your domain is another additional security measure you can take to ensure your domain's name doesn't get transferred to someone else without your permission. Domain theft does occur and locking helps to prevent it. Lock it as soon as you buy it.
3. Privately register your domain
Following up on the previous point, privately registering your domain name will keep your personal contact information private. Domain privacy will hide your personal details so hackers, identity thieves and spammers can't access them, which keeps you and your domains secure.
4. Register your domain name for more than a year
Most domain registrars offer up to 10 years on domain name registrations. If a 10-year registration is within your budget and you want to make sure you don't lose the domain name down the road, this is a great strategy.
And if you prefer to auto-renew your registration each year, make sure you provide your registrar with multiple ways to contact you, as well as more than one type of payment method.
Hopefully, this guide has given you more insight into domain parking and how it can benefit your domain investment strategy. Put those unused domains to work for you!