You've just taken a critical step in creating an online presence for your small business — you've registered a domain name. Congratulations! This purchase is key to getting your business online and connecting with new and existing customers. However, like a viral video gone wrong, it can also attract attention that you'd rather not have. Here's what you need to know about domain registration, WHOIS information, and your privacy.
What is WHOIS information?
In 1982, the Internet Engineering Task Force published a protocol that was used to create a directory of users on the ARPANET (which eventually became our beloved Internet). That directory contained the contact information for anyone who requested to send data over the network.
Today, the WHOIS system is in place to ask the question, "Who is responsible for this domain or IP address?" Every domain that is registered must have a public record of the person or organization who registered it (aka, the registrant). That record includes (among other things) the name, address, telephone number and email address of the domain's registrant.
The WHOIS directory and your privacy
Having WHOIS information available to the public is a good thing. It's one element of keeping domain owners accountable. If someone is using a domain for nefarious reasons, for example, there is an easily accessible record of who's responsible for it. It can also serve as a way for customers to get the contact information of a website's owner. And hey, let's not forget the bragging rights!
However, as you can imagine, there are other, less pleasant reasons why someone would want a domain owner's contact information. Unscrupulous types — like spammers and identity thieves — can gain access to your contact details just by looking up your domain name on any WHOIS look-up website. There are even services out there that watch for and list new domain registrations, which makes it that much easier for such people to find potential targets.
How can you protect your information?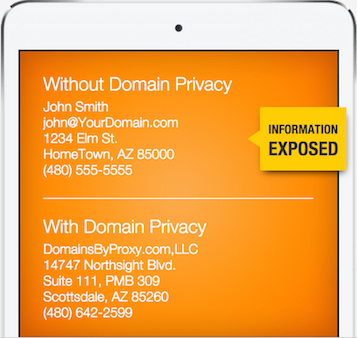 To combat the negative things that can happen when your private information is published, registrars usually offer an optional WHOIS privacy service. Such services allow the registrar to act as a proxy of the registrant. They publish the proxy contact information on the WHOIS directory, and keep the registrant's information private.
Ideally, you should purchase this kind of service when you register your domain. This prevents the information from getting indexed or cached by WHOIS look-up websites and search engines. However, it can be purchased any time after the domain is registered. The service GoDaddy offers is called Private Registration.
It's also important to note that not every type of domain is eligible for this privacy service. Some domain extensions (like .US) don't allow registrant's to use a proxy. Others (like .UK and .CA domains) provide their own privacy service. A good rule of thumb is if privacy isn't offered when you purchase the domain, it will either not allow a proxy or will have an alternative service.
Questions? Feel free to reach out to our amazing help and customer support team. We're here to help!