With over 3 million active installations, WooCommerce dominates the WordPress ecommerce space. And out of those 3 millions, at least a few are being managed from your Pro Sites dashboard. That's why we decided a while back to build a tighter integration with WooCommerce. Our first step was to get the WooCommerce sales numbers in the Client Report, so you could keep your client in the loop. Next up is the WooCommerce update.
What makes WooCommerce updates so special?
WooCommerce updates occasionally have an additional step: after updating the plugin itself, you are prompted to update the database as well. WooCommerce does this occasionally, whenever they want to update the database structure by rearranging the table structure, removing and adding new fields, etc.

If you're updating all your stuff from Pro Sites like all the normal people do, you will never see the update that shows up on the website. So we decided to something about it.
Pro Sites integration
The next time you do a WooCommerce update that also requires a database update, you will see a notification in the top right corner.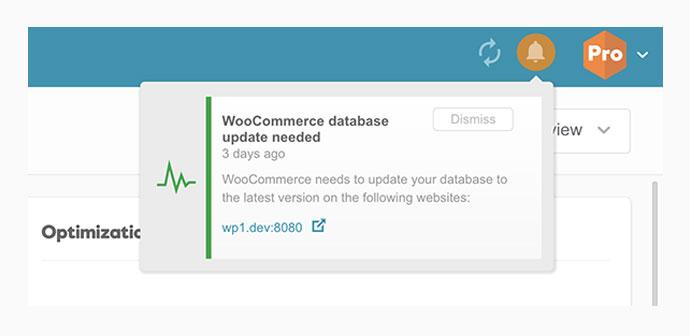 You just need to click the website URL and you will be taken to that website's admin dashboard. From there it's just a quick click to complete the update.
We don't plan on stopping there: you will soon be able to update the WooCommerce database tables directly from your Pro Sites dashboard. And after that, it's up to you - tell us on our community forum what you need to automate your WooCommerce flow.