If there were a formal education for budding web designers and developers, it would need to include something like that cringey class we all had to endure as teenagers. You remember... diving into the facts of life?
In the web professional curriculum, World Backup Day would be a particularly important event.
See, without website backups, web designers and developers aren't practicing safe web dev. Any Maker of the Web who's created a project stack should be sure it includes backups — stack up, back up.
Imagine getting that frantic call in the middle of the night. Often, it's a manageable situation: reliable backups at least ensure there's a place to begin rebuilding. Although World Backup Day encourages people in general to back up their data, it's a particularly important reminder when a client's online presence hangs in the balance.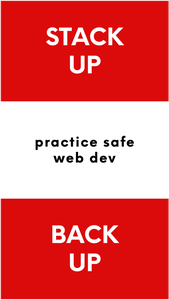 What is World Backup Day?
According to worldbackupday.com, the goal of this holiday is encouraging people to back up all the data they possibly can — and not just people working in IT.
According to the website, 30% of people have never backed up their data.
The site encourages everyone to take the World Backup Day pledge — which can be accomplished on Facebook and Twitter — and start securing their data.
Email template offering Website Backup to clients
Let's get real for a minute, though: Anyone who's made a single dollar through website design and development should know better. For Makers of the Web (whose aren't already providing backups through the Hub by GoDaddy Pro) it might be nice to send clients a quick reminder.
Here's an email template that should fit the bill:
Hey there!

Did you know today is World Backup Day? There's a pretty cool website about it that you should check out.

In the meantime, I wanted to make sure you understand the importance of website backups.

If anything were to happen to your site — like a hack, corruption, or even just an incompatible plugin — a backup would let us restore a previous version, helping get you back online quicker.

If you haven't shopped around yet, I suggest you take a close look at Website Backup from GoDaddy. It's a great product at a competitive price, and I think you'll find the peace of mind well worth it.

If you'd like to chat about more ways to protect your website, please let me know and I'll set up a time.

Best,
How do you stack up?
If a client asked you to roll back their website to the most recent backup, what would you tell them? At the least, it would be an inconvenient pause in your workday to find their products and login credentials. That is, unless your clients are already set up on The Hub by GoDaddy Pro, so you get free monthly backups.
Being able to handle all the routine tasks without getting buried can set you apart as a service provider. People using the Hub report that it saves them an average of three hours each month for every website they maintain for clients.
The Hub lets you speed through tasks like backups, updates and security check from a single dashboard — no logging in an out of clients' websites. Getting back that kind of time can let you refocus on more important stuff, like making awesome sites or giving clients an incomparable experience.