When Marcus Sheridan realized his swimming pool business was on the brink of bankruptcy, his first thought probably wasn't, Eureka! I'll save my business by creating brave web content! But that's exactly what happened.
"We were literally going to go out of business," says Marcus, whose Virginia-based business was hit hard by the 2008 economic downturn. "Every consultant told us, 'You need to file bankruptcy.' We had to figure out a way that was very different than what we'd done before."
Trade shows and traditional and online advertising weren't bringing in the customers. And then inspiration struck: "Why don't we become the best teacher in the world with regards to fiberglass pools?"
So Marcus started cranking out blog posts and other web content about the issues that mattered most to his target customers — topics his competitors were afraid to tackle. How much do inground pools cost? What are the safety risks?
"I wasn't afraid to ask anything."
Marcus answered the tough questions. He wrote content that was honest, transparent and fearless — brave content.
And it saved his business.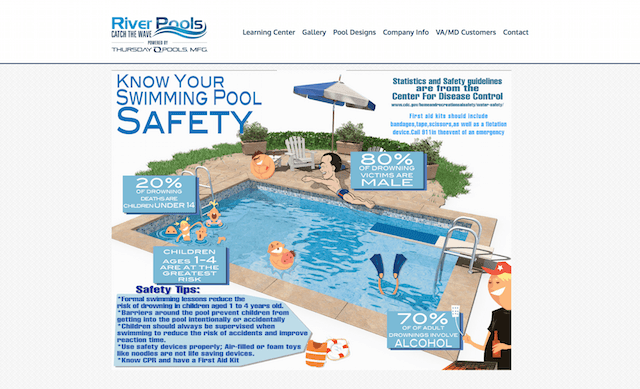 "We saw the needle move within six months," Marcus says. "And by the end of the first year we were off to the races."
Traffic to the River Pools website ballooned from about 2,000 visitors a month in 2009 to more than 500,000 monthly visitors in 2015. Before Marcus dove into content marketing, when the economy was still strong, he spent $250,000 a year in advertising to help generate $4 million in sales. In 2013, a $20,000 advertising investment helped yield $5 million in sales. Marcus credits content marketing.
Today, River Pools is the most trafficked swimming pool website in the world. The business is booming. Marcus also has parlayed his experience into a successful consulting business. Known in thought-leadership circles as The Sales Lion, he helps businesses grow through inbound and content marketing.
You want to catch what he's got
You might have already heard the River Pools story — it's been featured in content marketing case studies and publications including The New York Times. There's even a video or 50 about it:
But when I saw Marcus speak at a recent marketing event, I couldn't wait to share even more of his web content insights for small businesses. His enthusiasm for content marketing is contagious — and catching it can have a tremendous impact on your business's bottom line.
3 rules for creating brave web content
Here are Marcus's three rules for creating web content that grows sales:
1. Don't shy away from the hard questions.
Brave content answers the tough questions. "Start writing about how much stuff costs in your industry," Marcus suggests. "No one wants to do that but it's the first question everyone asks."
Be prepared to write about the good, the bad, and the ugly.
Ask your current customers what they want to understand about your products/services and industry. Scope out Google Trends, online news, forums and social media sites to figure out what matters to your customer base. That's how you plan web content with a high ROI.
Marcus says he expects his most popular blog post — "How Much Does a Fiberglass Pool Cost?" — to generate $3 million in revenue over the next five years. Another piece of brave web content, "Top 5 Fiberglass Pool Problems and Solutions" brought in more than a half-million dollars over three years. Each topic holds the coveted No. 1 spot on its Google search results page.
2. Forget your competitors.
Brave content is content that meets the needs of your customers and prospective customers. "Forget your competitors," Marcus says. "Don't produce content based on people who don't pay your bills."
The goal is to create blog posts, videos, infographics, ebooks and other web content that your target audience will consume, "literally nod their head, and say, 'now I understand it,'" Marcus explains. It doesn't have to be fancy, just authentic and useful.
3. Focus on building trust.
"Let's see if we can generate more trust than anybody else in the world, at least in our space." ~ Marcus Sheridan
Brave content builds trust. By listening to what matters to your customers and creating web content that answers their questions and helps to solve their problems, you'll establish credibility in your industry. People will begin to see you as an authority in your field. And when they need a pool installer or a caterer or a dog trainer, they'll think of you first.
"Building trust — that is the business every one of us is in," Marcus says. "You can call it content marketing or whatever … it is about trust. We're in a battle of trust." In the arsenal of marketing tools available to small businesses today, brave web content might be the weapon that cuts through the competition and makes your business stand out.