3 fun alternative New Year's resolutions
It's about that time, everyone—time to look back on 2013 and plan ahead to 2014. If you're looking for alternative New Year's resolutions, we've got some ideas for you.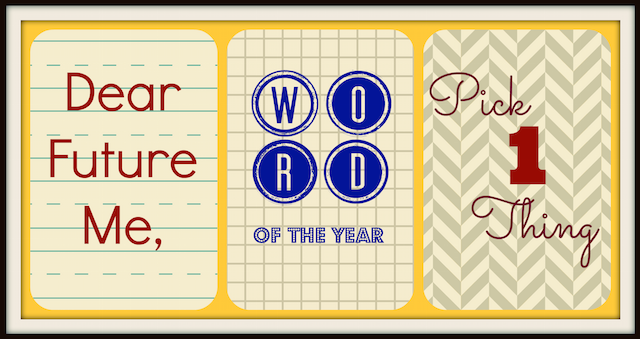 I know you're getting information from everyone, everywhere on what to do and how to do it … and that it can feel so overwhelming and burdensome that you think your head will explode.
But fear not! I'm coming to the rescue with an easy (yet effective!) way to plan for an amazeballs year ahead.
Alternative 1: Write a dear-future-me letter
Every January 1, I take an hour or two to flex my dream muscle and imagine how the year ahead will go—and then describe it to my future self in a letter. This year, I'll date it "January 1, 2015," address it "Dear Future Michelle," and fill the pages with what's happened in 2014. It'll look a lot like my last letter, which you can read right here.
Ready to give it a shot? Pour your favorite cuppa, wrap up with your leopard-print Slanket (Or am I the only one who has one of those?), and become your own fortune-teller. Really, there are no limitations on what you can talk about in your letter, so tell yourself whatever you feel is important to hear. When you're done, visit FutureMe.org to have it sent to you on the date at the top of the letter. Talk about a different take on your new year's resolutions.
Alternative 2: Choose a word of the year
Think about how you want to feel in 2014.
What do you want your overall intention to be?
What do you want the year to contain?
What do you need to be attuned to?
What do you want in abundance?
In 2011, my word was Investment.
In 2012, Care.
In 2013, Space.
I'm still deciding on my 2014 word. I'm gonna write down the words that pop into my head and then go to thesaurus.com, really nailing down the meanings and seeing what resonates most.
Once I've pinpointed my 2014 word, I'll put it on my desktop and my calendar so I see it often. When it comes down to making a decision—or sketching out what I want my year to look like—it'll guide me on my way. It's nowhere near as demanding as some new year's resolutions.
Alternative 3: Pick one thing (and break it down)
It's not about goals, or plans, or resolutions.
Instead, it's about writing my novel. Launching my e-course. Getting 5,000 Facebook fans.
I know it's hard to prioritize all of the things that you want to do in 2014, and picking just one can feel like Sophie's Choice. If that's the case for you, do a brain dump and get out everything you think you wanna work on next year, and go with the one that seems to be pulling at you.
What'll give you the most growth, or impact, in your business? What best reflects your Word of the Year? Don't let your head talk your heart/gut out of what you really wanna do.
And don't forget: picking only one thing for now doesn't mean you won't do the other things—it just means you're not going to work on them now. Big difference.
Plan for 2014 with these new year's resolutions
Pick one way or pick 'em all. No matter what, if you're intentional about what you want 2014 to look like—and make proactive, responsive decisions based on it—you're going to have a wildly successful year.
Raise a glass of bubbly to you!
Editor's note: If you haven't already done so, make your New Year's Resolution about building a website. Try GoDaddy's GoCentral Website Builder to ring in the year right.