5 ways to manage your restaurant's online reviews — good and bad
Restaurant owners know that handling online reviews can be difficult, especially when it comes to dealing with negative reviews that come in on Yelp, Facebook, Google and TripAdvisor. But, feedback is important to make sure you're creating the best possible experience for customers at your restaurant. And, with the right mindset and the right strategy, you can get great insights and interaction through your restaurant's online reviews to drive results for your business.
When asked about handling online reviews in a Thrillist article, business owner, John Seymour of Sweet Chick, a restaurant in Brooklyn, N.Y., says it well:
"Everybody has an opinion. Not everyone's opinion is going to be right, but every opinion is going to have something to it. You can have someone who is totally off-base, who doesn't know how restaurants work. Maybe they give you one star because you're not open at 6 in the morning. Not many restaurants are open at 6 in the morning. But if I see that review, I might learn something from it: Maybe our hours aren't posted clearly online. Are they on the door? Are they on the Yelp app? Let's look into that."
As a business owner, Seymour recognizes that any feedback can be valuable to pushing his business forward.
Responding to constructive criticism professionally and politely is how business owners can show their customers that they're listening and that they care. The way you handle your restaurant's online reviews can win over customers who might have had a less-than-perfect experience at your business.
5 ways to manage your restaurant's online reviews
Bring loyal fans back again and again by following these best practices.
Answer reviews as quickly as you can.

Answer all of your restaurant's online reviews.

Keep calm and be professional.

Ask questions and investigate.

Flag reviews that are false, inflammatory or misleading.
Try these five tips for managing your restaurant's online reviews.
1. Answer reviews as quickly as you can
Consumers today are likely to go to online review sites or social media platforms like Facebook to leave their feedback after having an experience at your restaurant — and they expect this to be a two-way conversation. They expect their issues to be resolved quickly. According to SocialMediaToday, 84 percent of consumers expect companies to respond within 24 hours after posting on social media. That can be tough while you're running a business, so, try to respond within a few business days.
Why? Because negative reviews on your pages that sit without responses only fester — you don't want to imply to your reviewers that you don't care about their concerns and input.
"With every less-than-perfect review comes the opportunity to improve your restaurant," according to GrubHub for Restaurants. "Not only can a few words of criticism highlight areas of your restaurant that need tidying up, but they also give you the chance to win over a disgruntled diner."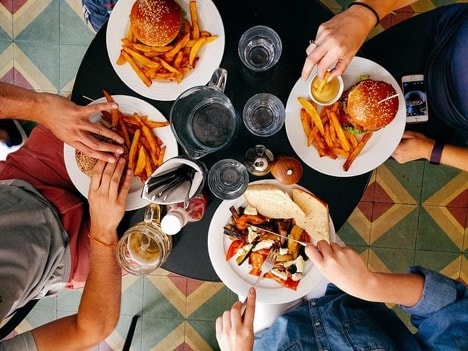 2. Answer all of your restaurant's online reviews
Restaurant owners should keep in mind that it's not just the negative online reviews that need responses. If you leave your positive reviews unanswered, you're missing out on the opportunity to say thank you, lift up your loyal fans, and build relationships with the customers who love coming to your restaurant. Show those reviewers some gratitude and invite them back for another visit!
Engaging with all reviews — positive, negative and neutral — is the best way to extend your customer service online.
It will go a long way with your customers if you interact with them and assure them that you're dedicated to providing them with a fantastic customer experience at your restaurant every time they come visit.
Related: The rulebook for crafting a response to negative comments on social media
3. Keep calm and be professional
Whether you are responding to a positive or negative customer review on Yelp, Google, Facebook or TripAdvisor, it's important to craft a response that follows the rule of the "three S's": succinct, sincere and specific. Use the reviewer's name and reference some of the details they included in their review to personalize your response.
When handling a negative review, stay calm and professional in your response.
Keep in mind that this response is not only for the benefit of the reviewer, but for anyone who might be visiting your page to check out your reviews and responses.
Show your online community that you care about making things right. Include a genuine apology and ask them to give you another try. Sometimes, it's necessary for you to defend your business against untrue accusations or misunderstandings, but make sure to do so as politely and professionally as possible.
"Take the emotion out of it," says Jon Trasky, GM at Wright & Company, a gastropub in Detroit in the previously mentioned Thrillist article. "Either thank them for their feedback or offer some insight into why that experience maybe wasn't what they thought it was going to be — without blaming the customer or venting your own frustrations."
Related: How to get more Google customer reviews 
4. Ask questions and investigate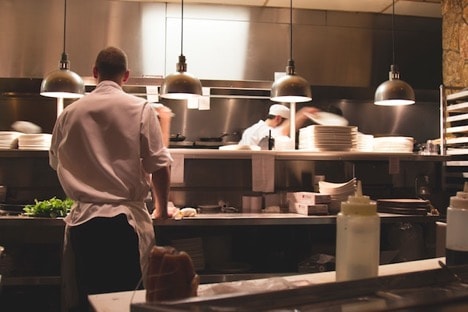 A complaint or concern on Yelp might not be something you were even aware of in-house. In fact, almost 80 percent of complaints from consumers about restaurants are reported online rather than in person, according to the Washington Post. When responding to a negative review or customer concern, ask questions. If you investigate the issue, you can get to the bottom of it and eliminate similar complaints in the future. Here are a few examples of questions you can ask to find out more and get things resolved quickly:
What night did you come in for dinner?
Do you know whom you spoke to at our restaurant?
Can you tell us what you ordered?
You also can reach out to your staff to get a better understanding of what might have occurred, and that will help inform your response to the customer.
If what a customer points out about your restaurant in an online review clearly isn't the norm, then it's fair to defend your business in your response.
But if it really does seem to be an error your business made, then apologize and ask for another chance to show the customer a better experience.
5. Flag reviews that are false, inflammatory or misleading
If you see reviews that seem to be for the wrong business, are false or contain inflammatory language, you can flag these reviews to get them removed from your page.
Review sites are community-driven, so they will likely allow most negative reviews to stand, as long as they appear to be honest representations of the business. But, most sites have the option to flag reviews that go against their community guidelines.
For example, on Yelp, there are review guidelines that prohibit Yelp users from leaving reviews that prove a conflict of interest, reviews that do not focus on the consumer's experience in your business, or reviews that contain inappropriate material, such as threatening language or private information about your staff.
How to flag a review
Click the flag icon and select the category for your complaint.
Briefly explain the issue with the review and how it goes against the site's community guidelines by directly quoting the site's guidelines.
While you wait for a decision from the site, respond to the review.
Follow up to make sure the site received your flag request.
Ultimately, it's up to the site's moderators to decide whether or not the review will stay on your page. So, try to figure out the reasoning behind the review in your response, and use your response to explain that this is not the typical customer experience at your business. You also can offer to follow up with that customer by providing an email address or phone number to better understand their concerns.
It's valuable to know that you can reach out to these sites to try to keep your restaurant's online reviews honest and fair.
In conclusion
Keep these tips in mind when maintaining your restaurant's online reputation and think of review sites like Yelp, Google, Facebook and TripAdvisor as the best places to gather feedback and engage with your customers. They're reaching out and looking for a response, so, impress them with your thoughtful replies. Authentic and personalized responses to your restaurant's online reviews will go a long way toward building relationships and deepening customer loyalty.
It can be tricky navigating online review responses. GoDaddy Social, powered by Main Street Hub, can help.