8 tips for starting a house staging business
House staging is a great field for launching an entrepreneurial business. It allows you to be creative while helping people declutter and best present their homes for future sale. This career is great for individuals wanting to set their own working schedules — the perfect profession for those who like assisting people with organizational tasks.
The name of the game when it comes to house staging is establishing a space that is furnished, decluttered and appears as spacious as possible for the purpose of attracting buyers.
8 tips to start your house staging business
House staging also involves a level of decorating, but is often minimized as compared to a traditional interior designer. If you're considering a career in house staging, you'll find that this industry always has customers. Let's get you started on this exciting career path with these eight helpful tips!
Familiarize yourself with various decorating styles.

Purchase furniture and décor to rent to clients.

Become an expert on organizational and space-saving solutions.

Develop a team of professionals to assist you.

Establish a services contract for clients.

Network with real estate agents and brokers.

Advertise your services.

Approach house staging with sales in mind.
Many people will sell their homes and move at some point during their lifetimes — making these individuals great candidates for your services. Keep reading to learn how to get started!
1. Familiarize yourself with various decorating styles
To be a great home stager, you will need to be flexible and have a knowledge of various decorating styles. Your clients will likely have existing furniture in their homes, and your job will be to make their space look its best with the resources they have. This might mean staying within a specific decorating style that is already in play.
2. Purchase furniture and décor to rent to clients
The best home stagers offer quick solutions to décor needs and furniture gaps for their clients' properties. If a client has already moved out of the home being sold (or perhaps never even lived there), then the space will likely need key furniture items at minimum.
Having rental furniture available to offer your clients will set you apart from other home stagers on the market.
It is a known fact that a furnished space tends to sell more quickly than an empty space. Placing furniture in a home for sale allows potential buyers to see just how much furniture can fit into a space. Home furnishings in a space also inspire potential buyers to imagine what life would be like for them if they purchased the property.
Additionally, providing furniture and décor rental services as an option allows your clients to avoid purchasing brand-new furniture just for staging, which is another great strategy to build your business. However, keep in mind that you will need ample space to store your rental furniture when not in use.
If you will not be offering furniture and décor rental services, then be prepared to shop for and install your client's home staging needs. This will mean establishing a budget with your house staging client for purchasing their key furniture and décor needs.
3. Become an expert on organizational and space-saving solutions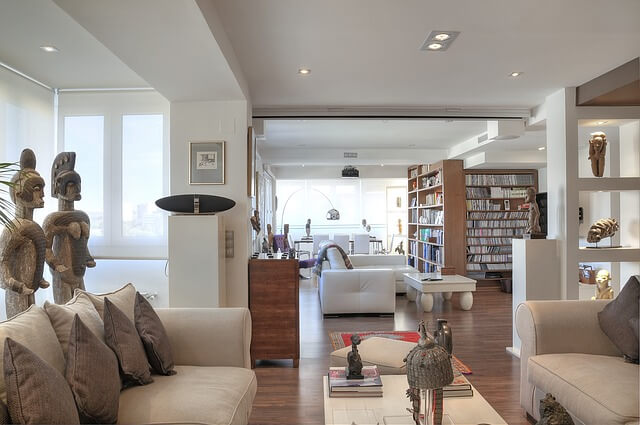 When launching your house staging business, develop several techniques and resources for organizing your client's home and assisting them with storage and space-saving solutions. One of the main things you will do with a client is help them declutter and de-personalize their space. While traditional decorating services might revolve around accommodating the home owner's taste and showcasing their personal effects, this is the opposite in house staging.
You'll need to have your client take down family photos and other highly personal items.
It is also important you create a space for your staging clients that takes on a minimalist approach. The more spacious you make your client's home look, the better! Decluttering and offering storage solutions will be a large part of your job when styling your client's home.
4. Develop a team of professionals to assist you
Preparing to service your clients will take advanced preparation, such as establishing local contacts to assist with painting, handyman work and contractor services. With house staging, you do not want to wait until you have clients with tight home sale deadlines to research who might be a great handyman to assist you.
Pro tip: Interview local service providers and create a working list of go-to professionals to use in advance of servicing your local staging clients.
5. Establish a services contract for clients
There is nothing like the peace of mind from having a solid working contract in place with clients. If you will be offering furniture rental services, then having a contract in place becomes even more important. You will need to determine what happens if one of your rental items becomes damaged or missing, and establish a protocol within your contract.
You will also need to determine what the duration of each client's rental period will be in advance.
Will you charge your client for the rented furniture and décor on a weekly or monthly basis? Will you charge a flat rate for everything rented or charge per item or per room in the house? These are all things to consider as you establish the service prices for your house staging and décor rental business.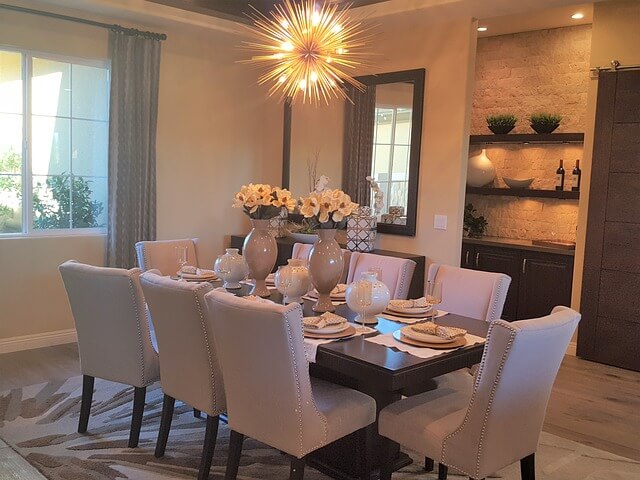 6. Network with real estate agents and brokers
When you're in the house staging business, the best people for networking are real estate agents and brokers. They happen to know who in your community is selling homes — and they might be able to offer you tips as to which of their clients need staging services.
There is a great chance their clients will need assistance with preparing their homes to sell quickly.
Be prepared to network with real estate professionals by practicing your business pitch. It should be very brief and explain what services you offer and what makes you different. Be sure to bring your house staging business cards whenever you attend group events.
After all, you never know who you will meet!
7. Advertise your services
Create an attractive yet professional business card to attract customers to your house staging business. You will also need great marketing materials. Consider having brochures printed with before-and-after photos of a few of your staged spaces.
Promote your services on social media and in local newspapers. Also, keep a list of past clients to contact for future services. Many people will move again in the future and will have a need for house staging.
And don't forget about creating online business listings for your house staging business on sites such as Google My Business, YP.com, Yelp, Merchant Circle and more.
Editor's note: Get your business listed everywhere, all from one place, with GoDaddy Local Business Listings.
8. Approach house staging with sales in mind
Your most important job in house staging is to help your client sell their home. This doesn't necessarily mean going crazy with décor features, but could mean creating a more minimalist and spacious flow in the home for sale. Think about what you would want as a buyer and execute your plan to perfection. Refer to décor blogs for inspiration and always remember your end goal — sell that home!