All the trimmings: How to sell furniture online
Entrepreneurs who want to try their hands at eCommerce might want to sell furniture online as a way to fill a specialty niche. Whether you make furniture, deal in retail or own a resale shop — antiques, reproductions, Scandinavian — you can sell your furniture further afield than any local furniture shop could ever hope to do by building an online store.
In 2015 online sales of furniture totaled about $14 billion, or 15 percent, of the entire furniture industry's sales. And this is just part of the larger "furniture and home furnishings" industry — that $14 billion is for online furniture sales alone. If furniture is your thing, you've picked a growing segment.
Basics you'll need to sell furniture online
Just like any eCommerce store, you're going to need a website and domain name, as well as a decent hosting plan to handle the traffic and maintain its software and uptime. Here are three basic steps to consider:
1. Get a memorable and catchy domain name
I suggest you buy a domain name first, and then name your company after the web address you were able to get. There's nothing worse than naming a company and registering it with your state, only to find out you can only get some horribly mangled version of your company name as a domain. I mean, Google's domain name is google.com not google123.net — am I right? Clean, simple and it matches the business name.
Find a way to make your domain name and business name align with each other.
But be careful of an exact match domain name, especially with hyphens. For example, Sell-Scandinavian-Furniture-Online.com is a terrible domain because it's clunky, contains hyphens and because Google now penalizes Exact Match Domains (EMDs), at least if your website is all about Scandinavian furniture. Instead, get something like SmithBrothersFurniture.com (assuming you're one of two men with the same dad and your last name is Smith). You can also help avoid looking like a spammer by buying a domain for more than just one year, which is what spammers often do.
Better yet, think outside the .com box and get a new domain like .furniture. Then, you can get a little more specific about the kind of furniture you want to sell — Scandinavian.furniture, Antique.furniture or ReproductionVictorian.furniture.
Go ahead, search for a domain name for your business.
2. Build a website that sells
An eCommerce website is more than just a plain old website with some prices. If you're going to sell furniture online, you need a website with payment gateways to accept credit card payments, an SSL certificate to protect credit card information and the ability to calculate shipping costs. There are a lot of different options, including WordPress with plenty of different plugins for eCommerce functionality.
But one of the easiest ways might be GoDaddy's new GoCentral Online Store, which includes hosting costs. I've been working online long enough that I remember when you had to pay $10,000 for a basic shopping cart. That didn't include all the other programming to go with it, the SSL or credit card processing. The GoCentral Online Store costs a fraction of this, and gives you so much more than that $10,000 shopping cart.
[advertisement id="25753″]
3. Fill your shop with products and your website with photos and text
Before you launch your store, do some research to find some of the websites that sell furniture online — Overstock.com, Amazon, etc. Check them out and study what they have in common.
The best-selling stores and providers have plenty of photos and copy about their different pieces of furniture.
You can't just list "Couch for sale" with a poorly-lit photo of a couch in your living room. You need some showroom-quality photos and plenty of text to describe the condition of the piece, its qualities and any notable features. Not only does this help with your search engine optimization (Google loves words), but people are more likely to trust you if they see that you have plenty of content available about each piece.
The best websites to sell furniture online
Depending on the kinds of furniture you have to sell, there are a few places you can sell your furniture — without a website of your own.
Etsy
A marketplace for artisans, Etsy tops the list of best websites to sell furniture. Etsy only focuses on handmade and vintage goods (and craft supplies), so if you're a furniture maker or picker, this is an ideal place for you to list and sell your pieces.
Krrb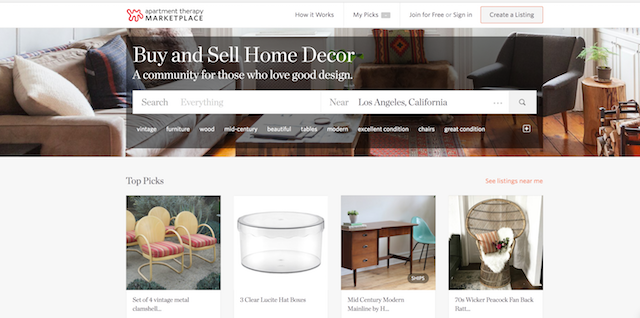 If you're using Etsy, add Krrb (pronounced "curb") to your mix. Not only will it re-post your Etsy listings to your Facebook and Twitter, it also shows your offerings in local searches up to 50 miles away. If you have a vintage desk for sale, someone within a few miles of you might be interested in it if they see it on Krrb.
Amazon
You can also become an Amazon reseller and fulfill orders out of your own facility or warehouse. Used booksellers do this all the time, so there's no reason you can't. In fact, Amazon is one of the best websites to sell furniture because they've already got the payment gateways and shopping cart all figured out. Then, you only need to upload your information and figure out how to promote it. So if you have a bricks-and-mortar furniture store, this is a great way for you to ease into the online sales world.
Chairish
A site that's geared toward high-end furniture (designers who buy pieces and never use them — love it), Chairish lets buyers select their new furniture and either arrange to pick it up if it's local or have it shipped via white-glove service. You can also use the Chairish mobile app to take pictures of your furniture and upload information to the website.
Craigslist
With 60 million visitors per month, Craigslist is also among the best websites to sell furniture online. While there's a lot of junk for people to sift through, it's a great place for buyers who want that surprise find and for furniture sellers who have high-demand products. Years ago, my wife sold a Pottery Barn desk for half of what she paid for it (which is saying something), and we had three or four people who called within 24 hours — all willing to pay the asking price.
You can't have too many buyers
Ultimately, the best way to sell furniture online is probably a combination of your own website as well as marketplaces like Etsy and Amazon. For one thing, it's going to take a while for your website to catch Google's attention and rise up in the search rankings. thereby becoming visible to buyers. And you'll have a better chance of reaching the shoppers who only search Amazon or Krrb and never even bother with Google.
By listing your furniture in more than one sales portal, you create more opportunities for your buyers to find your products. Plus, it's an additional way to promote your own website as people find it on the other marketplaces.
Image by: Ian Schneider on Unsplash