Beast Masters: The role of a lifetime for an actor-turned-dog walker
It was acting that drew Adam Romsdahl, CPDT-KA, to New York City 10 years ago. While he waited for the roles to come in, Adam started walking dogs to pay the rent. That's when the aspiring actor discovered his true passion. Adam (a.k.a. Beast Master General) now owns Beast Masters LLC with co-owner Tyler Kent, CPDT-KA, which employs them and six others. Read on to learn how it all came about.
Enter destiny, stage left
What inspired you to start your business? When?
After moving to NYC from Colorado in 2007, I needed a job while I pursued a career in acting (that old story). In doing so I came across dog walking. I'd worked for a large pet store in Colorado for about seven years and had owned dogs my entire life, so it came pretty easy to me.
Eventually I realized I liked hanging out with dogs more than people.
A job morphed into a passion, and Beast Masters was born.
What first steps did you take to launch the business?
I was an independent walker for years. When I finally convinced my lifelong best friend, Tyler Kent, CPDT-KA, to move out from Colorado to the city, we turned the solo gig into a duet. We worked together to create this business, and as co-owners we've made great strides.
We found it was so much easier working in tandem; the dogs got more care, our days were less stressful, and we got to hang out with each other all day long. Eventually we realized that if we were going to do this for the long haul, we'd need to change a couple of things up.
Nobody's feet last forever when you're walking 20 miles a day.
So we decided to take the steps to getting this two-man operation into something we could sustainably do for a longer time.
What obstacles did you face as a startup, and how did you overcome them?
Taxes are straight up the hardest part about having a legitimate business in the city (probably anywhere, for that matter). As an independent walker, you deal with a lot of cash. Claiming everything makes your pockets much shallower at the end of the year.
Getting good help is the biggest challenge, though.
Especially in a business where people trust you with their keys, access to their homes, and most importantly you're navigating the streets of the city with their beloved family member. You need help you can trust to show up, do the work, be honest about it, and care. Which is a lot harder to do than one might think.
Act two, the business matures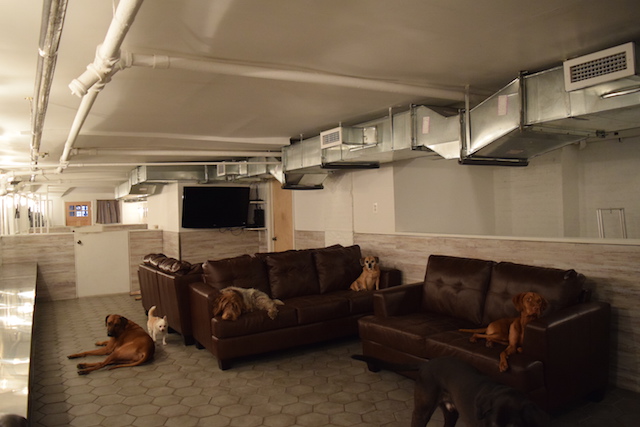 How did you identify your niche in the market?
I'd separate our niche into two categories:
One is our walking. We specifically do group walks. This can be somewhat of a point of contention with a lot of walkers, owners and people who just don't mind their own business.
Some people truly believe that the only way to walk a dog is one-on-one. And we get that. Some people SHOULD only be trusted one-on-one. Not us. We go above and beyond when it comes to training and communicating with employees and dogs.
We have three certified professional dog trainers on staff (CPDT-KA) and encourage all of our employees to take the exam for that. It's not that we're trainers either; the credentials are strictly to improve the quality of the services we offer. So our walkers are more qualified than most "dog trainers."
Group walks offer the socialization that dogs crave.
You can try and tire out the body by going for a 30-minute walk, but that doesn't feed their mind or soul. They, like us, are social creatures. Our skills, care and attention to detail give us an edge on doing what's right for the dogs we take care of.
Our second niche is in our daycare/boarding. We spent a lot of time and effort in building the business, but our blood sweat and tears really went into building our boarding facility (we call it the clubhouse). It's about half a block from Washington Square Park in the West Village.
The Clubhouse is our hub. Not only do the dogs hang here, but it's where our employees spend their down time. It's a second home to them and the dogs.
Here we don't have cages, we have couches. Every dog who comes over must come over consistently (most are five-day-a-week dogs). That way, we know their temperament, health, exercise/training needs and most important, the dogs know each other and us very well. All of this helps to keep down incidents ranging from illness to fights to overall stress. A stressed-out dog is not a happy dog. Ours are happy dogs.
Tell us about your business model.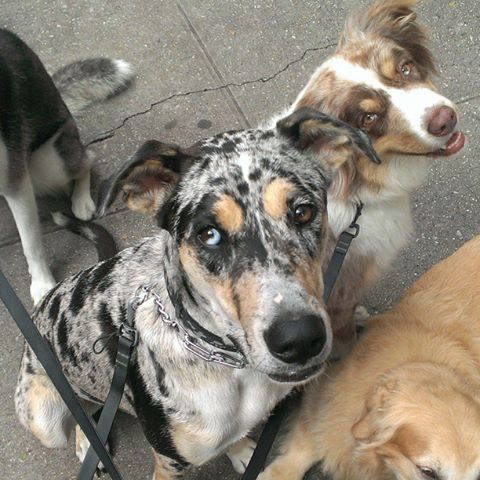 Slow and steady. Because our "products" (I hate using that word) are living creatures, we can't just put work off 'til tomorrow or store some in the back room.
We owe it to our clients to do what we say we'll do and be who we say we are.
To do this, we make sure not to take on too much at once or build anything that's not sustainable. If an employee gets sick, we still have to show up. If there's an emergency with one dog, we have to take care of it immediately without sacrificing our other clients' needs.
Motivation, focus and planning
What's your guiding business philosophy?
This isn't a business of just clients, or dogs and employees. It's a business of family.
What three words epitomize success in your book?
Balance. Without this, you may be running a business, but you aren't living a life.
Prosperity. Wealth can be measured in different ways. Time, money, etc. Decide what your metric is and focus on that.
Family. Not just personal, but employees, clients and colleagues. You get nowhere without others. Recognize this and prosperity takes care of itself.
What strengths do you bring to the table as an entrepreneur?
I'm super awesome, but also super humble … just kidding. I'd say recognizing the strengths in the people around me is the most important part. I can be good at something, but nothing says there's not someone better right next to me. I give them the opportunity to be better.
Where do you see your business in five years? Ten years?
I would like to have potentially a couple of locations. I would like an upstate "retreat" for dogs and humans together. I would like to use our skills to rescue and rehabilitate animals. I would love to have kept all the same employees (plus more) and everyone be happy with their lives. I would like to turn our blog into a book.
Essential tools and props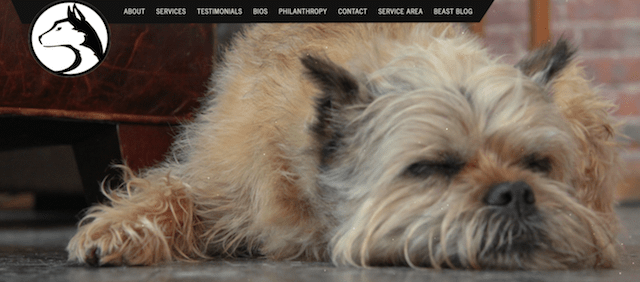 What online tools do you use for your business?
I use GoDaddy for all my domain registration and SSL certificates. I used WordPress to build my sites, including the "Beast Blog." I do my banking with Chase, use Paymentech for credit cards plus Paypal and use Google for everything (drive, calendar, voice). We're also on Facebook, Yelp and Instagram.
How do you use each of these tools and why is each important?
Having a website is obviously important for customers to find you. But to us, it's less to drive business as it is for transparency. Quality not quantity. We try and put just enough of our personality on there that people know who we are and what to expect. In business, not every customer is for you; somebody else might match them better. But the ones that ARE for you will recognize it and save a lot of everyone's time.
The blog is very important to circulate our knowledge/information.
It's a great format to keep learning and use that information in real time to keep our minds working. (This business can become somewhat monotonous.)
Social media is very important for all of these purposes; you can really show who you are. Recognizing that Yelp is now a verb means that it's pretty important to running a business.
People now Yelp as often as they Google.
Speaking of Google, it's imperative.
Calendars are the lifeblood of this business.
I tell my guys, "The calendar is God. If it says it, you do it." Drive is great and will very quickly replace antiquated programs like Excel and Word. Google Voice is another must! You can put one number on multiple phones and computers. In a day where information is so readily accessible, you have to keep up and make sure all the info gets all the places it needs to be. Redundancy is a good thing.
Banking … that one's obvious. Gotta pay them bills!
What difference have these tools made to your business?
Organization, transparency and efficiency. Without those, you don't have a business; you have chaos.
Advice on breaking into the biz
What's the most valuable lesson you've learned since starting your business?
Don't take shortcuts. Be who you say you are by doing what you say you'll do; you can't achieve this if you're just trying to "look" like the person to your left. Do it the way you do it, not the way someone else would or does.
What's your best advice for other entrepreneurs?
Be prepared to put everyone else ahead of you. Being an entrepreneur means sacrificing a lot of you, but never forget what you're asking of everyone else — your employees to be loyal, your customers to trust you, your family to put up with the long hours, and your brain to never shut off.
On work-life balance
How do you unwind?
I spend time with my wife and 9-month-old son (a.k.a my second full-time job); also my two dogs at home. Family and friends are very important in life. When I need to shut my brain off from the mental circus we call "business," I'll sometimes pick up a controller and play a few video games (gotta keep that inner kid alive).
Was there a turning point in your life that led you to where you are today?
I'd say realizing that I could make a perfectly happy and fulfilling life working with animals and doing what I do as opposed to working a desk job for someone else.
How do you balance the needs of your business with your personal life?
You have to understand when to sacrifice and what to sacrifice. Is your time more important than money to you? Or is the bottom line what you seek? Once my son was born, my wealth started to come in clock form. I make as much effort to remove as many bottlenecks as possible so the business can run smoothly without my phone glued to my hands. To do this, you have to hire and treat well. That's why having people you trust is so important.
Thanks for taking the time to talk with us, Adam. Visit the Beast Masters family. You can also find them on Yelp and follow them on Facebook or Instagram.