Briggs PhotoGraphics gets lots of exposure with a first-rate photography website
Steve Briggs was on track to be an engineer. But after earning a college degree in civil engineering and testing the waters of that profession, he realized something else entirely floated his boat. Photography, it turns out, was his true passion. But could it pay the bills? Today, Steve is the owner of Briggs PhotoGraphics, based in Concord, Massachusetts. Over several decades, he has turned his passion into a business that sustains him both financially and creatively.
Picturing success from day one of Briggs PhotoGraphics
"I got my start shooting catalogues for a number of the major Boston-area retail companies," explained Steve. "For the last 25 years, I've worked part time for a museum where I photograph their collection. The majority of my work straddles these two worlds, and I market Briggs PhotoGraphics equally to museums and retailers."
In the early days, Steve got most of his freelance gigs via word of mouth.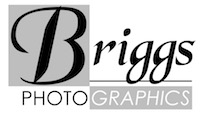 To fill in the gaps between shooting artwork and consumer goods, Steve supplements his income with a variety of freelance photography work. "Though I started the process almost 20 years ago," he said, "I continue the challenge of increasing my visibility in a competitive market."
Initially, he landed most of his freelance work via word of mouth. Over time, he tried sending mailers to attract new clients and took lots of test shots to keep his photography portfolio fresh.
The importance of perseverance
Every entrepreneur hits obstacles, but not everyone is able to see them as opportunities. Luckily, Steve is a strong problem solver — an attribute that's served him well in engineering, photography and business.
Steve's biggest professional obstacle has been switching from film to digital photography. "I had to go back to school and attend a number of Photoshop seminars to transition and get up to speed," he said. "The reinvestment in digital equipment was also a financial challenge that took several years."
Making a splash online
Photography isn't the only thing to have gone digital since Steve went into business. He's also had to find new ways to market his business, including social media. Steve uses Facebook to share his more personal work and LinkedIn to showcase web galleries of his latest professional work, which he creates using Adobe Bridge.
GoDaddy GoCentral
 is entirely mobile-friendly. Build your website anytime, anywhere on your phone or tablet.
He also recently built a new website using GoDaddy GoCentral Website Builder. Steve said it was a snap:
"Building my website was simple — the software was very intuitive and fun to play around with. I used my laptop and it took about a day and a half, though a lot of that time was spent sorting and optimizing my images."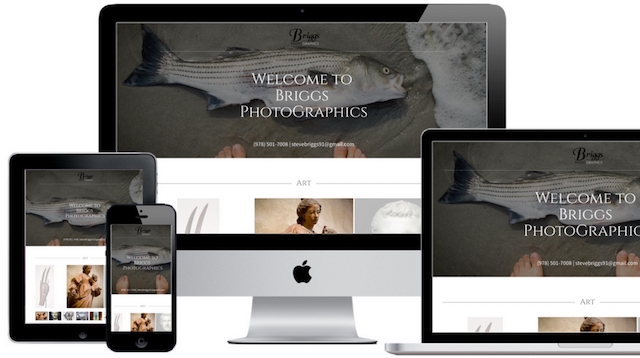 Stretching his creative muscles
While much of Steve's photography work is relatively cut and dried — like trying to make a sweater look too cozy to pass up — he also enjoys pushing the boundaries. Take, for instance, the vivid image of a beached fish on his website home page.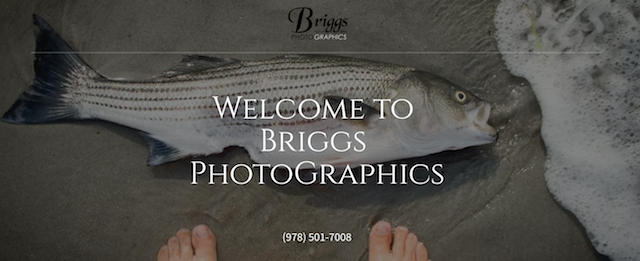 Steve has a house near the Maine coast. While he's there, he often walks the shoreline with his camera just after dawn, taking shots of boats and people. One morning, he came upon this recently unhooked fish that had been tossed aside by a fisherman. Steve captured a bird's-eye-view shot in which the fish appears to be blowing foamy surf from its mouth.
"I liked the whimsical effect combined with my feet just poking into the frame," he explained. "Most of my photographs are more straightforward, but I like how this picture is a little quirky and might invite a bit of curiosity, so I decided to use it for my splash page. No pun intended."
Moving toward the light
As an entrepreneur, Steve sets his own bar high. He strives to provide creative, professional photography services that exceed his customers' expectations — on time and under budget.
"My philosophy is, 'Do great work and the rest will mostly take care of itself.'"
At the end of each photography assignment, he hopes his customer feels like Steve runs his business with integrity, creativity and reliability — three qualities that epitomize success in his mind.
In five or 10 years' time, Steve hopes to be an older and wiser photographer. He's already learned a lot along the way, and his desire to keep learning and growing will no doubt serve him and Briggs PhotoGraphics well.
Framing what matters
Steve noted that being your own boss requires flexibility and some odd hours, and he thinks it's important to carve out time for personal pursuits. Other than taking photos — which he still loves to do — Steve likes to unwind through exercise. He's a lifelong tennis fanatic who also loves to cycle and ski.
And when he's done with a long day of shooting or a tough tennis match, he makes time for a relaxing soak in his outdoor hot tub. From the seashore to his backyard, Steve Briggs has built a fulfilling, interesting life out of artistry, problem solving and hard work.
"Success doesn't happen overnight — keep at it!"
He hopes other entrepreneurs will remember that it can take a while to hit your stride. The most valuable lesson he's learned so far is simple: "Never rest on your laurels — always be poised for that next opportunity," he said. "And a top-notch website is an important prerequisite."
Inspired by Steve's story? Try GoDaddy GoCentral for free. Build a simple site in under an hour and add additional features like email marketing and an online store when you're ready. Build a mobile-friendly website anytime, anywhere — from your smartphone or laptop.