Broken Record Vinyl Collection: Music never looked so good
Jesse Amaya is the founder and creator of Broken Record Vinyl Collection, combining music and art by repurposing old vinyl records into belts and cuffs. Using his own resourcefulness, he turned a byproduct into a profit, and it changed his life forever.
The beginning of Broken Record Vinyl Collection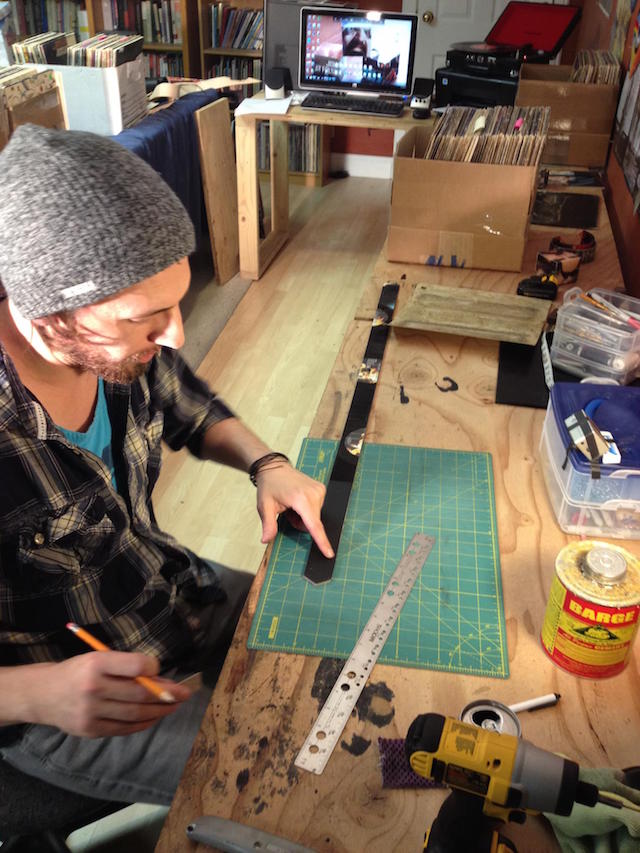 What inspired you to start Broken Record Vinyl Collection? When?
I have always had a desire to create and/or construct. In early 2009, I was working on a T-shirt line idea and happened to come across a couple hundred vinyl albums. I decided to package the tees with boxes made from the album covers. That idea ended up fading, and I was left with the albums and most the covers. At that point, I either had to make something using the albums or just toss them. My idea was to create a constructive accessory, and then boxing it with my same previous concept of the box out of the album cover.
What first steps did you take to launch the business?
Initially, it took me several months to figure out how to construct the items. I was still working part-time and slowly buying supplies.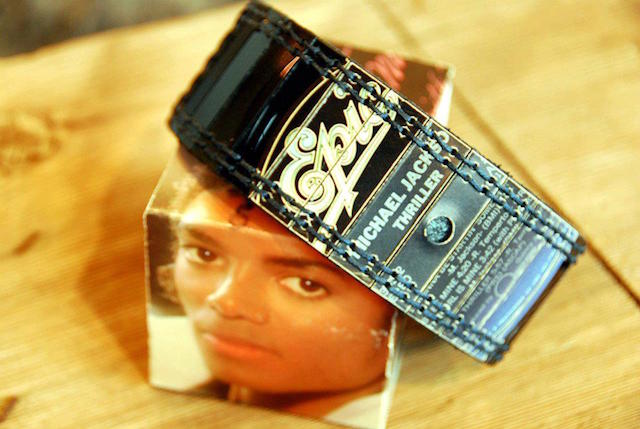 I also saved all the money I got from those first pieces to give me at least a little capital to move along. Simultaneously, I also purchased my domains at GoDaddy and looked into what it would take to get my product available online, in addition to placing my product in physical stores.
What obstacles did you face as a startup, and how did you overcome them?
The hardest obstacle in the beginning was getting store locations. If you've never sold before, it can be tough to get stores to do a wholesale order. Many offered consignment options, but switching from that to wholesale can be difficult.
Getting the ball rolling took some time.
Although I understand that support from friends and family is important, those sales tend to run dry pretty quick. So I didn't really approach anyone — I just hit the ground running and looked for outside customers. Eventually, I was able to secure several stores in Las Vegas.
Getting my product in a tourist-filled city like Las Vegas definitely helped boost my nationwide presence.
With a physical presence like that, I wanted to make sure I was online. Then, people who purchased in Vegas could return home from their vacations and share my products with friends. And those friends could then order online.
How did you identify your niche in the market?
People love music — it's very important in our lives. Most of the stores where I sell product are music-oriented. When people see my pieces, it often sparks a sense of nostalgia. They remember when they first bought that album, saw the band, etc.
My creations serve to create new memories, too.
When people go on a trip or see a concert, there are always shirts, posters or other memorabilia available. That's great, but my pieces can also attest to the memory of that time or moment in my life — something different that not every person has.
Tell us about your business model.
When I purchase a product, I want it now. I have always been like that. So, it's very important to be accessible and responsive, as well as getting product out quickly.
It's important to listen to people and build relationships both with customers and physical locations.
Quality is also important to me. My pieces are hand-made by me, so I know when it ships that it has my quality approval before going to the customer. The same attention to detail is provided for direct sales to individuals or stores.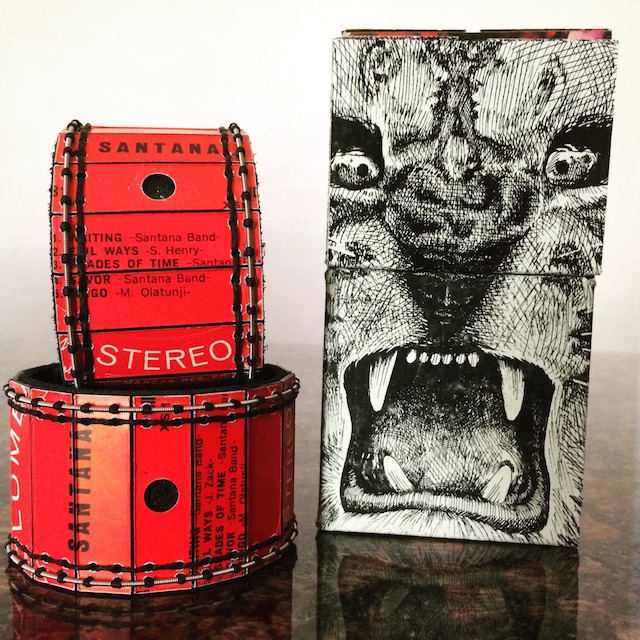 Goals and philosophy
What are the goals for your business?
Broken Record Vinyl Collection is all about making accessories from music, and our goal is to continue making accessories by meeting customer demand online and in-store. The vast majority of accessories are made out of repurposed vinyl from the 60s through the 80s. In the future, we'd like to expand, which means fostering relationships with new artists who have albums available. I've done this with a few musicians, but expanding is something I'd like to focus on in the future.
What's your guiding business philosophy?
Life is short and fragile. Take advantage of opportunities to create new experiences and memories. In the end, all we have is what we have done and experienced.
What three words epitomize success in your book?
Experience, diligence, achievement.
What strengths do you bring to the table as an entrepreneur?
I'm very disciplined and good at moving projects along simultaneously. Managing accounts while ensuring cost is accurate, all while responding to direct orders received online — it's a job with a lot of moving parts, and they need to be on the same page. Communication is very important. I believe in asking lots of questions.
Where do you see your business in five years? 10 years?
As far as the vinyl, within the next few years we see our online presence growing vastly. I think we can implement our classic look across several different products.
We've been working on new products that use other repurposes items collaged with vinyl.
As we grow, we believe we'll be able to gain more accounts with musicians to provide vinyl for accessories. Over the next few years, I also see personal growth as far as skill level in production of product. Whether it is a belt, guitar strap, or type of handbag out of raw material or repurposed material, I believe there is always room to grow.
Tools and products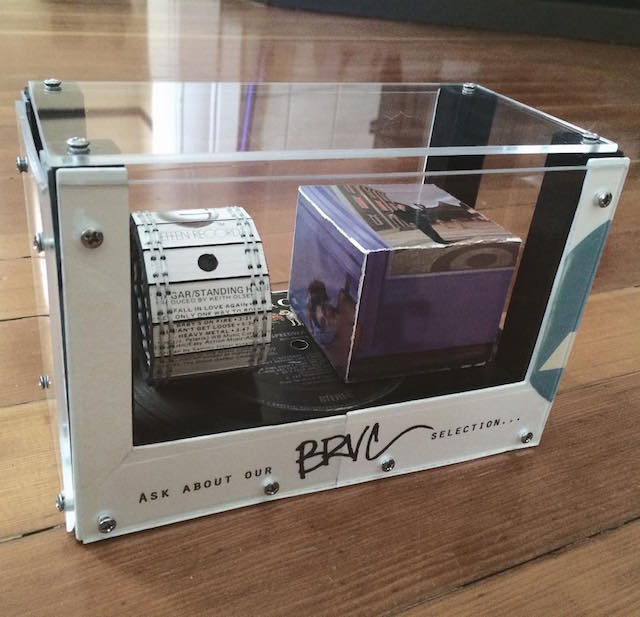 What online tools do you use for your business?
My main online outlets are my website, Facebook and Instagram. I've gotten all my domains through GoDaddy.
Being online helps me to be accessible to anyone around the world.
As mentioned before, I focused so much on physical locations in the beginning. Now I'm looking forward to expanding my web presence. In doing that, I look forward to learning and taking advantage of a lot of the tools that are readily available to use (particularly looking into what GoDaddy has to offer).
How do you use each of these tools and why is it important?
As far as my site goes, I have several domains that all link to each other. It's nice to have different pages for products, and pointing domains helps spread awareness. Social media platforms are great for that, too. Broken Record Vinyl Collection is readily available, both for current and potential customers.
Customer service is very important to me.
After customers make contact, I step in and work to provide prompt service. I want to make every customer feel important — because each is to me — and get them what they want as quick and painless as possible.
What difference have these tools made to your business?
My website has been extremely important. It has allowed me to showcase products, as well as share some opportunities I've experienced. It's a great way to allow people directly contact me quickly.
Social media has been helpful as well. I kind of got a late start with it, but I'm getting better. For a long time, I just thought of it as a way for people to see what you have been up to. As of late, I have gotten more direct orders through Facebook.
Final thoughts
What's the most valuable lesson you've learned since starting your business?
Be patient and prompt. Plus, keeping your debt in check is incredibly important when running a business, especially if your business relies on your creativity. Worrying about payments can block creativity. Keep it to a minimum, and you'll be free to explore different possibilities, opening up the mind to let those creative juices flow.
What's your best advice for other entrepreneurs?
The above statement I just made about debt is one of my most important pieces of advice I have. When I started, I saved up the initial money coming in for capital to reinvest in myself.
Because of that choice, I haven't had to use any credit to fund operations.
Also, take advantages of any opportunity, whether it seems big or small. You never know where it is going to lead you. Be genuine and honest, and enjoy the ride.
How do you unwind?
I love traveling and going to new and different places. I even love staying in hotels! Concerts are always great, too. I try to go to as many as possible every year. Meeting people, socializing — it's all a great way to unwind.
Was there a turning point in your life that led you to where you are today?
I don't know if there was a particular "instance." I've always wanted to do something on my own. There was a point where I wasn't really doing much or going anywhere, and in my time off I just started searching for something that would stick.
So when the Hard Rock Hotel in Las Vegas mentioned they liked the boxes my shirts were packaged in (not so much the shirts, haha), they asked me to keep them in mind for future projects. At that point, I started playing with vinyl.
Once I had the process down, I approached them again. At the time, they were opening up a temporary store in Park City. I took 24 pieces up and, they asked if I would consign. I don't particularly like consigning, but it was an opportunity I had to take.
Within a day or two, they sold 16 of the 24.
After that, they said, "Okay we will just buy them from now on." That was the first major store I got into. That was back in November 2009. Once that happened, all sorts of avenues opened up for Broken Record Vinyl Collection. The rest is history!
How do you balance the needs of your business with your personal life?
I tend to get up early and get going on pieces so that I can spend more time later in the day with family. Sometimes, I integrate both so I can handle business while on personal time. For example, this last year I went to Nashville. I'd never been there, and making products about music involves experiencing the music, i.e. Nashville. I also sell out of a store in Omni Hotel. I'd never been there before, but I was able to explore the city while stopping by to check in.
Thanks for taking the time to talk with us, Jesse! You can check out Broken Record Vinyl Collection at brvc.co or follow them on Facebook and Instagram.