Consider international SIM cards for business travel
Understanding your mobile carrier's contract is difficult enough without having to get into the ins and outs of travel, roaming and all the heavy costs that add up on your plan while traveling. If you travel often for business, international SIM cards are a better option than your carrier's roaming plans.
Why use international SIM cards?
If you plan on traveling often or for extended periods, you could be racking up major roaming fees from your carrier. As a business owner, it goes without saying that you need to stay in contact with your partners, your customers, your employees, or your board of directors.
Many places in the world are connected online, but in some areas Internet is limited or totally unavailable. If you're left without a way to stay in contact, it could spell disaster for your business.
Many cell carriers charge up to 50 cents per minute for text messages and $6 per minute for calls! With that in mind, here are a few options for international SIM cards that will save you a ton.
WorldSIM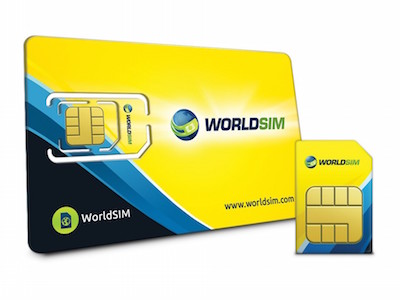 WorldSIM boasts an 85-percent decrease in roaming costs while traveling. In over 90 countries, you can enjoy free international roaming, and low costs on SMS, data and calls so your customers and partners are never in the dark. If you already have an existing number that your customers, employees, partners or investors use, that's no problem either.
WorldSIM allows you to keep your existing number with their Virtual Numbers service.
Sometimes it's necessary to have a local phone number. WorldSIM has got you covered on that score, too. Add up to 45 local numbers to one SIM card, so you don't have to deal with the hassle of constantly changing cards and possibly losing a few along the way.
Check out their website to see which countries they cover, view their plans, and even see how much it will cost to call from one country to another.
OneSimCard
OneSimCard also advertises an 85-percent slash in roaming costs, but they offer free roaming in 168 countries. OneSimCard is an excellent option for business owners who have teams that need to travel abroad often. Corporate accounts are available to teams of five people or more.
With OneSimCard, business owners can distribute SIM cards to traveling employees and manage each account with one simple dashboard. While employees travel, you can change balances by moving funds from one account to another, map the current location of users, send free SMS to individual users or groups, and so much more.
Worried about phones getting lost or stolen? That's no problem! From your corporate account dashboard, you can block any user's SIM card and turn their voicemail on or off. If you happen to lose the employee instead of the SIM card, you can easily reassign it.
Check out their website to view their customizable plans, see pricing, and discover which countries are covered by their plans.
Telestial
Telestial advertises a whopping 90-percent in decreased roaming fees and coverage in 215 countries for the savvy business traveler. Telestial offers some of the lowest rates on other features as well such as incoming calls and SMS for the singularly low price of $0. Making calls and sending text messages can be as low as 15 cents per minute.
Telestial is the perfect option for the business owner who does not need to keep track of traveling employees, but who needs to stay in contact with partners and customers in more countries.
Check out their website for pricing, bundles and available countries.
iRoam
With iRoam, you can get access to more than 21 million WiFi hotspots globally, including inflight, so you never have to miss an important business call or email. iRoam provides you with 4G connection in over 158 countries so no waiting for your data to load (which is frustrating even if you're not trying to run a business).
Make sure all your devices are connected wherever you go with iRoam's solutions. Getting WiFi may be difficult in some countries, so connecting your laptop and tablet through your international SIM card for $13.95 per day is an excellent way to overcome that particular challenge.
iRoam also offers a unique feature that is absent in other international SIM options: machine to machine (M2M) global connectivity.
With M2M, you can connect your devices so automation and data gathering are more efficient, allowing you to quickly grow your business wherever you happen to be. Your WiFi and network connection depends on the plan you choose so check out their website to see which option best fits your needs.
Find your fit
Roaming options on your phone's carrier have long since fallen behind in quality and affordability. If you're like the average business owner, staying connected to your customers, employees and partners wherever you go is a necessity. Check out the options above, or search other international SIM cards to discover the right option for your business.
Image by: Nick Harris1 via Visual Hunt / CC BY-ND