Domain name ideas for a wedding website
You just got engaged and could not be more excited to be getting married. Congrats! Now it's time to get down to the real work of planning an event that will include all your friends and family. Though planning a wedding is really fun, it has a lot of moving parts to manage. So the absolute best way to start is by building a wedding website to keep everyone apprised as your plans develop. Step one is coming up with great domain name ideas for a wedding website.
After all, this will become the hub where your loved ones can get information on location, dress code and registry for your wedding. It can also be where you share pictures and fun tidbits about your special day.
A 2016 survey from Brides.com found that 54 percent of friends and family of the bride and groom first saw the couples' engagement news on social media (up from 46 percent in 2014). To keep their guests informed about their plans, 39 percent of brides-to-be continue to post photos and updates from cake tastings and vendor visits. So a wedding website lets family, friends and wedding guests witness the process as well as the day itself.
3 tips for getting the perfect wedding domain name
A  wedding website really is the best tool for helping your wedding guests plan for the big day. It also serves as a great organizational resource for the couple. But how do you come up with domain name ideas for a wedding website? Here are a few general guidelines:
Make it catchy.

Make it original.

Use it everywhere.
We talked to some experts and found the best resources out there to help you find a domain name you'll love for your wedding website. And with GoDaddy the process couldn't be easier.
1. Make it catchy
Kylie Carlson, of the International Academy of Wedding & Event Planning, says pick something catchy and relatively short so that your guests can recall it. Skip using hyphens and avoid numbers because they're confusing to users. Also, remember ampersands can't be used in domain names.
The easier it is to read, the easier it will be to remember says IAWEP's Kylie Carlson
If one or both of you have tricky last names to spell, you might want to just totally stay away from including them in your domain name. They can just create trouble and stress out your guests. Kylie says the rule of thumb is this: the easier it is to read, the easier it is to remember!
The main point is to make it as easy to type as possible. The following formulas provide some ideas:
(name)and(name).com
(name)plus(name).com
(name)loves(name).com
(name)hearts(name).com
(name)unites(name).com
Try typing out the domain name to get a feel for how it will appear (remember there are no spaces in a URL and no upper/lowercase letters so you could get a strange-looking web address if you aren't careful). Another idea is to consider adding the year to your URL — that will be easy for people to remember.
Need help getting started? Take our wedding style quiz before you brainstorm domain name ideas for your wedding website.
2. Make it original
When thinking about domain name ideas for a wedding website, always run a brief search to make sure there are no brands using a similar one or the very same one, says Kylie. It's best to stick with a .com because again, people are accustomed to that domain extension — which makes it easier to remember.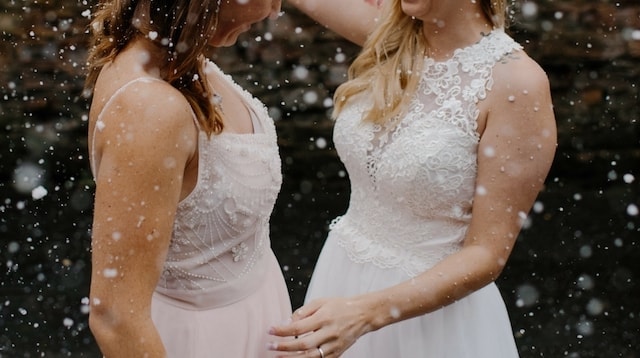 Since .com has been around for 30 years (and in that time lots of couples with your names have been married), your favorite combination might not be available in .com. If this happens to you, consider these alternative domain extensions for a truly unique wedding web address:
Also consider making your wedding hashtag the same as your wedding domain name, as it just puts everything in sync. "It sets the tone early and will make it easier for your guests to transition from one to the next," Kylie says. Plus, hashtags are quite popular now. According to the Brides.com survey, 51 percent of couples create a custom hashtag for their wedding and wedding-related events, 34 percent for wedding-related events and 46 percent for the wedding itself.
How much does a domain name cost? Find out here.
3. Use it everywhere
Kevin Dennis, a certified planner for Fantasy Sound Event Services, says one thing to keep in mind when brainstorming domain name ideas for a wedding website is that you'll want to include it on all wedding stationery, programs and social media posts. This includes save-the-date cards and the invitations themselves, as well as all invitations for the surrounding parties — engagement parties, showers, bachelorette and bachelor parties, brunches, etc.
Kevin suggests capitalizing relevant parts of the domain name (such as first names) to keep things aesthetically pleasing and easy to read. Remember, your domain name is also going to be used for your customized wedding email, which guests will come to recognize when it hits their inboxes. Learn how to do this with GoDaddy domain names here.
Once you've found the perfect domain name for wedding website, register it on GoDaddy.com. As long as it's registered in your name, no one else in the entire universe may use it — ever.
Create a custom wedding email
It's your day and you want every little thing to be perfect — down to the smallest detail. Creating a custom email address that includes your web address will alert recipients right away to any wedding news in their inboxes, increase response and build excitement for the big day. Learn how to use your custom domain name from GoDaddy for email.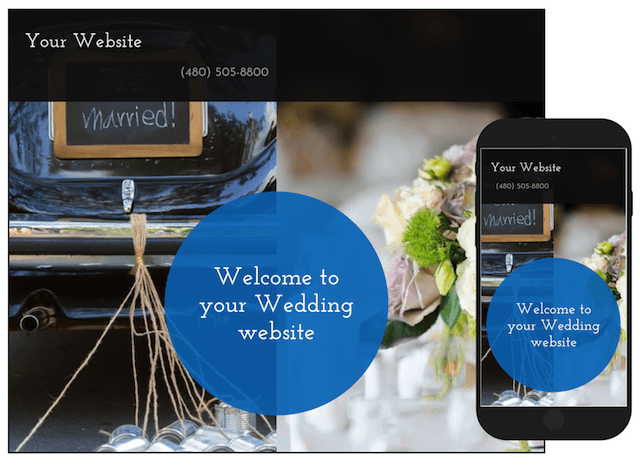 Publish your wedding website in under an hour
With GoDaddy's GoCentral Website Builder you just pick a pre-built template and use the swipe-to-style interface to add your own photos, text and contact info. Your wedding website is up and viewable worldwide (including mobile) in under an hour.
Domain name ideas for a wedding website
If you're like most people, you have friends and family living all over. The easiest way to announce the big news, then share dates and details, is via your own website. Start with our domain name ideas for a wedding website, then register your own custom domain and build an online hub for all things wedding-related. You'll not only have a wonderful wedding planning experience, but keep friends and family with you every step of the way.
Image by: Matheus Ferrero on Unsplash