GoDaddy guide to email marketing for business.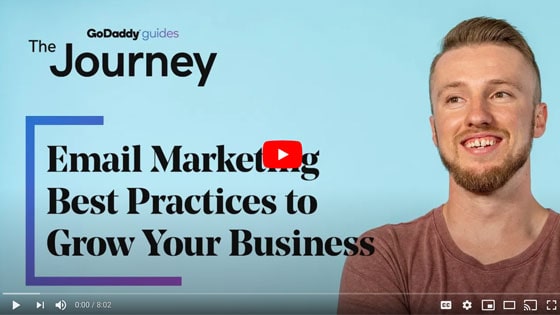 Interested in starting or improving the email marketing strategy for your business? You're in the right place. With more than 3.9 billion email users worldwide and a proven return on investment, email can help you affordably grow your venture. Use this guide to email marketing for business to make the most of this time-tested tool.
Guide to email marketing for business
We've curated a collection of content aimed at helping you up your email game.
Note: You can view even more email marketing content on the blog here.
Taking the first step with email marketing for business might feel overwhelming. Don't sweat it. Use the resources in this guide to start at your own pace.
Not sure how to find new email subscribers? Learn creative ways to build your email list — the right way — and keep things interesting for your devoted readers. Explore how to welcome new subscribers to encourage them to keep opening your emails and clicking through to learn more about your business.
When it comes to designing emails, you don't have to be an artist to craft a winning design.
With our
GoDaddy Email Marketing
solution and some tips from design pros, you'll have a polished email newsletter in no time.
And, along with your stunning design, crafting compelling email content for your newsletters doesn't have to be a chore. From the brainstorming process to writing wow-worthy subject lines and eye-catching images, get insights to help you create amazing email content.
Once you've got the basics down, learn how to improve your email marketing skills. Think sales emails need to sound sales-y? Think again! Want to avoid the spam filter? We'll show you how.
When you're ready to really level up, dive into email automation and measure the performance of your email marketing campaigns using analytics tools.
Whether you're new to email marketing for business or you're a seasoned pro, this curated collection of email marketing content can help make your emails shine.
Ready to get started? Let's go.