Facebook best practices for real estate agents
Modern real estate agents have to use every tool they can to get listings, capture leads, and generate sales. And, Facebook is one of the best tools available today for real estate professionals to market their businesses. By adhering to a few basic Facebook best practices, you can turn this popular social network into a major asset for your real estate business.
Here's what all real estate agents should know about Facebook and how to use it properly.
Why is Facebook important for real estate agents?
Real estate is an industry that is both highly competitive and extremely localized. Facebook's ad targeting system can help you to reach customers in your area directly at a fraction of the cost of more traditional marketing channels.
At the same time, social media platforms like Facebook give you a chance to engage directly with potential clients and build personal advantages.
As a result, Facebook is a great and inexpensive way for agents to market themselves.
Related: 5 ways to make Facebook work for you real estate business
Building a client list with Facebook
Because the average person doesn't buy a house very often, building a client list as a real estate agent can be a bit difficult.
If you employ a reasonable set of Facebook best practices for real estate professionals, though, you can build an audience of people who will likely come to you first when they decide to buy a new home.
Keep in mind that building a client list with Facebook won't be a fast process.
You'll have to be active on Facebook for some time before you'll get much recognition, and it will be a while after that before you see the size of your audience beginning to grow appreciably. Be patient, though, as Facebook audience growth can take off after a certain point. If you continue to work on your Facebook marketing consistently, the results will eventually come.
Facebook best practices you should be following
By following a few best practices, you can use Facebook to enhance marketing for your real estate business.
1. Be sure you're posting often enough
Many small business owners make the mistake of creating Facebook pages and then posting on them only occasionally. Although you can experiment to see what posting frequency works best for your unique audience, social media experts generally recommend creating one or two Facebook posts each day.
Related: A beginner's guide to social media for small business
2. Engage actively with your audience
Once you've attracted an audience, it's important that you keep them interested by continuing to engage with them. Respond to chat messages and comments promptly, as a quick response time will tell audience members that you're active and interested in their questions. For people who are thinking seriously about buying a home, this perception is extremely important, as it will tell them that you are a real estate agent who will offer great client service.
Related: How to create and use a Facebook chatbot for your business
3. Highlight success stories
As a real estate agent, you can share dramatic success stories in the form of images or testimonials of people who have just moved into their new homes because of your services. Pictures of people in front of the homes they have just bought are some of the most compelling marketing materials any real estate agent can put forward.
4. Be sure to use multimedia
To keep Facebook posts interesting, try to use several different forms of media in them. As a real estate agent, you can use text snippets drawn from real-life conversations with contractors, home images and even drone videos as part of your overall Facebook strategy. By varying the content you post, you'll keep your audience interested and ensure that they take notice if one of your posts appears in their news feed.
Related: How to keep in contact with potential buyers through real estate blogging
5. Use hashtags where appropriate
Many people ignore Facebook hashtags, but they can be very useful in helping people find your posts. However, you shouldn't overuse hashtags.
Most experts recommend using one or two relevant hashtags per post.
If there isn't a hashtag that people are likely going to be interested in that applies to the content of your post, there's nothing wrong with skipping hashtags for that particular post.
What real estate agents are dominating Facebook marketing?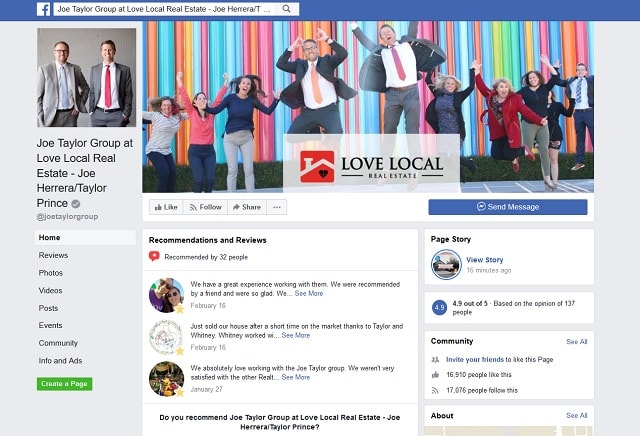 Though many successful real estate agents and companies use Facebook in their marketing, some stand out as clear examples of what Facebook best practices can achieve. One great example is the Joe Taylor Group, a real estate company serving the Las Vegas, Nev., area. With excellent photos and videos, frequent posts and a moderate use of hashtags, the Joe Taylor Group is one of the leading real estate firms when it comes to harnessing the power of Facebook.
A similarly good example of Facebook success is Dustin Brohm, who is active in the Salt Lake City, Utah, real estate market. Like the Joe Taylor Group, Brohm uses multimedia posts and maintains a relatively high posting frequency. He is also extremely good about replying to comments on his posts, a practice that all real estate agents who are active on Facebook should develop.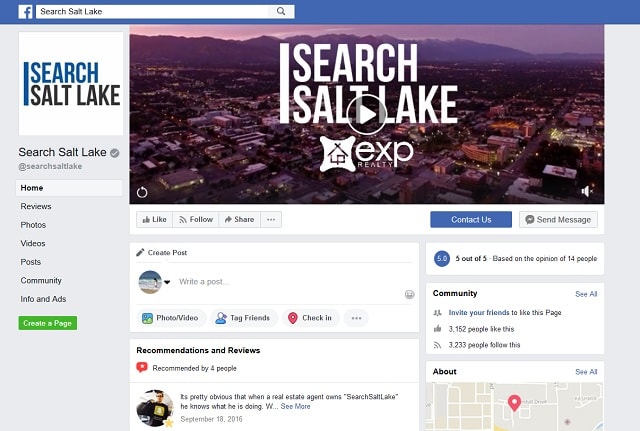 Related: Using 3 elements of viral videos to promote your business on social media
Should you use a social media management service to improve your Facebook presence?
Implementing these Facebook best practices can be a little more difficult than it sounds, especially for beginners who have never dealt with social media marketing before.
To cut the learning curve and ensure that their Facebook strategies are effective, many small business owners ultimately choose to have their Facebook pages managed by a third-party service.
Though the choice is entirely up to you, many real estate agents do find it to be more convenient to let someone else handle their Facebook marketing.
Fortunately, there are many excellent social media management services out there these days. Among these is GoDaddy Social, where experts will manager you social media presence for you, allowing you to focus on selling. This service will also manage Twitter and Instagram pages, making it a good option for comprehensive social media marketing.
If you are a real estate agent trying to build a client list, establish your business and ensure that your career will grow in the future, Facebook is an important tool you should be using. By following a basic set of Facebook best practices, you can expand your reach and gradually see more sales as your audience and professional reputation grow.