Falling in love with Kaci Lou Photography
As a fourth grader, Kaci Vanderhoek received a Polaroid camera from her dad, and the rest was history — photography has played a part in her life ever since. She honed her skills during high school and college, spending hours in the darkroom and eventually moving into digital photography. Early on, Kaci was drawn to photojournalism and wildlife photography, but then she realized something key: she loves working with people. Which led her to become the owner of Arizona-based Kaci Lou Photography.
When Kaci and her husband needed some additional income while he attended flight school, Kaci took the entrepreneurial plunge. And with professional experience in online marketing and customer service under her belt, running her own photography business was a natural fit.
Defining her style as a photographer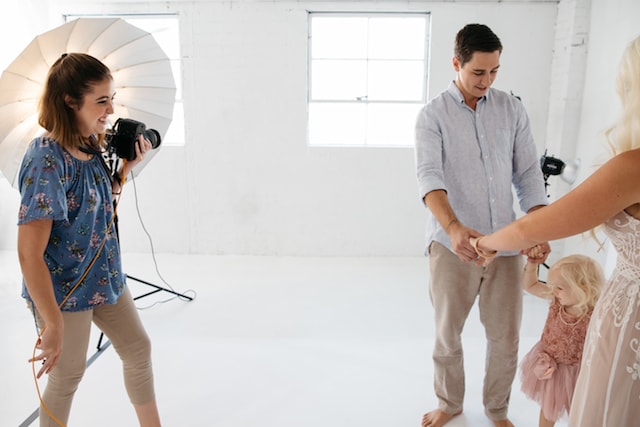 As a photographer, Kaci specializes in couples photography, including engagements and weddings. She also works with families, high school seniors and newborns. But in a sea of photographers, what makes someone stand out? Sometimes, it comes down to personality as much as aesthetic style.
Kaci describes herself as kind, free-spirited and adventurous. She loves working with adventurous couples and enjoys the opportunity to shoot weddings that incorporate the couple's cultural heritage, such as the Indian wedding she recently worked on.
Photographically speaking, her style tends to be light, fun and in-the-moment. She loves overexposed images, especially with sun flare, and nothing makes her happier than capturing a heart-melting moment that defies words.
Building a bonafide photography business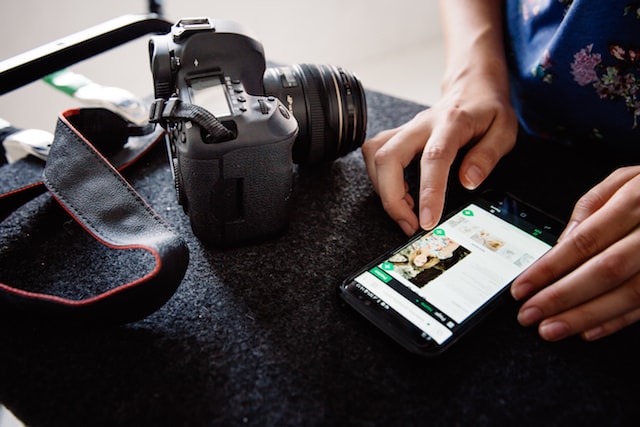 Kaci has been shooting family portraits and wedding photos since 2014, but she just made Kaci Lou Photography an official business in the last year or so. Now, she's licensed, insured and ready to make photographic magic. However, she admits that building a photography business takes more than talent.
Bringing in income means getting the word out. As Kaci explains:
"With my business, my form of marketing is letting people know who I am, and once they know who I am, and we click, then I can meet them in person. They have a good experience, and then they're gonna tell their friends. And then their friends come to me for the same experience."
It's working. As she's gained more experience, she's been able to serve a steady number of clients while increasing her income by taking on projects with higher price points. Recent projects include engagement sessions, a wedding in Tucson, and B2B work for a bridal gown shop and a wedding hair stylist.
As her business continues to grow, she wants to be able to give back to the community.
Five years from now, Kaci hopes to be doing 20 weddings a year, including destination weddings. But more than that, she wants to provide the best possible experience for the brides who hire her. "I want to do something fun with them," she says, "like have a big party with just my brides. Be able to fly out to see them if they're out of town."
Kaci Lou Photography and GoCentral
"GoCentral made it easy to get my website up." ~ Kaci Vanderhoek
To build her online presence, Kaci started with a domain and a WordPress hosting plan, but she wanted her website to be even easier to manage. "I love GoDaddy," she says. And when she discovered the new GoDaddy GoCentral Website Builder, she knew she had a winner.
Having a professional website was crucial to launching her photography business full time. "There is a lot that you have to learn," says Kaci. "GoCentral made it easy to get my website up. I've tried other builders." Kaci likes the sleek look she's able to achieve with GoCentral.
GoCentral
 also makes it easy for Kaci to update her site regularly with new photography.
"I can go on my laptop or phone and update the header image to a shoot that I just did," she says. "And it's super easy to update on the go."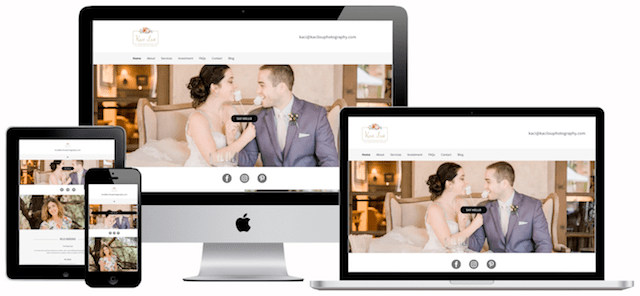 Her photography website showcases her portfolio of work and helps website visitors — potential customers — see who she is. "I want them to know me when they get to my site," she explains. "I want them to immediately see a great picture and envision themselves in that picture — that could be them — and then they scroll down, and there's a little bit more about me."
Editor's note: Want to build a website but not sure where to begin? Check out our Content Creation Worksheet (it's free).
For Kaci, wedding photography is all about relationships. "The most important thing to me is that my clients and I get along, and that I'm going to serve them well," she says. "Especially with brides, because I'm with them all day, like more than anybody else. And we usually become pretty close." So it's important to Kaci that her website helps people discover whether she's the right photographer for them.
Sharing her own love story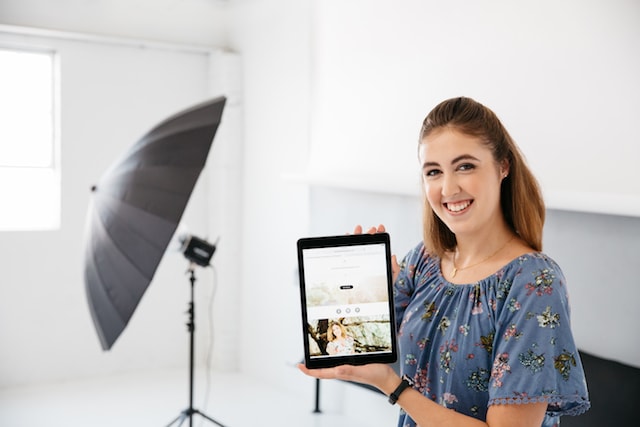 On KaciLouPhotography.com, Kaci shares a little bit about her own wedding — a nice touch for someone who strives to have such a close relationship with her clients.
"I believe in forever," she writes. "I wasn't out to find a husband, but when you know, you know, right?! We are so different and are not perfect by any means, but we are perfect for each other. He makes me smile everyday."
Kaci met her husband in college, and they were married on leap day 2012. They were planning a June wedding, but when Kaci realized it was a leap year, she knew they had to elope on the 29th of February. "He proposed in a fort, and we were married in a fort made of PVC pipes, blanket and Christmas lights because that is how we roll," she writes.
Loving her photography career, 24/7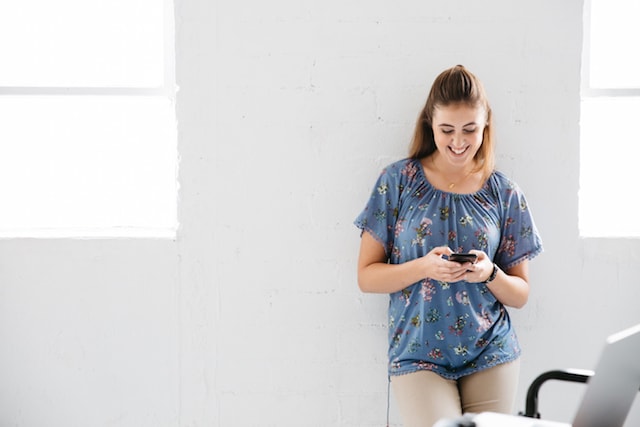 Owning a photography business has its challenges, but Kaci takes it all in stride. "You would think having your business, you set your own hours, you get to go on vacation. That's what everyone thinks," she says, shaking her head. "But it's more like you're working around the clock. Whenever an opportunity comes up, 99 percent of the time, I make it happen, no matter how hard it is."
"I love love. And I love making people feel beautiful." ~ Kaci Vanderhoek, owner of Kaci Lou Photography
Kaci likes to make things happen. "The best part of my job is when I'm actually working with the couple or the family and telling them that they're gorgeous," she says. "And showing them how much they love each other. I get to see these intimate moments when it's just them, and it feels like I'm not there — that's what I want it to feel like. And I get to capture that, so they can put it on their wall. And they can see that if they're having a hard day. That they really love each other. And they're beautiful."
Try GoDaddy GoCentral for free
Inspired by Kaci Lou Photography and her gorgeous website? Try GoDaddy GoCentral for free. Build a simple site in less than an hour, and add additional features like email marketing and an online store when you're ready.
Bonus: GoCentral is entirely mobile-friendly. Build and preview your website anytime, anywhere, on your phone or tablet, and add or change photos as often as you like.