Find the best construction WordPress theme for your contracting business
If you're a general contractor, construction manager or subcontractor, you owe it to your business to build a website. To get your business in front of new clients, you'll need a quality website that stands out from the crowd. WordPress is a great way to accomplish this, along with a solid construction WordPress theme (a pre-built website design made for your business).
Before we take a look at some themes, let's talk a little about why you might want to put your business on the internet. What's in it for you? Here are some of the most common reasons construction pros get serious about promoting their services on the web:
They want more clients.
They want to build a good reputation in their communities.
They want to allow clients to request quotes and book services online.
They'd like to give back to their clients by sharing tips and expert knowledge.
Personally, I started a website so I could build and sell online courses in construction cost estimating. No matter your particular niche in the industry, the need for your knowledge is real. Starting a website can be a bit daunting — and I certainly made mistakes along the way — but I'm here to share some tips to make that journey easier.
Lay the foundation
Building a website is a little like building a house. To have a website you need three things:
A domain name.
A hosting company.
A website.
Think of your website as the house, the domain name as the street address and the hosting company as the person who rents you the land. Once you buy your domain name, you'll need to decide how to build your website. You have two choices:
Hire a web designer to do it for you. If you don't want to write code and you have the funds to outsource your web design, this is an option.
Do it yourself. If you have the time and desire to handle it on your own, I'd highly recommend this avenue. WordPress is one of the most popular options. In fact, many Fortune 500 companies use it for their websites.
WordPress provides so many benefits — from a large selection of templates and themes to an impressive collection of plugins that make your website do all you need it to do. Plus, if you end up using GoDaddy WordPress Websites, you can get started fast with their Quick Start Wizard.
With a domain and hosting package, you're now ready to build your house.
Frame the structure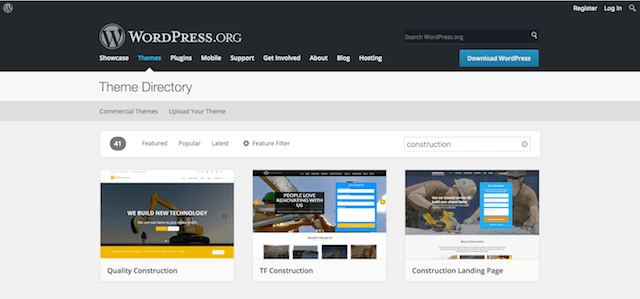 Once you're in WordPress, it's time to choose a theme. This is my favorite part. Themes are pre-built website designs. Just look through the themes, pick one, and then build your website and blog from there. Choose one of the free construction WordPress themes, or consider purchasing one from places like ThemeForest.
Let's take a look at a few options and discuss why these construction WordPress themes would be a good choice for your website.
1. Renovate
What I like about this theme:
One-click demo importer. If you like the demo, you can quickly import all its features into your website (then you just replace pictures and text).
Drag-and-drop page builder. This will make building a lot easier — you just click and drag things around the page until it looks the way you want.
The overall design is clean and pleasing.
Responsive design — so your website and blog will look great no, whether people open them on their desktops or smartphones — and retina ready.
Useful for everyone from a self-employed electrician to a large company.
2. Structure
What I like about this theme:
Comes with 15 pre-built front pages. This save you lots of time with your design.
Super-fast page loading speed. This is important because most customers will wait only a few seconds for a page to load before clicking away.
Includes a great collection of color schemes.
3. Constructo
What I like about this theme:
Comes with great features including a revolving slider (people love this), WooCommerce, translation-ready and improved search engine optimization (SEO).
Fully responsive so your website will look great whether your clients open it on their desktop or their phones.
Imports demos.
Great user reviews.
Very versatile overall.
A few tips for choosing a construction WordPress theme
Feeling overwhelmed by the number of construction WordPress themes out there? Here are a few tips for choosing a great one:
1. It has to be responsive.
What does responsive mean? The template you choose must be designed to show up nicely on all devices, including desktop computers, smartphones and tablets. More and more home and commercial customers are searching for contractors on their phones. Nothing will turn them off faster than a website that can't be opened on a smartphone. If the theme you're looking at isn't responsive, move on.
2. It's updated regularly.
WordPress is always changing, as new features are added and new security threats are discovered. Check to make sure that updates to the platform will be automatic with the theme you've chosen.
3. It comes with a number of page templates and different heading styles.
You're not a web designer, so no one expects you to know good design from bad. With a number of options already built for you, all you have to do is choose.
4. It comes with pre-built color schemes.
This saves you time since you don't have to figure out what colors look good together.
I use Thrive Themes, and I have an annual subscription that gives me access to all their themes, plugins and the website builder. I tried many other premium (paid) themes before settling on Thrive Themes. I find their products to be very high-quality, well-supported and always improving. I'm not in any way associated with them, so this is not a paid promotion.
Want to see what it looks like in action? Here's how I use it on my cost-estimating blog and on my cost-estimating training site.
Invite visitors to tour your new home
Ready to show your site to the world? Just because your website is live on the web doesn't mean people will come to it. The reality can be disappointing. Why? Because there are millions of websites on the internet, and the only way people can find them is by searching for them. You might have to wait awhile to see people showing up at your website.
The best way to drive visitors to your website is to apply some wise marketing strategies. Here's what I did to bring people to my website:
At the time of this writing, the blog articles I wrote last year are now attracting a reasonable number of visitors on a daily basis. This is the power of Search Engine Optimization (SEO). Best of all, great search engine rankings come from good intentions: To share knowledge with others. There is no better way to build a business.
You're no stranger to hard work
It takes dedication to stay focused and plow away at your online strategies. I've been working on my websites for two years and I'm still not done. I have another year ahead of me to finish all the courses, collect testimonials from customers and build a reputation as a course provider. But it's the passion and the dream that keep me going, and it gives me great satisfaction to interact with professionals in my field around the world.