"Success is never owned. You just rent it and the rent is due every day. It's not happening in one day and you have to embrace that challenge."
Visiting a Temecula farmer's market with chef Anthony Bar is an education and an adventure. He gabs with local produce merchants and discusses their importance in cooking philosophy. He tries raspberries and rhapsodizes on the subtleties of flavor. He regales us with tales of growing up in the north of France and learning the power of food to bring people together. 
"My father was a chef, and my parents made me try everything. It's very important at a young age to learn what is good for you and what makes quality produce." With that knowledge bred in the bone,Anthony followed in the family footsteps, studying culinary arts and hospitality at the Lycée Michel Servet de Lille.  
After a five-year stint in the French military, Anthony traveled extensively before landing in Los Angeles, working in the kitchen of a number of French restaurants and quickly realizing that he wanted to make his own way: "I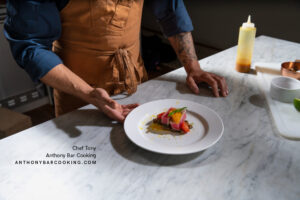 was like, 'I cannot keep working for a boss. They don't have the same vision of me. So the best thing for me, I would like to open my own business.'" 
Taking the advice of friends and starting up private cooking classes to demystify the process. "It's not like molecular gastronomy or anything," he laughs. "It's just simple, nice quality produce prepped in certain way and cooked in properly." Like that, Anthony Bar Cooking was born.  
Offering a variety of classes, from making jams to creating scrumptious dishes with squash and beets, Anthony's friendly expertise got around and brought in those hungry to learn. He knew that to grow this burgeoning business he needed to amplify his profile in the So Cal cooking community and tapped GoDaddy tools to create a website.
"GoDaddy Website Builder has templates ready," he says. "I'm not a computer guy, so to be able to create the website in a few hours without calling someone to help me was amazing."  
When he teamed up with a business partner to start Barong, his Indonesian-French fusion joint in Temecula, Website Builder's simple functionality made it a snap to quickly revise menus — plus, the drag-and-drop picture galleries helped show off specials and Barong's unique décor.
"We really try to bring this atmosphere of Balinese vacation to the restaurant. I want people to have an amazing experience and try something new. Being able to show that experience off on the website is great." He also uses Website Builder's marketing tools to keep customers up on the latest on classes and at Barong. "It helps a lot for me just to go online, make a template, choose pictures and text, and quickly send to everyone." 
For his next move, Anthony plans to combine his relationship with local producers and the desire to embrace the bold with a farm-to-table restaurant. "We can help a lot of farmers working next to us, and for me it's a pleasure because I have no doubts about the quantity." This proactive attitude is what keeps him excited, and he offers advice for entrepreneurs that echoes this excitement.
"Success is never owned. You just rent it and the rent is due every day. It's not happening in one day and you have to embrace that challenge."