Forward Push: A marketing firm built for small businesses
As a small business, the idea of hiring a marketing firm can seem like a monumental — and expensive — task. But for many small businesses, smart marketing is exactly what's needed to go up against the big, established players in the field. Marc Apple understands that well.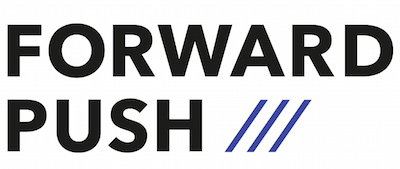 He was a marketing player in that big corporate world before he stepped away in 2011 to launch Forward Push, a San Francisco- and Nashville-based marketing firm he built especially to serve the needs of small business clients. Certified in Inbound Marketing, Forward Push combines cutting-edge online marketing strategies with a dedicated content-creation staff to deliver results.
Marc, who currently serves as the VP of Strategic Marketing for the American Marketing Association in San Francisco, grasped the huge obstacles facing small businesses needing a strong marketing presence. He explains:
"There shouldn't be a high barrier of entry, for a business of any size, to not know their website's analytics, do email marketing, content creation, and anything else that is needed to market their business in the digital age."
Heading up the marketing for CBS Radio and Clear Channel Radio (now iHeartMedia) during his career, Marc, 46, saw the advantages of a well-honed marketing strategy on a large scale. Armed with that real-world marketing experience, his goal was to make the entry point for quality marketing services feasible for small businesses.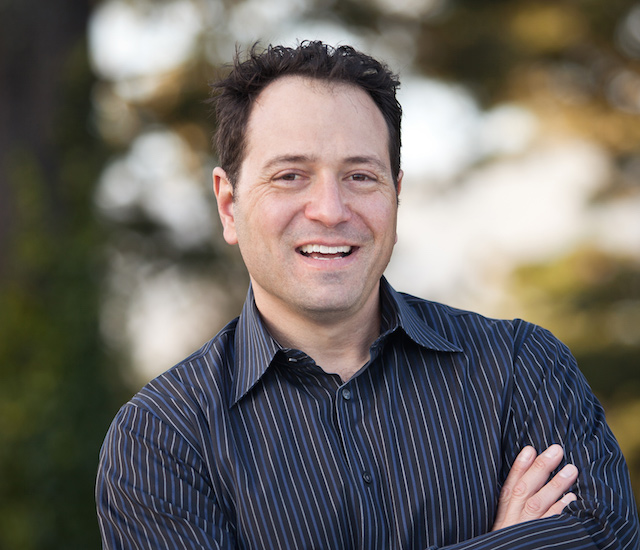 As such, Forward Push isn't aiming to simply start their client's web presence and then send them on their way. "The ideal client for us is one that understands the internet isn't as instant as most people believe," Marc says. "You can create a piece of content today and make it available to the public, but that does not mean it will take off instantly. There is a lot of work that needs to happen to make others notice what you've created."
Long-term business partner
The Forward Push business model is based on that long-term marketing strategy.
"We are looking for clients that want to run a marathon with us, not a sprint."
That client relationship means that Forward Push must constantly work to improve and evolve their services. Marc and his crew at the marketing firm continually interview their clients for feedback. What's working? What's not? What new services might be helpful? That kind of input enables Forward Push to strive to be an even better business partner in the future, as well as attracts new clients to their business.
"As the digital landscape has changed, so has Forward Push's service offerings," Marc says. "All the while, we continue to be the go-to marketing agency for small businesses and startups that are looking for a team of marketers to grow with them and not drain their bank account."
Their forward-thinking approach, however, isn't without its hurdles.
"Although we are out of the startup phase," Marc says, "we still face some of the same obstacles today as when we first started. There isn't enough time in the day to do everything that I would like to do to market the business."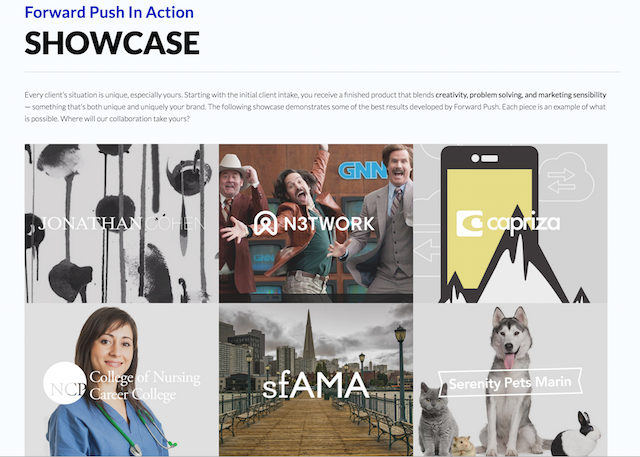 Tools and processes
Despite the not-enough-hours-in-the-day challenge, Forward Push manages to keep growing with help from some key tools and process. "We do a very good job of getting things done," Marc says. "This is mainly due to the fact that we have processes in place, with distinct milestones, that allow us to complete internal projects in a sufficient amount of time."
Tools such as Slack, Google Drive, and Dropbox make it easier for Forward Push to communicate and collaborate both internally and externally. The mobility they offer also allows the marketing firm to work anywhere, anytime.
To build client websites, Forward Push turns to GoDaddy's Managed WordPress. Marc says he especially appreciates this hosted WordPress solution's 99.9-percent uptime promise and daily backups. "The one-click restore ensures we don't worry about things we shouldn't," he adds.
Membership in GoDaddy's Discount Domain Club enables Forward Push to easily secure multiple domain names — giving clients a wealth of online naming opportunities AND protecting the Forward Push brand with a number of secondary domains that redirect to the primary website. Marc also keeps the Forward Push website secure with an SSL certificate from GoDaddy.
Advice for other entrepreneurs
His own experience and the feedback he gets from his small business clients has armed Marc with three big pieces of advice for other entrepreneurs:
Seek out advice from someone who has done it before you.
Hire before you think you need to.
Be willing to change what you've always done.
By taking those tidbits of wisdom to heart, and continuing to cultivate his company's magic formula for success — amazing value + great work = happy clients — Marc sees a solid future for his marketing firm. "We'll continue to serve the needs of our clients as the digital and traditional landscape changes," he says.