Franciscan nuns build a divine website
While the sisters of San Damiano Monastery of St. Clare in Fort Myers Beach, Fla., live a cloistered, contemplative life, these Franciscan nuns also appreciate the value of a good website to connect with the world at large. That's why they turned to the Internet in 1999 to share a peek into their monastic lifestyle with others drawn to the religious life. As Sister Mary Frances explains:
"It became clear that those who might be thinking about religious life would be looking to the Internet as a source of information, and we wanted to have a presence there. A second reason was simply to let people know that there was someone praying for them whether they realized it or not. Also, there are many misconceptions about monasteries and nuns who are hidden away from the world. We wanted to convey that we are normal people. We live a normal life. We are happy and joyful."
In essence, like a small business, the Monastery used a website to create awareness and perception of their organization among the community, and to drive leads.
First-time website design: A few lessons learned
And, like so many other businesses, the nuns faced challenges with launching the site. "All of us were even more 'technologically challenged' then than we are now," says Sister Mary Frances. "We really needed help, and, as always, God sent us the right people at the right time who knew what they were doing and how to do it."
With friends on hand to help them bring their website to life, the sisters began to tackle their biggest challenge: choosing how to convey their message on the Web. What main points did they want to get across? What core pages would they need? What imahttps://www.godaddy.com/garage/smallbusiness/launch/best-practices-for-using-website-images/ges should they include? How would they tell their unique story? They looked at other websites for inspiration and started coming up with a plan.
Looking back, Sister Mary Frances recalls three primary lessons the sisters took from their first website building experience:
Know the message you want to convey.
Know who you most want to find your website.
Prepare thoroughly before you put anything out there for all to see.
Time for a Website Builder Facelift
And when the sisters realized their site was getting a bit stale, they got it a facelift. They recently turned to the pros at GoDaddy to upgrade their website to the most current Website Builder platform, version 7, modernize the site's look and feel, and learn how to keep their new website up to date. "One of the reasons I had your team do the facelift is because I had not updated our site — and it was long overdue," says Sister Mary Frances.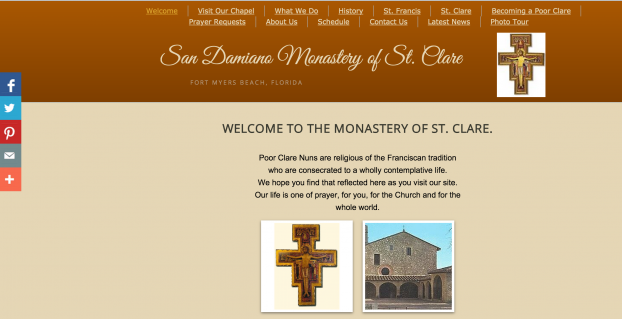 The nuns are thrilled with their refreshed website, which features a modern design template, clean navigation, front-and-center social media widgets, and fresh information about the San Damiano Monastery of St. Clare to educate and welcome site visitors. "I am very pleased with the redesign and all that you did to bring it up to date. You and everyone else I spoke with were very patient with me and very helpful," says Sister Mary Frances. "When I try to work on this myself, I know where to go for help."
Back to what matters
With the website facelift done and minimal site maintenance on the horizon, the nuns of San Damiano are more free to focus on what matters most to them: their devotion to God and a simple life of prayer and worship. As Sister Mary Frances explains:
"I love living in the house of God. I love being able to spend my day thinking mostly about Him. I love being able to pray for those who ask us for our prayers for so many needs, together with my sisters and also in my private prayer."
Does your website need a digital makeover? Here are five signs it might.