GoDaddy opens new global technology center in AZ
There are a lot of first days that I can remember in my life. First days at a new school or a new job. First dates. My first brand new car. There was always that feeling of apprehension mixed with excitement. Will they like me? Will I like them? Will I have buyer's remorse? For some of those much-anticipated firsts, I'd take extra care getting ready – as though to slow down time, to make that feeling of anticipation last.
That's how I felt before entering the new GoDaddy Global Technology Center in Tempe for the first time.
Sure, I had expectations. I'd heard it would be state-of-the-art, a modern work-and-play space at the intersection of functionality and form. A space where more than 1,000 employees would converge to both conquer the work at hand and relax and recharge with amenities like a gym, yoga studio, basketball court and indoor pedal karts. After working at GoDaddy for a number of years, I expected the fun factor. I anticipated some pizazz.
But I still had butterflies in my stomach as I pulled into the still-unfinished parking lot for the first time.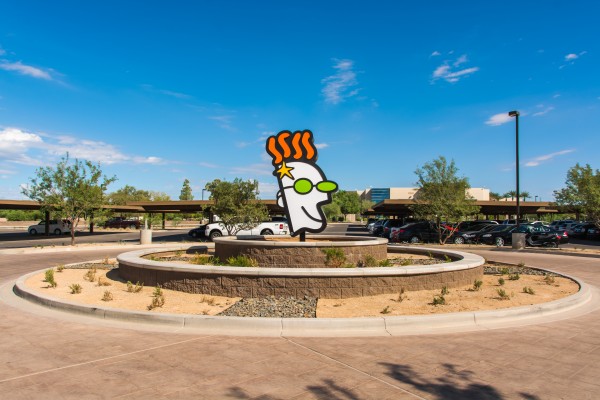 And then there were none
It was about a month ago when I drove around backhoes and cement rollers to tour the 150,000-square-foot, two-story facility a few weeks before it opened to the first wave of employees. The GoDaddy head fountain wasn't yet erected in the parking circle; the computers weren't installed at the workstations; the cafeteria was devoid of food.
Before there were customer care representatives with headsets, there were contractors in hard hats.
My first impression? It was big. Huge, actually. The second? There was lots of covered parking. When you work in Arizona, that's important. Above all, it looked really, really cool from the outside. From the funky architectural vibe of the shade structure flanking the basketball court to the still-in-progress skateboard area and volleyball sandpit, I got an immediate taste of the modern-meets-playful design aesthetic.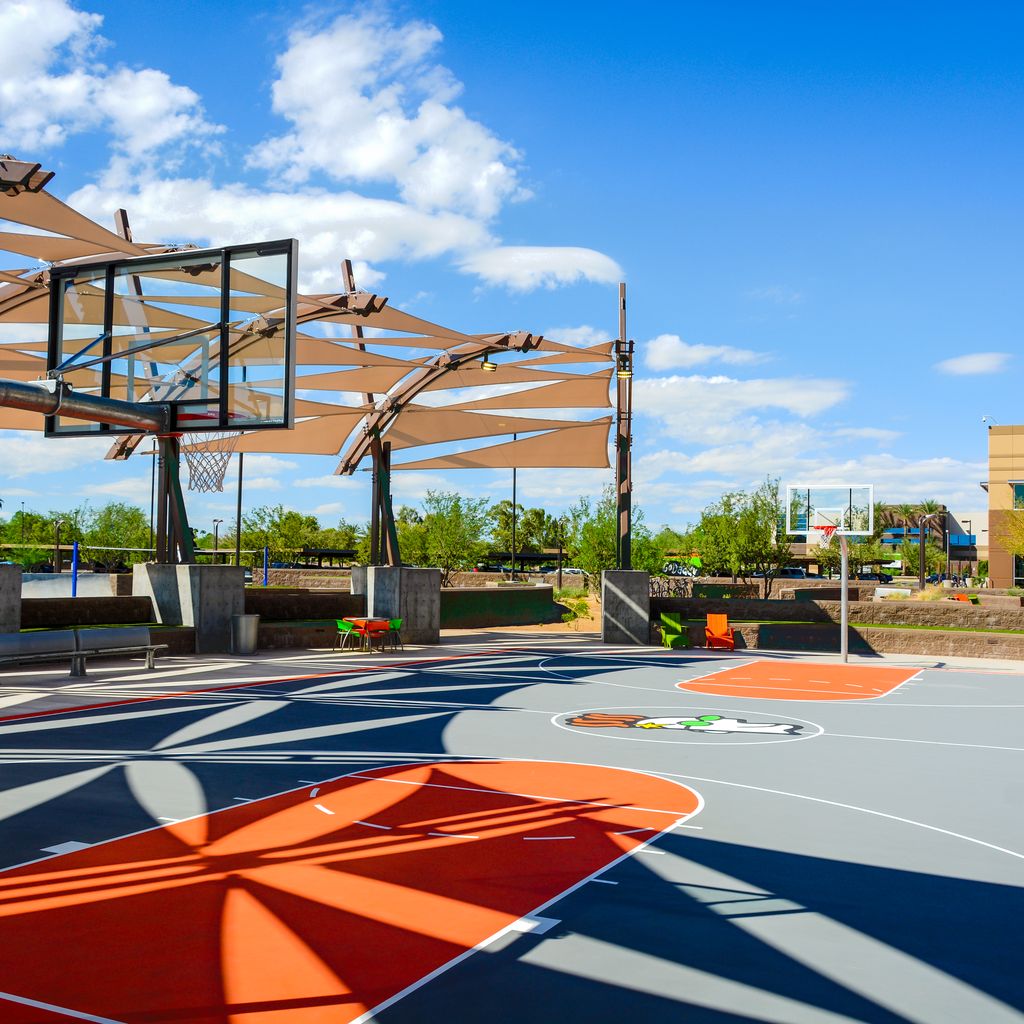 Sliders for lunch
Speaking of taste, I couldn't wait to see the new cafeteria. (No matter where you work, lunch is a priority.) Past plenty of varied seating arrangements — including kidney-shaped wall pods, banquettes and high-tops — the food service area promised a variety of nosh options. Salad and sandwich bars. Stir fry and pasta stations. A full-service grill. I could almost smell the black bean burgers and calzones. Awesome.
But what was the big hole in the ceiling?
"That's for the sliding board," my tour guide said.
"The WHAT?"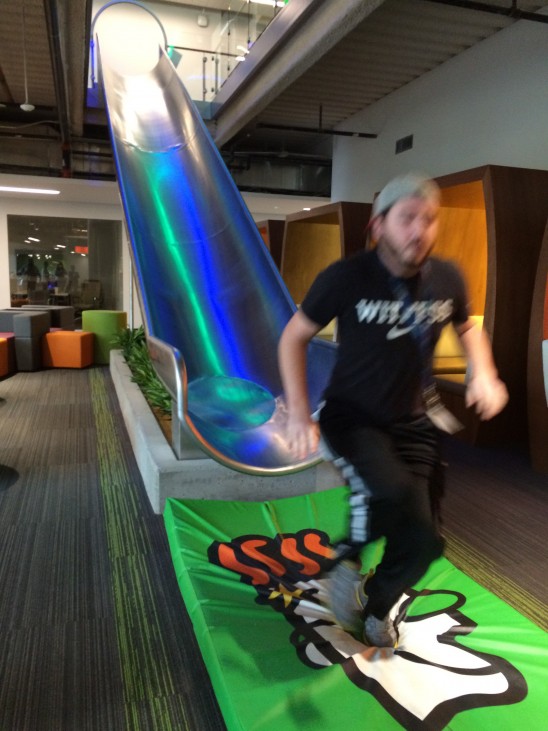 As I would experience firsthand a few weeks later, a two-story sliding board offers quick access to the cafeteria from the second-floor call floor. (Very quick access. As in, don't go down the sliding board with an open beverage.) In what I anticipate will become an iconic part of the building's design (not to mention the source of countless blooper videos) the slide is but one of the alternate modes of transport available within the building.
Ready for the magic
As the green-and-orange pedal carts and beach cruisers sat waiting for the riders to come, we took a more traditional vehicle to the heart of the new facility. We climbed a back staircase to the sprawling second-floor call center, where an abundance of natural light threw a warm glow over a well-designed honeycomb of workstations interspersed with glass-encased huddle rooms, groovy open sitting areas and refreshment stations.
I plopped down into a Jetsonesque lounge chair and closed my eyes. Silence beyond a few muted voices and a jackhammer in the distance. I felt the temporality of the moment, the lightness of a void I knew would soon be filled with the 'round-the-clock activity of a world-class customer support center.
In a few weeks, hundreds of employees would be caffeinating at the cappuccino machines, taking calls, attending meetings. The still line of ergonomic desk chairs would roll and swirl with energetic reps. The uniform desktops would take on the unique personalities of their inhabitants, coming to life with family photos and sports memorabilia and more than a few Star Wars action figures. In the quiet, I could feel the magic on the horizon.
Flash forward to today
I remember that feeling today, in the midst of the fanfare surrounding the GoDaddy Global Technology Center's official Grand Opening. Facility stakeholders and local dignitaries are on hand to celebrate the achievement with a non-traditional ribbon-cutting (CEO Blake Irving blasting through a banner on a pedal kart). There are media tours and swag giveaways.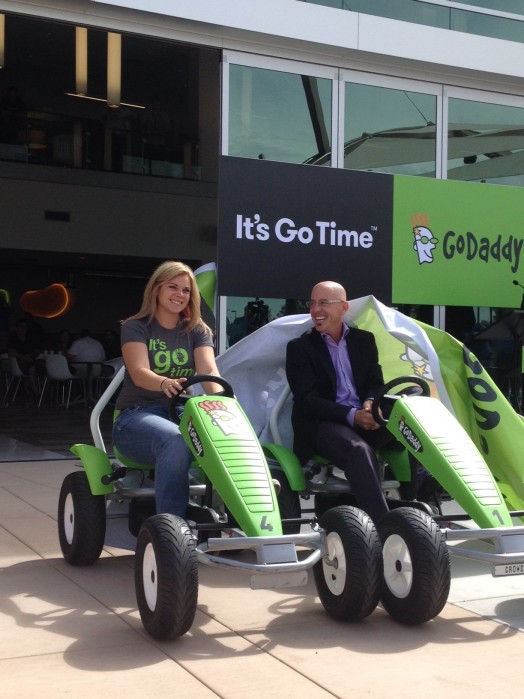 But the hooplah only adds to the aura of excitement and promise that I felt take hold inside myself in a nearly empty building in that Tempe technology park. It's a feeling I now share with hundreds of GoDaddy colleagues, the spark for a new generation of techno magic — and a first I'll add to my list of treasured memories.
You can read more about the new facility here.