Gutenberg + WordPress from a marketer's point of view
If you use WordPress, you've probably heard rumblings about the new Gutenberg plugin and how it's set to change publishing on the platform. Whether you're an early adopter or putting it off, one thing is for sure: Gutenberg + WordPress represents a major shift in how content is created and edited on the world's most popular CMS. It's designed to make creating content simpler and easier for more publishers than ever before.
What does Gutenberg + WordPress mean for marketers and users?
For everyone from casual bloggers to marketing consultants and agencies, WordPress has always been the CMS of choice. But there are questions about Gutenberg: how are content creators at all levels adapting to the changes? What will it mean for them and their clients? To find out, I interviewed four people who spend their days crafting content about their insights, experiences (the good, the bad, and the ugly), predictions, and improvements they'd like to see.
Gutenberg "provides users with a drag-and-drop solution to website creation, a process which previously may have required a team of designers, developers, strategists and writers." ~ Jen Miller, founder/owner, Need Someone to Blog
To appreciate Gutenberg + WordPress and how it will impact content creation and publishing, we need to understand what it is. Jen Miller, founder/owner at Need Someone to Blog and a WordPress user since 2009, has been testing Gutenberg since July 2017.
The tool "simplifies the content and website development process, furthering the WordPress goal of democratizing publishing," she writes in an email. "It provides users with a drag-and-drop solution to website creation, a process which previously may have required a team of designers, developers, strategists and writers."
Gutenberg is a game-changer
For content creators and publishers, Gutenberg is a game-changer that lets them bring their mental picture or physical rendering of their website to life "quicker than ever before," Jen writes.
With a quick drag of a text box, users can change the layout of pages and posts.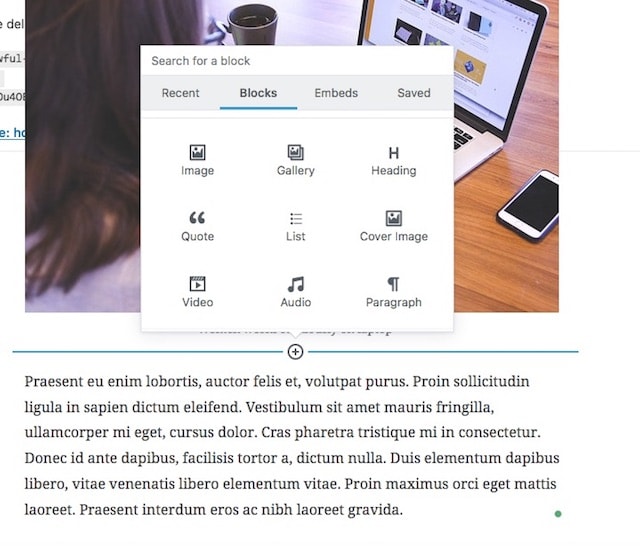 Though ease of use is a positive, some are voicing deep concerns over the economic impact of Gutenberg's tight timeline of iteration and expected rollout.
The first stage of Gutenberg is aimed for inclusion in Core with the release of WordPress 5.0 within the first half of 2018. It will focus on a content-first approach in the post-editing experience, with the use of blocks (for a live demo, watch WordPress Co-Founder and Automattic CEO Matt Mullenweg's State of the Word keynote at WordCamp US).
Bridget Willard, a marketer, co-host of WordPress social media talk show WPblab and Marketing Team Co-Rep for Make.WordPress, has been testing Gutenberg and blogging about her experiences since she attended WordCamp US. A longtime blogger on Medium, she got the hang of Gutenberg (whose editor interface is similar to Medium's) quickly, soon built her live site at gutenbridget.com and has submitted issues to GitHub.
In her blog post The Economic Impact of the Timeline of the Gutenberg Rollout, Bridget advocates for an in-depth SWOT (Strengths, Weaknesses, Opportunities and Threats) analysis to assist in inward marketing (Make Teams and WordPress developers) and outward (clients, end users, and agencies). It's critical that time is allowed for marketing and training documentation to be created, as well as developers and publishers to learn the basics. As Bridget writes in an email:
"I agree with Morten Rand-Hendriksen and would love to see a freeze in Gutenberg's iteration (say 2.0), so that developers (theme and plugin) have more than the standard time to prepare their products for WordPress 5.0."
She stresses the importance of staying true to WordPress's mission to democratize publishing for all types of content creators. Twenty-nine percent of the web is on WordPress, and small business owners have come to rely on the CMS for technical SEO, ease of publishing, and owning their own data.
"Responsible iteration seems to be something WordPress struggles with throughout its 14-year life," Bridget says.
Though she's only been deeply involved for the last two years, she predicts that as WordPress's market share grows, its issues will scale. "One of the largest selling points of WordPress is the commitment to backward compatibility, as opposed to planned obsolescence. Meaning, every update doesn't completely break sites."
Stakeholder buy-in will be key to Gutenberg's success.
If developers, content creators and publishers aren't on board, attrition will be a threat, Bridget says. (Side note: There's a Classic Editor beta plugin to replace the Gutenberg editor and restore the Edit Post template.)
"WordPress is made by volunteers," Bridget says, adding many volunteers participate out of gratitude for careers built on WordPress, while some are sponsored by companies. "If people leave WordPress as a CMS, they will no longer need to volunteer. I worry about how that attrition will affect the future of WordPress frankly more than WordPress-based businesses, but it's a real thing to consider for them as well."
As a standalone product and if it's seamlessly merged with Core, Gutenberg "will bring the editing and creation part of WordPress into current times," Bridget adds.
"Overall, Gutenberg will be a great thing for publishing. We just need to show people how to use it. It really is a beautiful product."
While training, education and marketing is happening, it's incumbent on content creators and agencies to start testing Gutenberg now, give feedback and participate in the conversation, Jen says. Though she was initially concerned about how search engines would react to the modifications, Gutenberg has evolved. "While I've had reservations about its impact for search results, I've grown to love the simplicity Gutenberg represents."
Opportunities for the future: Training, educating and empowering users
Jen says her agency will be adapting clients' existing sites and providing training to any clients that are hands-on. "We have already started developing sites in Gutenberg and pay close attention to each update. We want to be ready when it's officially released so we can assist others in making the transition."
As for content creation, "I see little need for change at the present," she says. "Our content can stand alone and therefore adapt to whatever container is used. On the other hand, I do see an opportunity for more expansive, collaborative and interactive content creation with Gutenberg."
Each iteration of Gutenberg + WordPress will bring improvement for users across the board.
"For Gutenberg to be recognized and embraced by the WordPress community, education needs to be disseminated quickly," says Jen, who volunteers on the Marketing Team for make.wordpress.org. Creating content bridges to explain Gutenberg is one of the team's most important current tasks. She stresses:
"As Gutenberg rolls out, discussion needs to happen so that people become more familiar, more accepting and, eventually, empowered and excited."
While there will be a learning period for users across the WordPress community, "I believe it will be easier than anticipated," Jen says. "We are comprised of passionate thinkers and experimenters who are not afraid of change. Gutenberg's release will open the doors of content creation for many beginning and intermediate users and it will elevate the status of advanced users who I anticipate will discover limitless possibilities."
Start testing Gutenberg + WordPress now and help shape the future
Amy Hall, a WordPress Virtual Assistant, MailChimp expert and inbound marketing specialist, is one of those early adopters who's tested Gutenberg both on her own site and on one she's building in page builder plugin Beaver Builder.
"It makes you plan your content better. You can't just cut and paste if you're adding images into the middle of a post. One now has to do some pre-planning," she writes in an email.
Blog posts now have their own sidebar admin section — a positive for Amy — who likes having menu options above the fold. While Gutenberg functioned much like MailChimp on her own site, it did not play well with Beaver Builder. "I wasn't able to maneuver the page content as I wanted until I turned off Gutenberg. I think there could have been some issue with Beaver Builder."
Amy continues, "It would be great if there was some way the image block could be dropped into the text block. I'm assuming the image block forces the images to be responsive. If not, why use the image block? But for someone building a large how-to blog post, it will be a pain to insert lots of screenshots."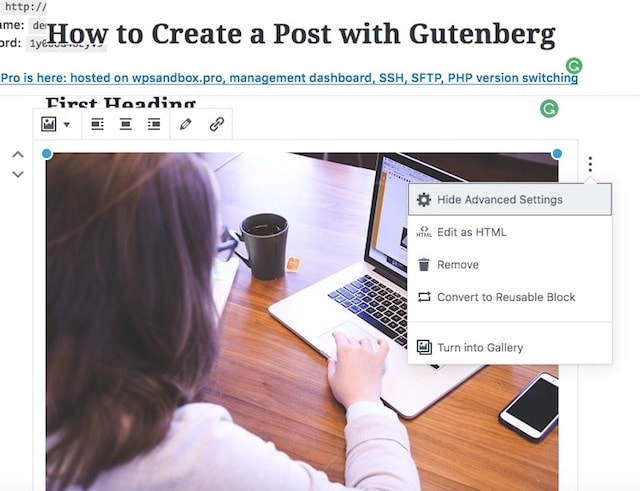 In the coming months, Amy expects to be training many clients on Gutenberg + WordPress. "I think people who are new to (WordPress) will have issues with the interface for a while," she says. "It doesn't make a lot of sense … but then the old editor didn't either. Any time you have a newbie, there is a learning curve. I have clients that will not be able to use the new editor without a lot of training, but they can't use their site now either." In the long run, she says:
"I don't think Gutenberg will change how users publish. They learned WordPress, they'll learn Gutenberg. I don't think people will leave (WordPress) because of it."
Regardless, as software evolves whether we're onboard or not, "I think it's always important to be an early user. For me, it's easier to progress with the software. … I think it's easier if you start using software at the beginning of its evolution."
The more input, the better
At this stage of Gutenberg's development, "the more input, the better," Amy says. "One person can't think of every user scenario so the more users, the more usability Gutenberg will have."
Jen issued a strong call-to-action for anyone publishing on WordPress: "If you're a content creator, you need to step into the world of Gutenberg NOW. Recognize that it is not a final product and that you have an opportunity to be a part of history as you learn it. Play with the blocks and test out what you can do with each so that when it is released as part of Core, you can easily incorporate it into your content strategy."
She stresses the importance of speaking up on any concerns and paying attention to updates, as users might have insights that haven't been discovered. "At the very least, you can help others to understand the change and prepare for it by sharing your own experience in your own channels."
User-friendly interface
John Parkinson is testing Gutenberg and helping to document others' experiences with it. As a volunteer with the WordPress TV team, John has interviewed WordPress users across the community since 2016. He's also co-released a video with Tammie Lister (a Core contributor and experience designer at Automattic) about the basics of Gutenberg and is preparing to talk at WordCamp Lancaster (near Philadelphia) in March 2018. A WordPress user since 2010 who uses the CMS daily at his job with Belmont County in Ohio and as a blogger, he is a staunch advocate of Gutenberg who has been testing it for almost five months. He says:
"I don't know a whole lot of HTML or CSS. To me, this gives me more power to make things look nicer than I normally would be able to."
The block-driven, drag-and-drop interface, ability to quickly and easily insert a header, and column layout options are big pluses for John. It's also easy to insert videos, hyperlinks, and call-to-action buttons, as well as change the background and font colours.
John recalls trying to use black lettering on a red background and seeing a notification advising against it, as the visually impaired wouldn't be able to read it. He's such a fan of Gutenberg that he's considering how he can use it at work: "As much sense as WordPress made to me in 2010, I think that will be even more so in a couple of years when…[Gutenberg] would be stable, because it's going to be part of core."
"There are a lot of people backing this and (who are) excited about what's going to happen," John continues. "If they're excited about this, why can't I be? I'm going to do my small part, give a couple of presentations on Gutenberg and see how that ship sails."
As Gutenberg + WordPress evolves, new opportunities and challenges are cropping up for marketers across the community. Now's the time to download the plugin, practice with it, contribute issues to GitHub and write about your experiences. Your insights and expertise are essential to helping to shape Gutenberg into the best tool it can be, so get started today.
Additional resources
Want to learn more about Gutenberg + WordPress? Check out these resources: