How to use your healthcare website to celebrate National Women's Health Week
Each year, millions of women take steps to improve their health during National Women's Health Week. Not only is the week a celebration of women, but it serves as a reminder to build positive health habits for life. As a small business owner in the healthcare field, National Women's Health Week also presents you with an opportunity to join the conversation as a value-add thought leader right on your healthcare website.
Getting involved in National Women's Health Week
According to the Centers for Disease Control and Prevention, women can take the following steps to improve their physical and mental health:
Visit a doctor or nurse for a well-woman visit and preventive screenings.
Get active.
Eat healthy.
Pay attention to mental health, including getting enough sleep and managing stress.
Avoid unhealthy behaviors like smoking, texting while driving, and not wearing a seatbelt.
As the owner of a business in the healthcare field, these steps give you great starting points to create content on your website. Let's explore some ideas for you to use your healthcare website to celebrate National Women's Health Week.
Joining the conversation through your healthcare website
If you want visitors to immediately recognize that you support National Women's Health Week, there are a few things you can do to your online presence to boost awareness.
Website imagery
First and foremost, you want to show that you're a supporter of National Women's Health Week. When visitors open your website, they should be greeted with a banner and/or imagery that celebrates women's health.
Some tips for images include:
Try to use your own photos if possible. Be sure you have permission from people in the photo before posting.
Make sure your imagery is web-ready and high-quality. Consider a tool like Optimizilla to compress your images without sacrificing the quality.
Use legal images. If you can't use your own photos, then find a royalty-free stock photo that can be used for commercial purposes. Two great sites to check out are Pexels and Unsplash.
Test on all devices. More than half of all online traffic is coming from mobile devices. Make sure the images load quickly and look sharp on tablets and smartphones
Consider this image from the Office of Women's Health:
Pro tip: You can take a similar approach by using a great stock photo and Canva to create a branded image that shows your support.
Blog posts
Since you work in the healthcare field, it's safe to assume that you've amassed and absorbed mountains of information, news and updates about your industry. Sharing that knowledge not only establishes you as a thought leader with your thumb on the pulse of women's health issues, but it also acts as a lead magnet for women interested in learning more about National Women's Health Week (and your services.)
Some potential blog topics include:
10 Fast & Fresh Meals for a Healthier You
How to De-stress at the End of a Long Day
Quick and Subtle Exercises You Can Do at the Office
Why You Can't Look at your Phone Before Bed
All of the above topics play to the steps presented by the CDC above. They focus on creating a longer, healthier and happier life. Sit down with a notepad and think of other topics you could publish to drive more traffic to your site during National Women's Health Week.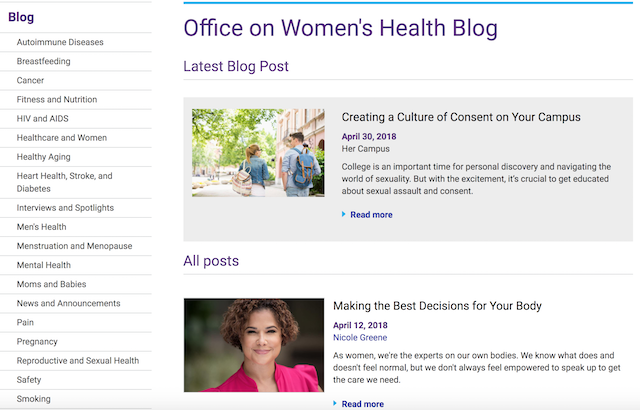 Editor's note: Need a blogging platform to spread awareness? Consider GoDaddy's Managed WordPress. We'll handle the technical stuff so you can publish compelling, informative content with ease and keep your clients in-the-know.
Video content
A solid video marketing strategy is an effective way to draw attention and drive traffic to your website. According to WordStream, 33 percent of online activity is spent watching video, and more than 500 million hours of video are watched on YouTube every day. If you want to add your voice to the women's health arena, then video should definitely be included.
If you're struggling for content, think about the blog posts you brainstormed. Those same posts will make for great video content, and best of all, you don't have to appear on camera. Instead, according to GoDaddy Blog contributor, Megan O'Neill:
"Without having to appear on camera yourself, you can create a compelling video by stitching together your product photos and video clips with text describing the unique story behind your product."
Of course, if you provide services, think about photos that represent your offerings or demonstrate your team providing the services. Be sure to use text to describe what's going on.
In conclusion
With millions of potential clients searching for more information on National Women's Health Week, now is the time for you to get started building out your content. From images to blog posts to videos, you have several ways to join the conversation, demonstrate your thought leadership, and grow your healthcare business.