How one woman started a movement with #BlackGirlMagic
Little did CaShawn Thompson know when she tweeted #BlackGirlsAreMagic back in 2013 that she was starting a nationwide conversation. She was just one black woman responding to what she saw as a disturbing trend. Five years and lots of press later — including posts on HuffPo, CNN and the LA Times — she reflects on where the #BlackGirlMagic revolution began.

Tell us a little bit about yourself.
I am a Generation X black woman who was born and raised in the District of Columbia and I still live here. I come from a huge family that is very closely connected. I am the mom of two young adults and recently married, through which I gained five stepchildren and two grandbabies.
Family is everything to me.
I work as a caregiver for infants and toddlers and am currently studying Early Care and Education at the University of DC.
What prompted you to create #BlackGirlMagic?
Sometime in 2013, I noticed that there were a lot of negative things being said about black women online and through other media outlets. It bothered me to no end to hear/read it said that black women were unmarriageable and that we were the least attractive of all the women on the planet.
I felt like it was deeply rooted in racism and sexism and it made me so angry.
I felt like there was something that I needed to say to make myself and other women that looked like me to feel better. So I pulled "Black Girls Are Magic" from the understandings of my childhood as to how I believed black women existed in the world.
I tweeted #BlackGirlsAreMagic one day and it basically just took off from there.
I had grown up and been raised by dynamic black women. Before I could understand anything beyond my favorite fairytales, I had decided that they were all magic. So many of my fellow black women felt loved and validated by that hashtag. #BlackGirlsAreMagic and later, the truncated #BlackGirlMagic, became a rallying cry and affirmation for black women all over.
History is about what's happening, what's coming and what was. #BlackGirlMagic IS history in the making. Just a friendly #BlackHistoryMonth2018 reminder ? Here are a few of our favorite modern history makers & shakers: https://t.co/s7PJoYfe8K pic.twitter.com/14YAchhXYx

— ESSENCE (@Essence) February 3, 2018
What did you hope would happen when you created the hashtag?
"I had absolutely no expectations, but I am thrilled with the outcome." ~ CaShawn Thompson, creator of #BlackGirlMagic
I had no specific hopes when I created the hashtag. I have to say, it was a very emotional moment for me. I was 100 percent in my feelings when I created it. I was hurt and angry and I knew that others were as well. I just felt like I needed to do something to counter the negativity that black women were being inundated with at the time. I had absolutely no expectations, but I am thrilled with the outcome.
Did you expect for it to lead to articles in the LA Times and your own Wikipedia listing?
I had no idea that #BlackGirlsAreMagic would become the phenomenon it has. I decided to put the words on a T-shirt and sell them, thinking that just my friends and online acquaintances would buy them.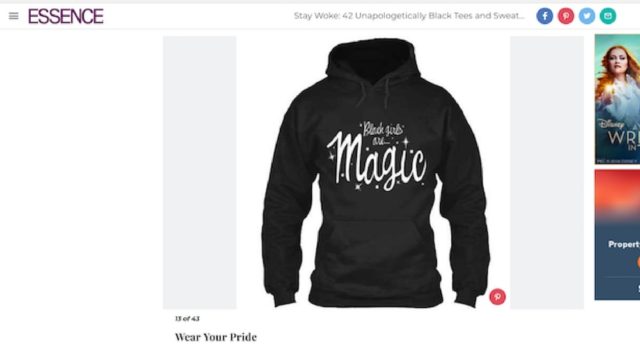 I thought I'd sell about 30 of them. But the hashtag has resonated so much with people that I actually sold 330 that first time around and thousands since then.
When I was contacted by the LA Times for an interview, I was flabbergasted. While I knew people were into the hashtag, I didn't think anybody actually cared about who had created #BlackGirlsAreMagic. When the Wikipedia entry popped up, I was honored.
I am very proud of myself for bringing so much joy to my community.
For you personally, what has come out of this — from the moment you created the hashtag to now?
Since the creation of #BlackGirlsAreMagic, I feel like I've found my voice.
People listen to me. The support and encouragement I get on a DAILY basis from people who love the hashtag really shores me up and keeps me going. I've been recognized on the street because of #BlackGirlsAreMagic. I've gotten shoutouts from celebrities and other notable folks because of it. I've heard it in TV shows and seen it in countless articles, being both lauded and critiqued. I've been interviewed by bloggers, invited on podcasts, and I even participated in a research project about hashtags conducted by BET and Twitter.
#BlackGirlsAreMagic is officially my brand now.
I have many plans for expanding it, including more merchandise and a website where the voices and "magic" of black women will be amplified. It's become so much more than a hashtag — it is an iconic movement to celebrate ALL BLACK WOMEN. #BlackGirlsAreMagic is what we are and what we will become.
Thanks for chatting with us, CaShawn. You can find her online at Twitter, where she is followed by President Barack Obama, among 11,000+ others.
Image by: Melanie Magdalen on Unsplash