How to choose real estate company names and real estate domains
If you're starting out in real estate, branding and developing an online presence is essential. With 80% of all home buyers beginning their search online, connecting with them should be your No. 1 priority. That starts with your company name and your custom domain — your window to the digital world. How do you choose from all of the possible real estate company names?
Start with the best real estate domain names.
Related: How to start a real estate business
Your guide to real estate company names and real estate domains
The annals of business lore are full of companies that failed to register their domain names and spent years waiting for the availability of a .com with their brand name. Nissan still doesn't own Nissan.com and the city of London, surprisingly, doesn't own London.com.
That's why it's important to start early and align your company's name with the domain you prefer.
In today's digital landscape, naming your company and creating your website's URL go hand-in-hand.
Here's how you can ensure that you are putting the pieces together and branding yourself for the long haul.
Let's get started building your online real estate presence!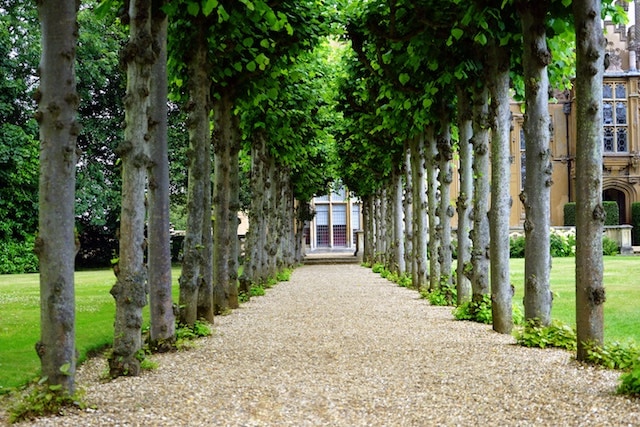 Related: 5 steps to build a personal brand with a personal website
1. Do your research
To help ensure that prospective buyers and sellers will find the website attached to your real estate domain, you'll want to spend some time looking into the keywords that people in your local market type into Google to find the services you plan to offer.
Incorporating these keywords into your real estate company name and associated domain name can bring you more business.
You may want to identify high-performing words with a large number of searches or, alternatively, look for keywords that are underutilized and underserved by current website content.
Related: How Google Trends can help you find your next customer
Find your niche
There might be a magic keyword or two that people are searching for but not finding much information on. That could become your informational niche.
Think long-term while doing your research and don't be too specific. Today, you may want to specialize in a specific area or niche, but as your business grows, you might want to expand your service offerings or market coverage. Take this into consideration when you are gathering real estate company name and domain name ideas.
Do a competitor analysis

Another thing you'll want to do whenever you're researching content or market information is to conduct a competitor analysis.
Who are the major players in your market and how have they branded themselves? You may want to develop a branding position similar to theirs, or you may want to take advantage of some possibility that they have overlooked.
For example, if they have branded themselves with a wordy or overly complicated name, you might get attention with a short and snappy one. If they have defined themselves around a small market segment, you might follow suit to compete head-to-head or go broad to differentiate yourself.
When you understand who they appeal to and how they generate that appeal, you can create a strategy to successfully challenge them.
Consider current trends
Finally, take a tip from current naming trends in real estate in order to come up with a winning brand. One of the most popular brokerage trends right now are names that are short and sweet, such as Compass, Exit and eXp.
These brand names are punchy, memorable and modern — all elements of a winning brand identity.
Or choose a real estate-related word or term and play with it to create an attention-getting image.
Related: A beginner's guide to branding your business
2. Create business name options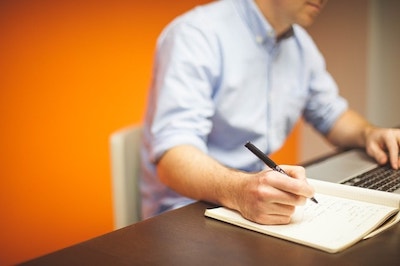 Now it's time to put your research to work and brainstorm possible real estate company names and domains. You've got many directions you could go here.
Geographical names
Since real estate is all about geography, you might want to choose a name that evokes some aspect of your local market.
Consider the city name, a specific area of town, a local landmark, or a nickname for your city. Atlanta Real Estate is good, but Hotlanta Real Estate (a real company name, by the way) might just be better.
Names with value props
Alternatively, you might have a unique value proposition (UVP) that you want to highlight in your business name. Perhaps you have particular expertise in a niche like luxury, equestrian land and farm, or waterfront properties. Maybe you have a background in the law or finance that makes your service offering unique.
Your name could be a reflection of the most interesting and compelling aspect of your business.
Names that showcase diversity
Do you speak more than one language? In many markets, there is a large and diverse group of residents who hail from a non-English-speaking country. Your ability to work with them in their native language can be a powerful differentiator and can help you find a market niche that works for you.
In this case, you might want to convey the international focus of your business in your company name.
Names that speak to market segments
Think about the person you're trying to appeal to.
It's tempting to think of your potential client as "everyone," but realistically, you will have more to offer some people than others.
If you love the idea of working with first-time homebuyers or downsizing seniors, your name could convey that. If you are a military relocation professional (MRP), you might want to choose a name focused on that market segment.
Related: Why a target audience matters and how to find yours
Personal names
Of course, you can also go with your own name for a one-of-a-kind brand. You'll want to think about how to style yourself — first name, last name or your whole name. You can also play with the name, adding it to your market or to some other evocative word like homes or properties.
Creative names
You may be tempted to go with something really over the top when it comes to your company name. One current trend is the compressed version of a common word, like Tumblr or Flickr. This might inspire you to dream up a particularly inventive spelling or format for your company name.
Exercise caution if this is the direction you choose.
It won't do you any favors to create a name that no one understands or can spell — an important requirement for website searching.
In addition, once this trend is over, you might find yourself with an outdated company name and a stale feel to your brand.
Most of all, remember that at this point you are brainstorming. There's no need to drill down and make a decision right away. You will still need to ensure that no one else has your preferred name and you'll want to see what domain names are available before you lock in on a choice.
Give yourself a variety of options and see which one works for the long haul.
3. Start your real estate domain name search
Now that you've narrowed down your list of potential real estate company names, it's time to see what corresponding domain names are available. Keep these tips in mind as you begin searching for the best real estate domain names:
Keep it short and simple
You'll want to look at a variety of iterations in order to find the most user-friendly version of the name you're considering. If you're naming the business after yourself, for instance, consider using just your first name or just your last name in order to simplify searching.
One thing you may want to think about is how your website name sounds out loud — not just how it looks written. Consider whether it is likely to be misspelled or written down incorrectly if you are telling someone the address or if you are saying it out loud in an advertisement or on your YouTube channel.
It may be useful to reformulate the name to ensure that it sounds as good as it looks.
Be sure to check your company name for unintentional misunderstandings that can happen when it is converted into a domain name. For example, the travel website Choose Spain unintentionally hurt their brand with the launch of choosespain.com.
Consider premium domain names
You'll also find that common words within the domain name can break your domain name budget, especially if they are particularly desirable and heavily searched.
Words like homes, real estate and some place names of major metropolitan areas drive the desirability — and thus the price — sky high. While these can have a huge upside return on investment, they'll take a chunk out of your startup budget, especially if you're just launching your business.
Related: What are premium domain names and how can they turbocharge your online identity?
4. Check out your domain options
Fortunately, you have a variety of options beyond .com when choosing your domain name.
Domain extensions like .agency, .house and .forsale are popular, as are .realestate and .realtor, available exclusively to NAR members throughout the United States and Canada.
In addition, some major metropolitan areas have domain extensions of their own, allowing you to pinpoint yourself geographically for potential clients.
One of the big advantages here, of course, is that you could end up saying everything you can't afford to say in a standard .com domain name at a fraction of the price. For example, a regional domain extension like .nyc or .miami will, in many cases, cost less than a standard .com with those words in the address and will let your potential clients know exactly where you are located.
In addition, because many of these real estate domains were only recently introduced, they haven't all been snatched up by larger companies with bigger budgets.
There's still plenty of room for you to nab the .realestate or .homes domain of your dreams.
Want to appeal to an international market? Consider domain name extensions like .casa (Spanish or Italian), .immobilien or .haus (German) to appeal to non-English-speaking clients. This is also a great way to differentiate yourself, especially if you speak another language and want to convey that to potential clients for whom English is a second language.
Search for your perfect domain name now:
Related: Domain extensions guide — What you need to know before you pick a domain name
What's next?
At this point, you've done your keyword research, considered alternative real estate company names, and found out what domain names are available, enhanced by unique domain name extensions. That should allow you to narrow down your choices and select from the available real estate company names and the best real estate domains. What's next?
Buy your domain name
Go ahead and buy the real estate domain you've chosen.
Every day, someone in your area is also looking at domain names and you don't want to find that your favorite has been snatched up by a new competitor.
Related: How to buy a domain name
Get a professional email address
Attach your new domain name to a professional email address. It will look much more professional to communicate with real estate prospects and clients using an email address like yourname@yourbusinessname.realestate than your personal Gmail account.
Related: You've registered a domain name. Now what?
Start building your brand
Now that you have a real estate company name, start to create a brand identity for your business.
Consider colors, images, fonts, and a logo in order to create a cohesive look for your brand. In addition, think about adjectives you would like for your brand to convey: fun and upbeat, serious and distinguished, investor-oriented or friendly enough for first-time homebuyers.
Build a website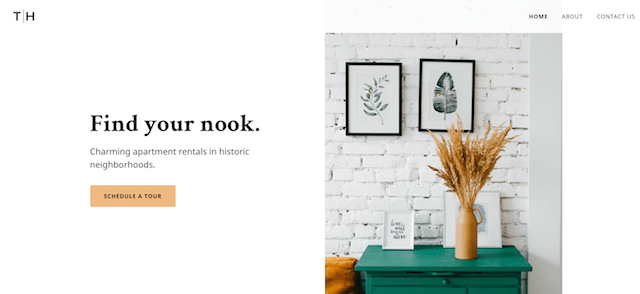 Determine your budget for website development and begin putting that new domain to work. You may be attaching your custom domain to your broker-provided site or upgrading to a do-it-yourself website builder. You may have the budget for a developer who can create a custom website for you.
Whatever the case, it's important to ensure that you get your new site up and running as quickly as possible.
Carry the look and idea of your brand through your website design and development, paying special attention to the tone of the writing on your site. You may also want to ensure up front that your site has a blog integrated so that you can begin creating content to drive traffic to your website.
Great content added on an ongoing basis helps improve your search engine optimization (SEO) and gives you something exciting to promote on social media.
Related: Easy content marketing for real estate agents
Create promotional materials that include your website address
Once your site is live, make sure you update all of your promotional materials with your new URL.
Check all of the listing portals where you have a profile, as well as any referral networks you belong to.
Put your URL on your social media profiles so you can drive traffic there.
Check your business cards, flyers and mailers and ensure they are updated with the new website address.
The right name, the right domain and the right website: Put it all together and you have a powerful selling tool.
This article includes content originally published on the GoDaddy blog by Cate Barker.
Image by: Tierra Mallorca on Unsplash