How to increase retail sales with in-store pickup
I walked into my local Staples store this morning and couldn't help but notice all the signs promoting its in-store pickup service. In fact, it seems like almost everywhere I go, I'm seeing an increasing amount of advertising for in-store pickup.
The marketing side of my brain was urging me to investigate, so I walked over to the cashier and asked how often he has an in-store pickup order come through the register. When he said it was around 10 times a day and closer to 25 on busy days, I couldn't believe it. It got me thinking about consumers and their need for convenience.
Let's face it: Most consumers are creatures of habit as long as it's convenient.
Next to home delivery (which can be extremely resource-intensive), adding a service like in-store pickup for your retail business can attract new customers and keep your current ones happy.
Related: 5 tips for adding an eCommerce shop to your brick-and-mortar business
3 reasons to consider in-store pickup
In-store pickup is an easy way to bring your customers into your store. Here are three reasons to consider in-store pickup:
Increase sales with in-store pickup.

Liquidate aging inventory.

Enhance your customer experience.
Are you ready to learn more about in-store pickup? Let's dive in.
1. Increase sales with in-store pickup
When presenting for Google's Get Your Business Online program, I talk about the importance of the micro-moment: a moment in which consumers need to know, go, do or buy. Most likely, when your customers are ordering something from your website or calling to place an order for an in-store pickup, they have tunnel vision due to that micro-moment.
This presents an opportunity to increase sales with upselling.
For example, let's consider a customer who wants to order a pizza. The person clicks to the online menu or calls the pizza shop to order. At this point in time (aka the micro-moment), the customer is completely focused on buying a pizza. If the owner of the pizza place is a savvy marketer, she will have signage advertising add-ons like a salad or french fries. Or she will have desserts or appetizers showcased next to the register to pique the customer's interest. Most importantly, the owner will train her staff to ask if the customer wants to wait an extra three minutes for some sizzling hot fries or a fresh, crisp salad to go with his pizza. In essence, the owner would have upsell strategies in place to help increase the total transaction size.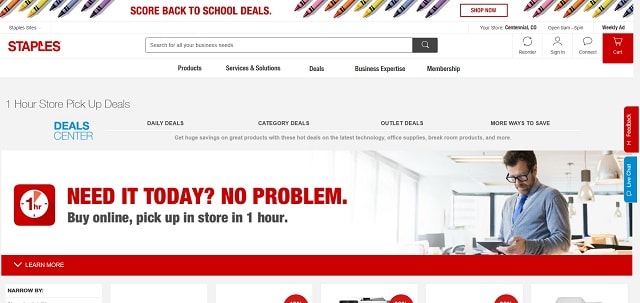 Now for a real-life example, let's consider Staples. "We do see a significant percent of our customers buying additional items from the store when they go to pick up their online purchases," says Danielle Lachman, Staples' vice president of eCommerce strategy and business development.
It only makes sense considering other big-box stores like Walmart, Target, Best Buy and more have followed suit in the last few years, highlighting their in-store pickup option.
Now think of your own business. If customers come in for an in-store pickup:
What will they see (signage, new products, etc.)?
Who will they interact with?
Where will they go to pick up their product?
What is your upselling strategy for these customers?
Related: How your small retail shop can compete with a big box store
2. Liquidate aging inventory
If you've ever watched an episode of "The Profit", starring Marcus Lemonis, you know that aging inventory is holding your cash flow hostage. Whether you're sitting on boxes of fidget spinners or the latest and greatest millennial trend, the longer you sit on that inventory, the longer your cash is tied up in assets that aren't selling.
That cash could be spent on new products that will actually bring you a profit.
Along the same lines of upselling in-store pickup customers to increase revenues, consider how you can liquidate your aging inventory through impulse buys targeted at that same audience. According to CNBC, consumers spend an average of $5,400 per year on impulse buys. If you can merchandise your aging inventory properly, you might be able to get some of those impulse dollars while emptying your store room.
When pricing your impulse buys, consider that for most consumers it's all about what you save, not what you spend.
"There's an element there of opportunistic purchasing," says Slickdeals CEO Josh Meyers. "So part of it is taking advantage of a good deal."
Play to customers' psyches and give them the deal of the century when they make their in-store pickup, so you can free up cash for new products.
When identifying your aging inventory for impulse buys, ask yourself:
How long has it been on the shelf?
How much room does it take from new inventory?
What is the going market price?
How can I upsell these items at the point-of-sale?
Can I offer these items as giveaways if a customer spends a certain amount?
Related: How to prices products so they sell and you profit
3. Enhance the customer experience
For in-store pickup customers, the social interaction they experience when they come to get their goods influences their overall perception of your business. In fact, it's been found that more than half of all customers are willing to spend more for a guaranteed good experience.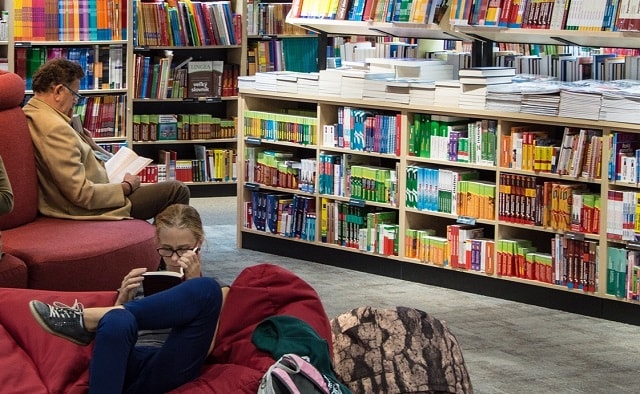 If you can drive customers into your store, then you can mold the entire customer experience. From the moment they walk through your door, to the way they look around the store, to the ease of payment, to the follow up they receive after they leave, you can determine how they interact with your business during crucial points of the buying process.
By enhancing the customer experience, not only do you increase your chances of a higher transaction value during an in-store pickup, but you increase the likelihood of return business. A study performed by the Tempkin Group found that 86 percent of those who received a great customer experience were likely to purchase from the same company again.
So, how will you elevate your customer experience? A discount off their next purchase? A free gift for coming in? Maybe entry into a monthly raffle? Think about what you would like to receive from one of your favorite local businesses.
In-store pickup is here to stay
Customers are coming to expect an in-store pickup option thanks to businesses like Staples, Target and more. By offering in-store pickup for your retail business you can increase your sales, sell off unwanted inventory and enhance the customer experience.